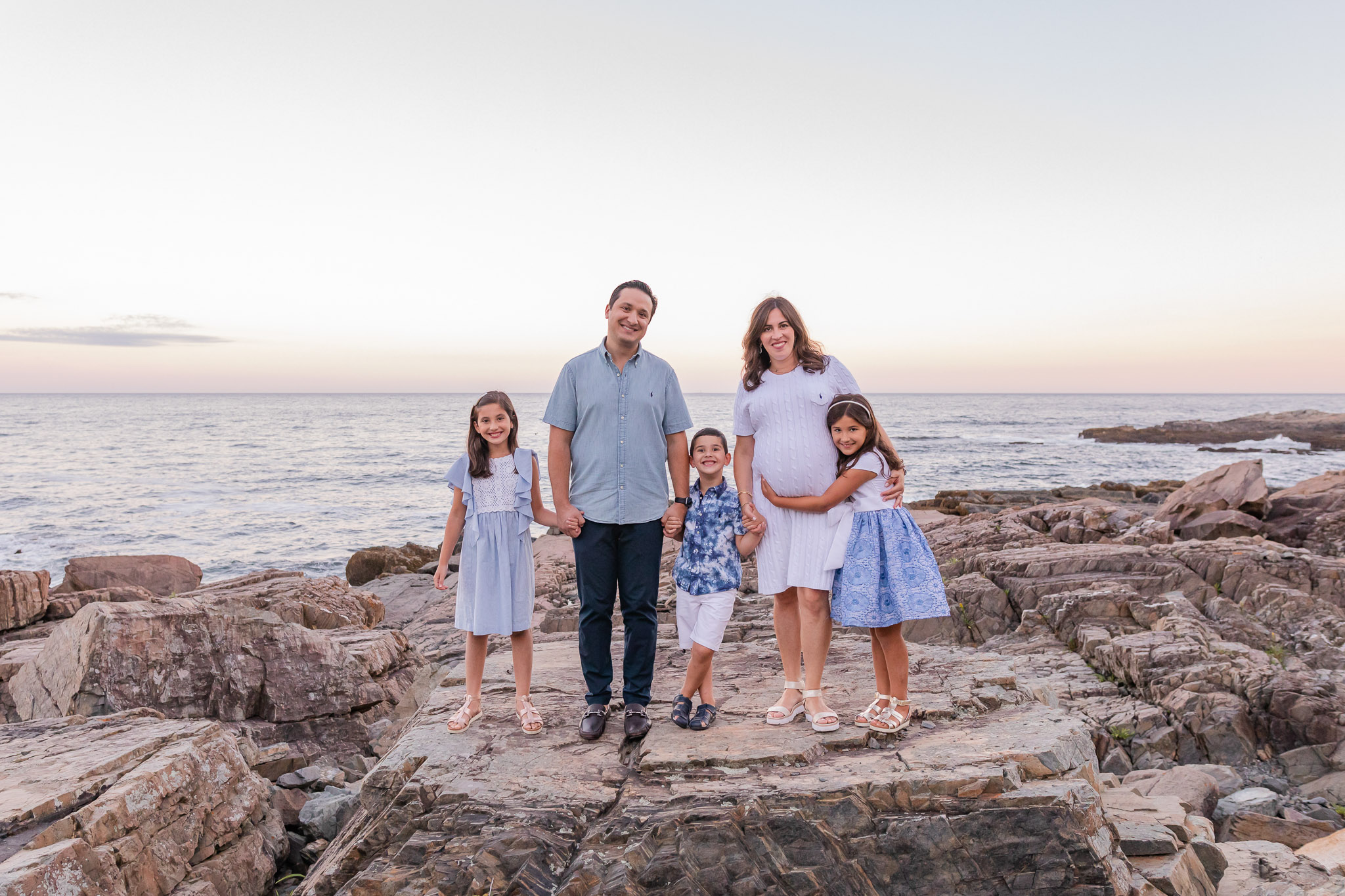 I so adored the love and interaction in this Family Babymoon Cliff House Maine Sunset Session! This family of took a moment to enjoy that dynamic before adding baby #4 to the joy!
Want to make me nervous? Be pregnant and climb on rocks. ?
I'm always extra cautious on the rocks at the Cliff House, taking it slow, making sure the families are comfortable with the terrain. And I HATED special treatment when I was pregnant. Don't tell me I can't do something!
But 8 months pregnant on the rocks? And looking so stylish while doing it??Beyond superwoman!
All was safe and sound and just as we were wrapping up the gorgeous moonrise peaked itself above the horizon in a gorgeous glowing pink!
(Maybe it was nature's gender reveal?! ?)
Family Babymoon Cliff House Maine Sunset Session. Wedding, Family and Newborn + Brand Photographer Melissa Koren Photography photographs good people. (How's that for overuse of a word!) This NH based photographer provides a relaxed approach where the value is put on fun and efficiency.
MKP clients are wonderful, loving, quirky, sassy, laughing, fantastic, and often cheeky people. Good people like you! Microweddings, LGBTQ photography, NH Mini Sessions, Massachusetts At Home Newborn Photos, Maine Engagement Photos, Seacoast NH Family photographer. Grateful to have worked at Maudslay State Park, Emerson Inn, Winthrop Carter House, Portsmouth Country Club and many many more!
Based in Exeter, NH, Melissa Koren Photography works in New Hampshire, Maine, Massachusetts, and anywhere you'll have me! You can see more of my work online at melissakoren.com and also on Facebook and Instagram! If you'd rather contact me directly, please email me at melissa@melissakoren.com.
There are adventures to have and memories to keep so let's get to it!