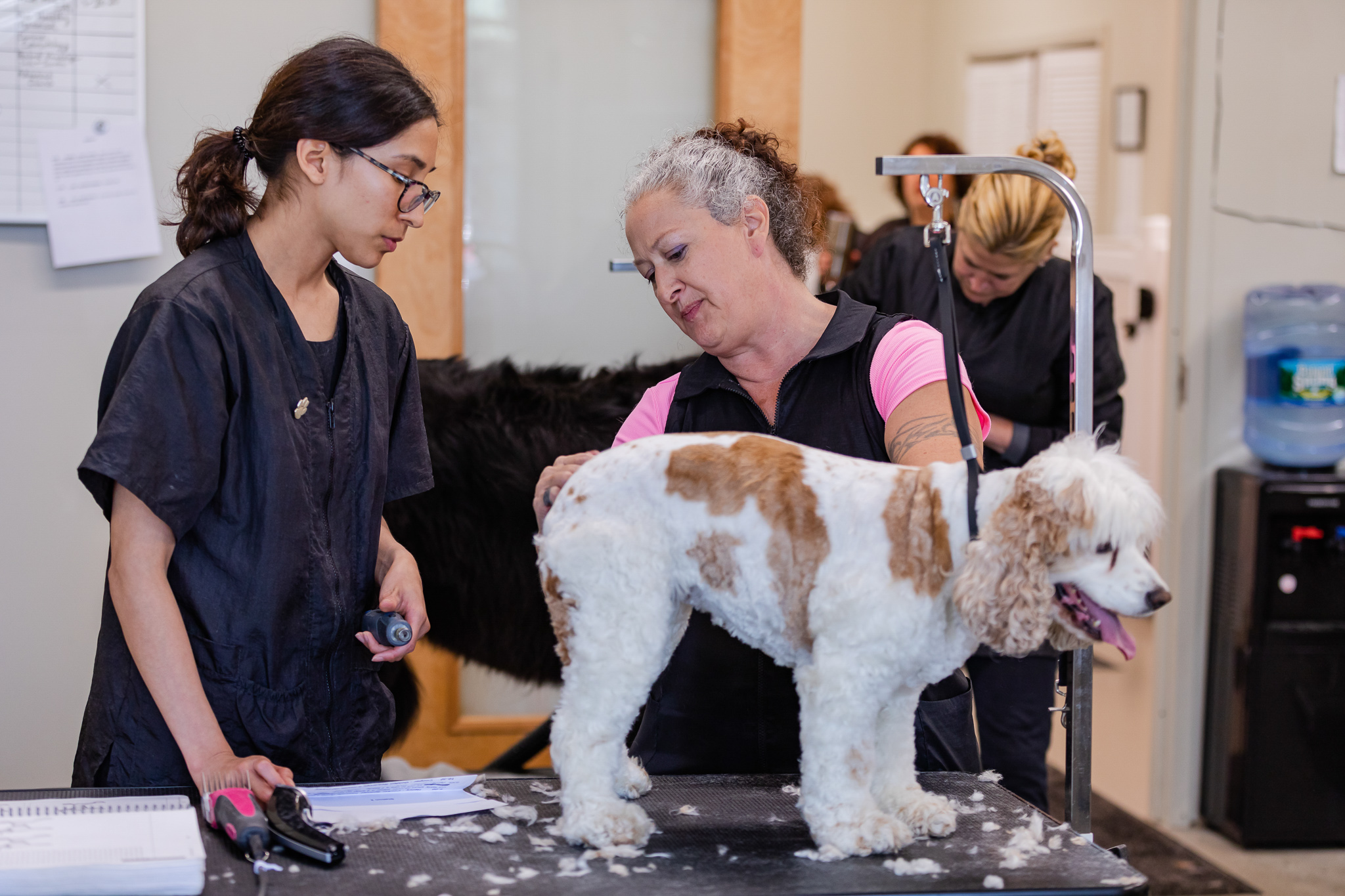 Well, not the big black dog shown here – but during my NH Dog Grooming Brand Photography Session I had a walk down memory lane. Times two!
First, I saw a friend from 20 years ago who it turns out is a new groomer + teacher at Grooming By The Sea!
Second, they were grooming the sweetest, quietest, most giant St. Bernard. It reminded me of when I was 6(ish) years old and at some kind of parade.. Memorial Day maybe? I think I was part of the parade as a Bluebird (knock off girl scout) … Wait I said this was a memory, not a list of things I think I remember.
Here's what I DO remember.
I went over to see the doggy/horse and was eye to eye with him and all of a sudden.. out of nowhere.. because who could have predicted it.. he went WOOOOOOOOOOF.
Bark/slobber/hot dog breath allll up in my face.
In retrospect, of course, it's hilarious. But I don't think I thought so at the time. ?
This giant galumph was much quieter. He never made as single sound, but he still managed to make an impression!
NH Dog Grooming Brand Photography Session. Wedding, Family and Newborn + Brand Photographer Melissa Koren Photography photographs good people. (How's that for overuse of a word!) This NH based photographer provides a relaxed, outside the box approach where the value is put on fun and efficiency. Wonderful, loving, quirky, sassy, laughing, fantastic, and often cheeky people like you. Photos for you! You are good people! Microweddings, Intimate NH LGBT Wedding photography, Adorable MA Newborn photos, ME Engagement Picture Sessions, Seacoast NH Family photographer.
Based in Exeter, NH, Melissa Koren Photography works in New Hampshire, Maine, Massachusetts, and anywhere you'll have me! Outside the box, fun, photography for good people. Good people like you! NH, Maine & Beyond. You can see more of my work online at melissakoren.com and also on Facebook and Instagram! If you'd rather contact me directly, please email me at melissa@melissakoren.com.
There are adventures to have and memories to keep so let's get to it!