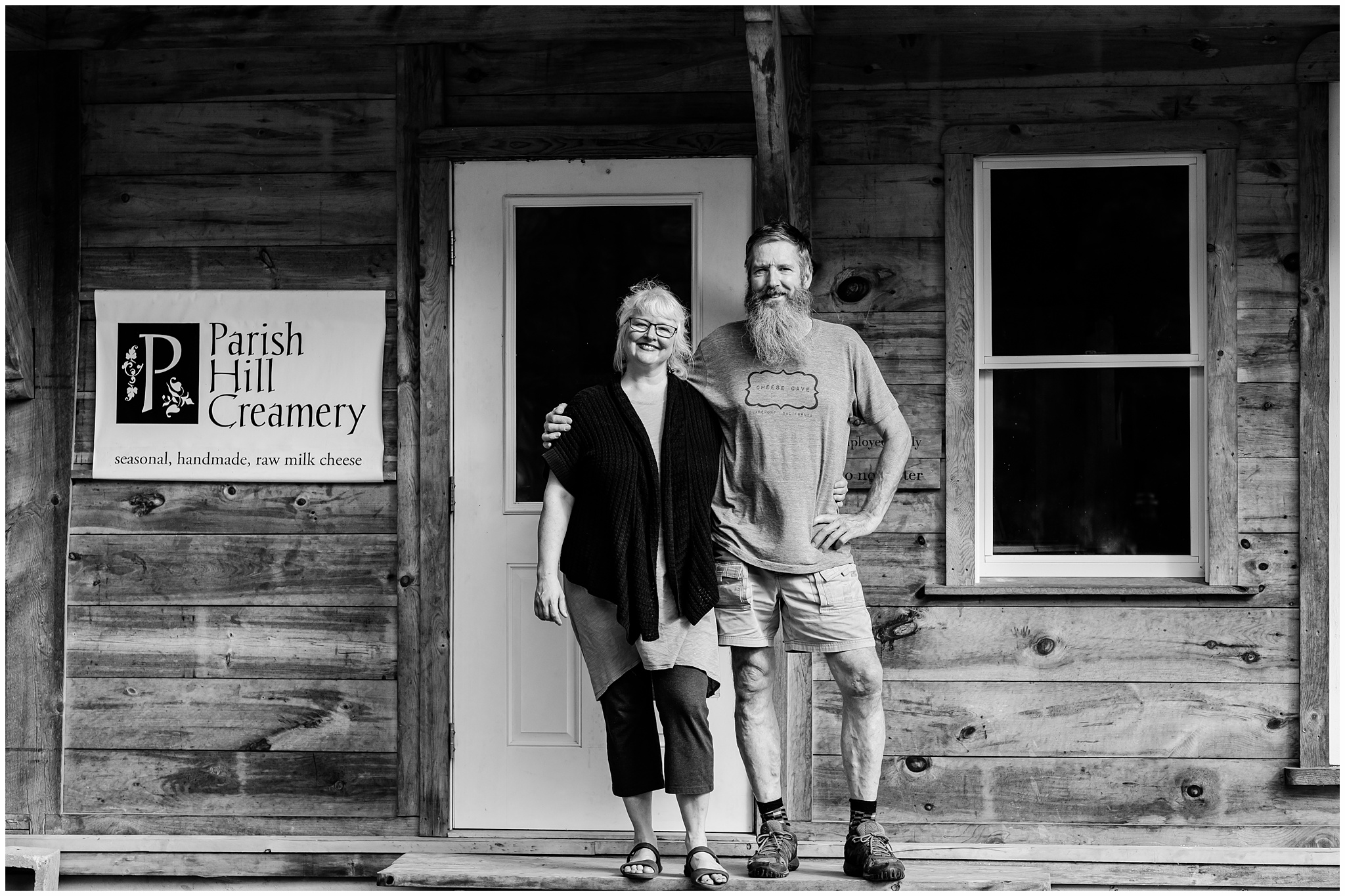 If only you could hear my stomach growling as I relive our idyllic fall adventure to Westminster West, Vermont. This late September, Full Day, On-Location Brand Session for Parish Hill Creamery was simply divine.
And delicious.
Rachel and Peter needed a website refresh, and that meant new photos of first and foremost themselves. In addition, their natural cheese-making process, the cheese caves.. yet two. And most importantly, of course, the CHEESE.
And you don't just take photos of cheese.. you definitely taste it too… If that's you're thing. And it's definitely a thing for Amy + me!
We were graciously hosted by Rachel and Peter at their farmhouse. When we arrived, we at cheese and drank wine. After a good night's sleep we headed to the creamery and watched cheese be born! Then explored the caves, ate more cheese, and finally stopped for some headshots.
"Natural cheese offers the opportunity for cheesemakers to make something unique, something that is an expression of the land, the animals, the milk, their hands."
Parish Hill Creamery is a family endeavor focused on the preservation of traditional cheesemaking culture, collaborative farming, and contributing to the overall health of our communities.
We make, educate, and advocate for natural cheese that appreciates, learns from, and builds on the traditional modes and methods.
The bottom line? Delicious, unique handcrafted cheese that's heavy on funk and flavor!
On-Location Brand Session. Wedding, Family and Newborn + Brand Photographer Melissa Koren Photography photographs good people. (How's that for overuse of a word!) This NH based photographer provides a relaxed approach where the value is put on fun and efficiency.
MKP clients are wonderful, loving, quirky, sassy, laughing, fantastic, and often cheeky people. Good people like you! Microweddings, LGBTQ photography, NH Mini Sessions, Massachusetts At Home Newborn Photos. Maine Engagement Photos, Seacoast NH Family photographer. Grateful to have worked at Maudslay State Park, Emerson Inn, Winthrop Carter House, Portsmouth Country Club, and many many more!
Based in Exeter, NH, Melissa Koren Photography works in New Hampshire, Maine, Massachusetts, and anywhere you'll have me! You can see more of my work online at melissakoren.com and also on Facebook and Instagram! If you'd rather contact me directly, please email me at melissa@melissakoren.com.
There are adventures to have and memories to keep so let's get to it!