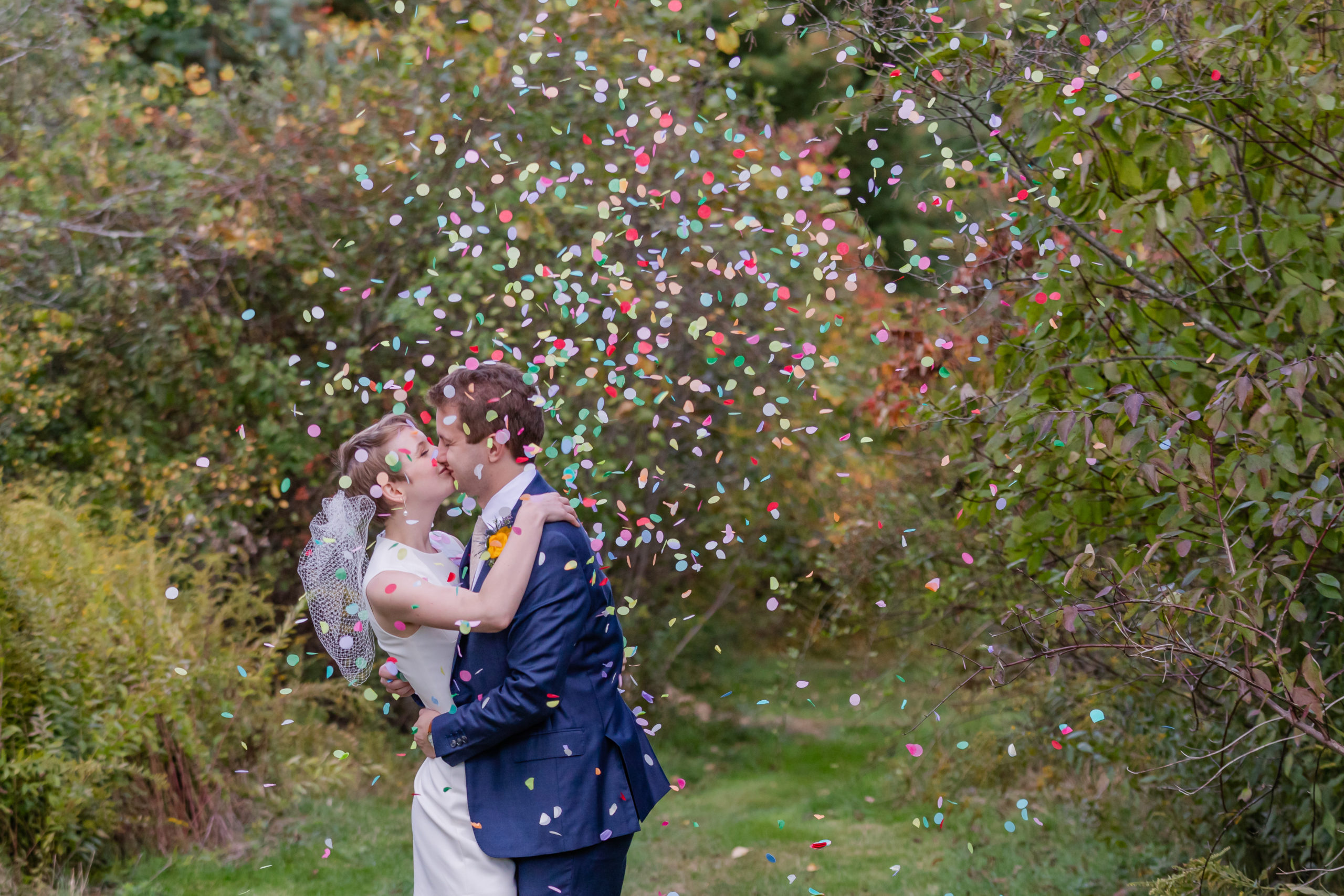 When Mia reached out about her photography session at the Seacoast NH tiny wedding to Seb, she told me it was going to be at her Grandfather's retirement community so he could be there. My grandparents' were so instrumental in my life, and they're even in my wedding info booklet I send out to clients ♥️, so I was already overwhelmed with emotion and anticipating the intention and specialness of the day.
What transpired defied expectation.
Given the circumstances, an abundance of caution was taken. We included her grandfather in photos from a distance, they cut the cake masked so he could have a piece, and he was handed his champagne glass wiped down with a disinfectant wipe.
But the celebration still felt close. Close together. Close knit. Complete.
Top 4 Details:
#4 – Totally Fetch! Being married on 10/3 meant it was "Mean Girls Day", so Mia's mom secretly brought pink accents for everyone for a photo. (Grandpa's pink is the best)
#3 – Mia's embroidered cake, that was designed based on her mask and was extraordinary. (From Prairie Baking Co, Portland)
#2 – Their wedding rings. They're created from Seb's grandparent's wedding rings.
#1 – Hands down, no competition THE BEST WEDDING SHOES I've EVER SEEN. (Yes, I'm yelling. No, I'm not sorry)
In addition, I genuinely wish that Mia + Seb could give a masterclass on how to be with each other. Not just for photos, but for always. They're smitten, romantic, silly, and SO in love.
And biodegradable confetti photos are maybe my new favorite.
Thank you SO SO much for asking me to be a part of your tiny wedding. I couldn't think of a better way to spend a glorious afternoon.
Get a Glimpse of the Lovely Wedding Photographs in Seacoast, NH.
Seacoast NH Tiny Wedding. Wedding, Family and Newborn + Brand Photographer Melissa Koren Photography photographs good people. (How's that for overuse of a word!) This NH based photographer provides a relaxed, outside the box approach where the value is put on fun and efficiency. Wonderful, loving, quirky, sassy, laughing, fantastic, and often cheeky people like you. Photos for you! You are good people! In addition to Microweddings, Intimate NH LGBT Wedding photography, Adorable MA Newborn photos, ME Engagement Picture Sessions, Seacoast NH Family photography, she also runs a brand strategy company.
Lastly, Based in Exeter, NH, Melissa Koren Photography works in New Hampshire, Maine, Massachusetts, and anywhere you'll have me! Outside the box, fun, photography for good people. Good people like you! NH, Maine & Beyond. You can see more of my work online at melissakoren.com and also on Facebook and Instagram! If you'd rather contact me directly, please email me at melissa@melissakoren.com.
There are adventures to have and memories to keep so let's get to it!