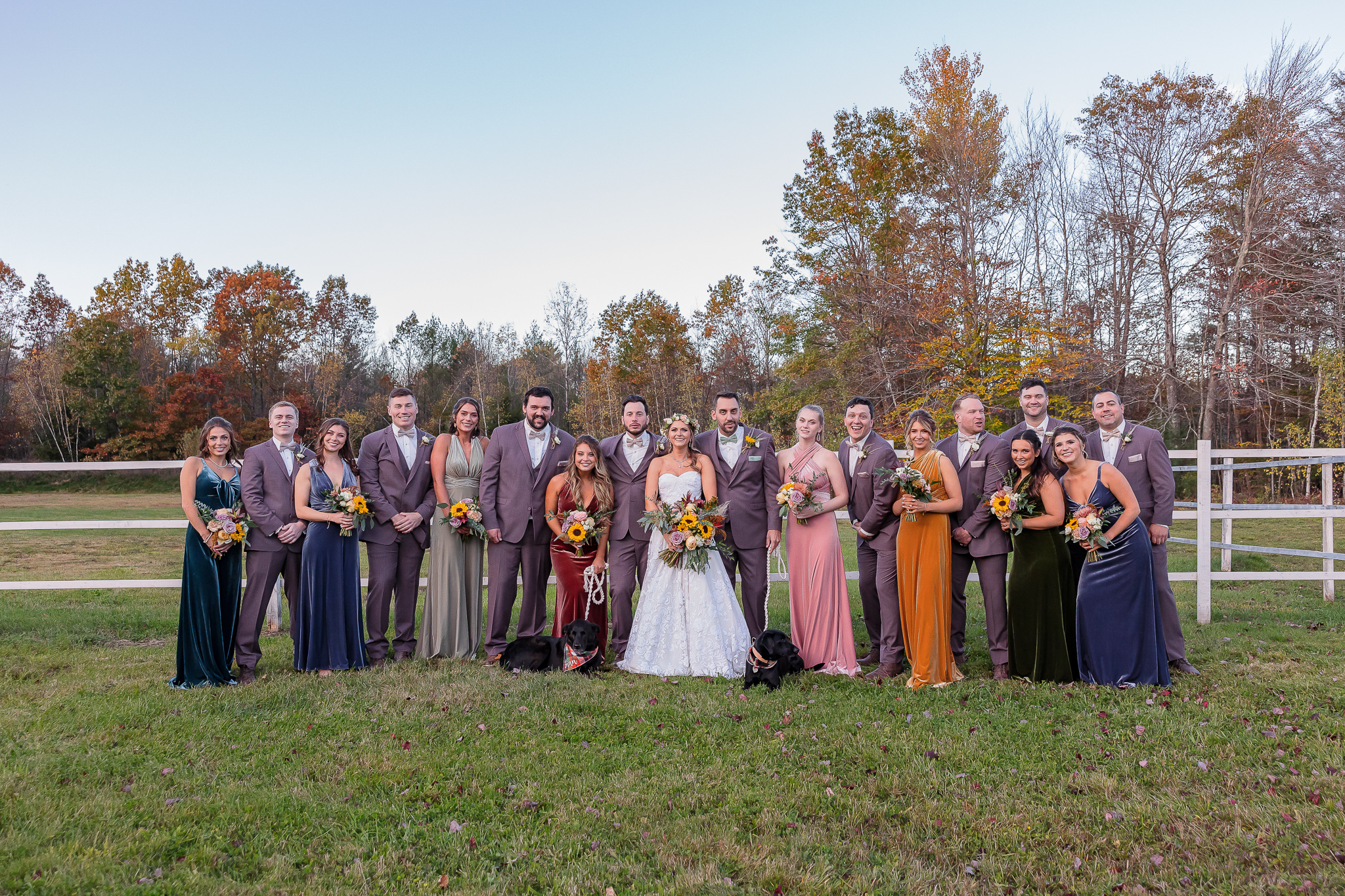 When I say "fall wedding" I mean you're going to FALL for this Bull Meadow Barn Fall Wedding ♥️
The warm-colored velvet dresses? Holy sh*t. The brown suits and bowties? Yes, please. The perfectly behaved pups? Wait – what!? They have monogrammed bandanas too? Ok, just – can it get any better?
Well, all that magic doesn't even begin to hold a candle to Abby + Nick. Not only did they look smashing for their day but they love that they share, and the love they are surrounded by is simply the best. (And honestly, after their Stratham Hill Park Engagement Session I was prepared for their love, but the way they ARE loved? that was just spectacular to witness)
Abby and Nick didn't want to have a first look. Which I totally respect, it's not for everyone. But Peter wanted to have a first look with Nick so we devised a plan that I would take Nick out for some portraits and Peter would sneak up on him and show him his wedding dress.
It was all the hilarity you could presume and more. 😂
After that fun moment, it was back to the final touches and getting ready for Abby. Both of her grandmothers had broaches for her to pin to her bouquet as something old, and something borrowed + blue.
She pinned a small heart inside her father's suit coat – an identical one pinned inside her dress – both cut from her mother's wedding dress. His pocket square was the lace-lined hem of the same dress.
Then it was time to get married. As the sun settled behind the treeline at Bull Meadow Barn in Concord, NH these two said their IDOs.
We scooped up the last bit of daylight to knock out their family photos and wedding party shenanigans. I'm going to gush again about the color scheme and those velvet dresses because… 🤤. Oh and their bouquets.
Everywhere you turned there was a thoughtful detail, a splash of autumn, and a plethora of smiles.
A taco bar for dinner, plus a salad table and a mac and cheese station (yes, I'm serious, it was THE BEST), plus mini donuts for each table for dessert served on a cake plate, like in their engagement photos… Also a bouquet toss, followed by one of the danciest weddings I've been at in a while!
I'm nearly speechless at the fantabulousness of it all!
Abby + Nick! Thank you so much for sharing your gorgeous selves and family with me. I am so excited for the adventures yet to come for your both!
xoxo
Melissa
Dream Concord NH Wedding Vendor Team

♥️
Did you enjoy this Bull Meadow Barn Fall Wedding in Concord, NH? Check out some of my other New England Wedding Photos!