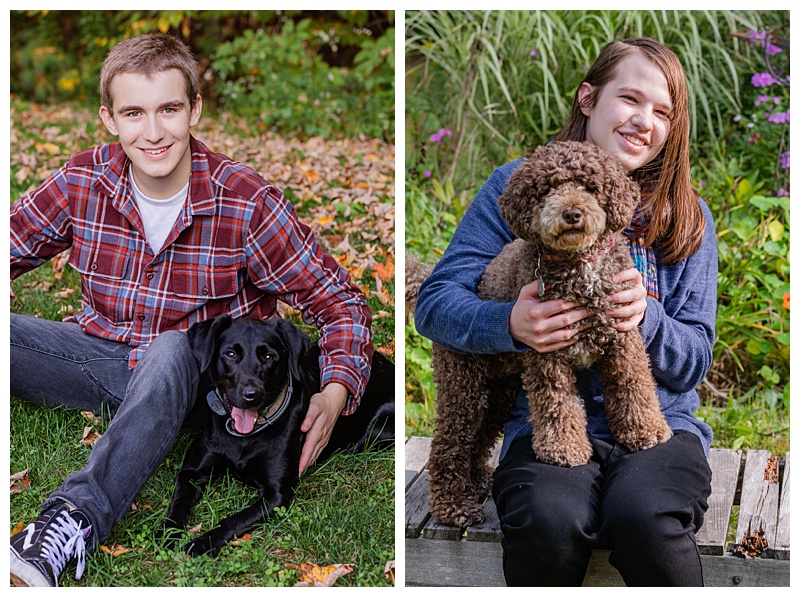 My first answer to that question is always peanut butter and jelly. But plenty of things go together! Including these pet-loving Class of 2021 graduates who wanted their Southern NH senior pictures with their pups!
My approach to senior pictures is to be quick, casual, and make images that actual represent who you were in High School.
When I look back at my senior picture, it looks like me, but the eggplant spaghetti strap dress and jewelry (pearls, maybe??) were not really an accurate representation of my appearance in high school. (Although the only thing I really remember wearing in HS was this beautiful black and grey tiny print flowered dress, and a white button-down and black skirt for allll the chorus concerts) ?
I feel like these kids, and most, if not all, of my seniors are truly representing themselves and who they are now, and I love it!
Southern NH senior pictures. Wedding, Family and Newborn + Brand Photographer Melissa Koren Photography photographs good people. (How's that for overuse of a word!) This NH based photographer provides a relaxed approach where the value is put on fun and efficiency.
MKP clients are wonderful, loving, quirky, sassy, laughing, fantastic, and often cheeky people. Good people like you! Microweddings, LGBTQ photography, NH Mini Sessions, Massachusetts At Home Newborn Photos, Maine Engagement Photos, Seacoast NH Family photographer. Grateful to have worked at Maudslay State Park, Emerson Inn, Winthrop Carter House, Portsmouth Country Club and many many more!
Based in Exeter, NH, Melissa Koren Photography works in New Hampshire, Maine, Massachusetts, and anywhere you'll have me! You can see more of my work online at melissakoren.com and also on Facebook and Instagram! If you'd rather contact me directly, please email me at melissa@melissakoren.com.
There are adventures to have and memories to keep so let's get to it!