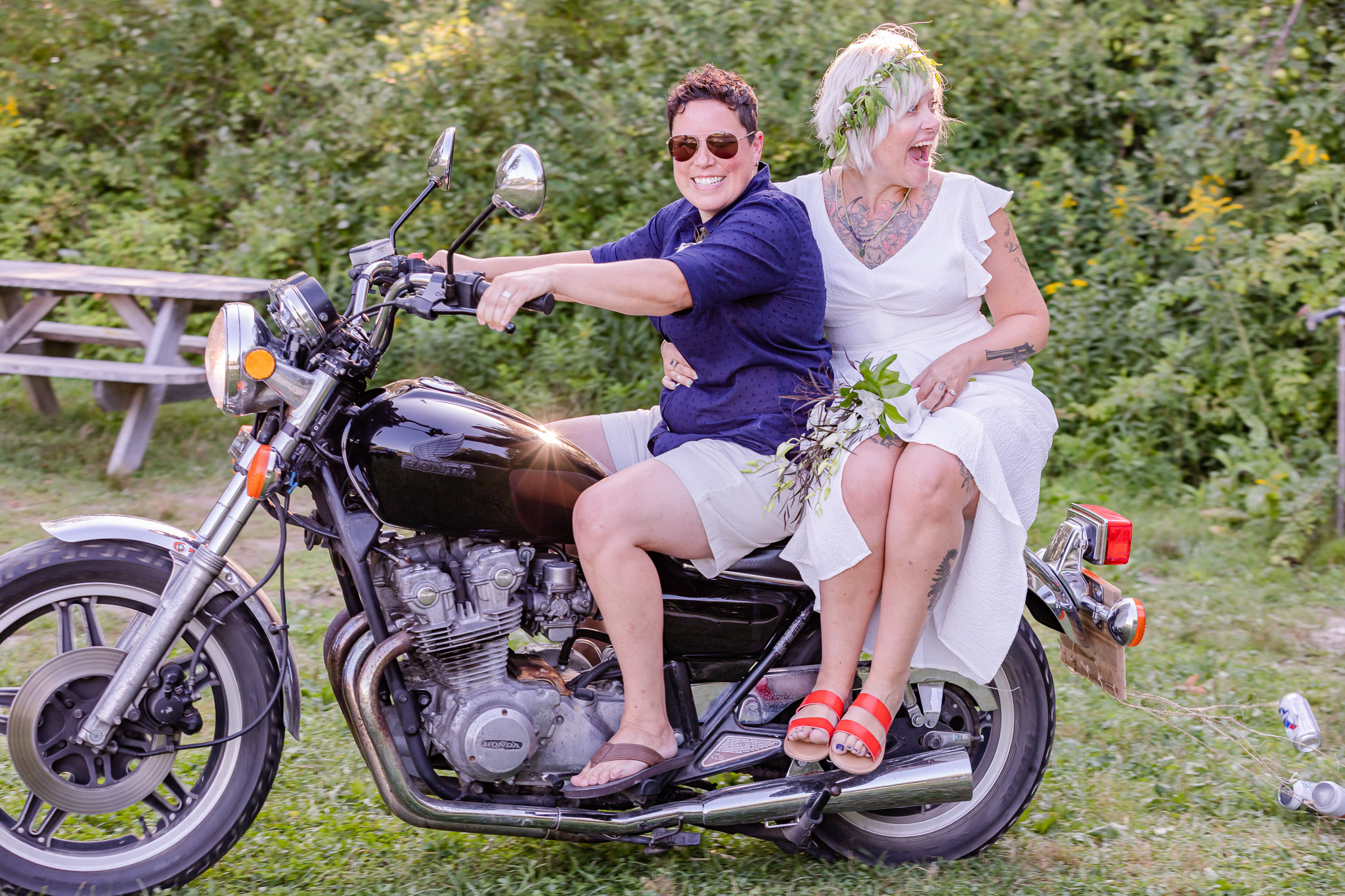 Often when I look through a blog gallery I'll hear a soundtrack, and man if this isn't even screaming loud inside my head as I re-witness the love, emotion, sweetness, sincerity + absolutely fantasticness that is this Southern Maine Queer Elopement! Sorry for the earworm. #sorrynotsorry ??‍♀️
In the midst of a pandemic, these two knew they were still going to have the ceremony of their dreams. Even if it was a little more pared-down then they'd originally dreamed of.
They grabbed a campsite at their favorite campground – Wolfe's Neck Oceanfront Camping in Freeport, Maine …
And got to business.
Before we could get to the business of getting married for this Southern Maine Queer Elopement, we coordinated the first look just above their ceremony site. Then, on a whim, we changed the order of operations because the anticipation was so palpable it just made sense to get them married RIGHT THEN.
Plus, when your whole LGBTQ Maine Elopement consists of only 10 other people + your photographer, and we're all standing right there, you can do just that!
The ceremony was full of everything that makes a wedding grand. The people closest to you, your daughter reading a poem. Your friend officiating, and your niece wowing everyone with her voice as you walk down the rooted path aka aisle. With individually composed vows that stayed true to each of their personalities, and acknowledged the fault of traditional vows. Traditional vows which sometimes hold promises can't truly be made. There was not a dry eye in the house.
Post ceremony we explored the grounds for some group photos. Then, as the light fell lower, went down to revisit the water for some just married snuggles.
We wrapped up this LGBTQ Maine Elopement just as the sun fell below the tree line. With the mission accomplished, Ashley + Shay literally rode off into the sunset…
and straight for a giant plate of Chicken Parmesan at Tuscan Brick Oven Bistro.*
*Chicken Parm not pictured
Friends – what fate to have met you both at Portsmouth Pride 2019, and to been privileged to follow your journey to this point and beyond. Drinks soon + hugs ASAP! <3