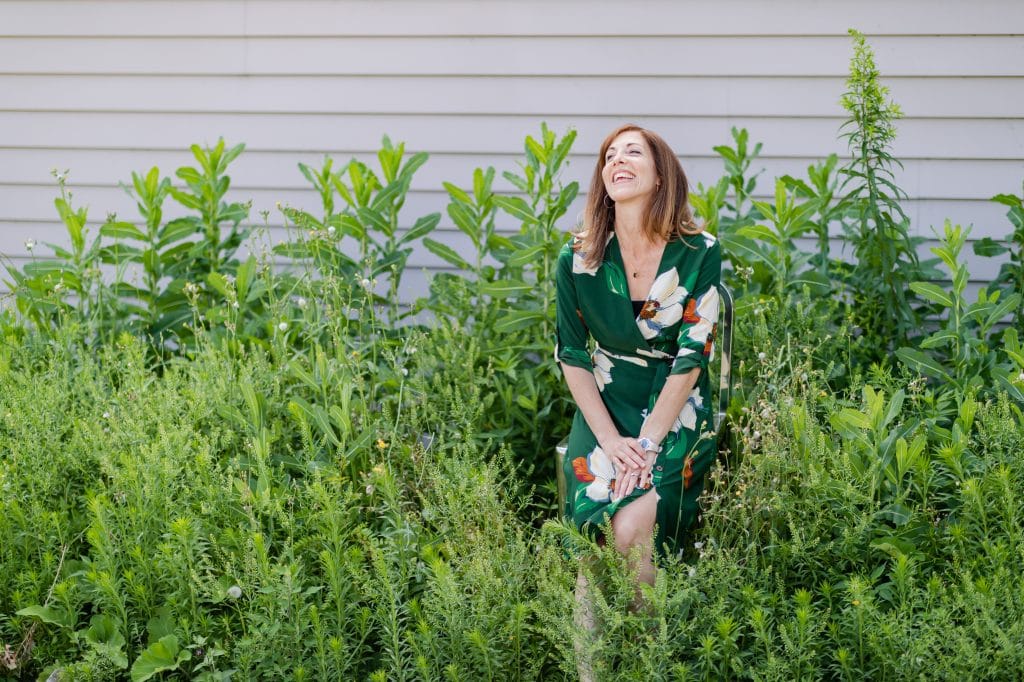 There's Personal Brand Photography.
And then there's THIS magnificence.
I could have never prepared myself for the awesome that was about to happen.
I mean, don't get me wrong, I'm prepared for anything at all times, but meeting Deb and working with her to bring her vision to life, was kind of beyond my wildest dreams!
Deb is the talented designer behind DGB Design Studio in Portsmouth.
She loves color, and it shows.
She had this great collection of outfits and was game for all my whacky ideas which started with "Oooooh, look at this awesome metal chair, can we bring it outside?" and got even stranger with "how do you feel about sitting in that patch of weeds?"
But she was up for anything.
And I LOVE the Personal Brand Photography images we created for her! They're personal!!
Oh and that patch of weeds – literally just that.
We're in the entrance to a parking lot, in a 3ft by 8ft strip of land that's a "garden" next to an insurance agency. The partly cloudy day is playing peekaboo with us and we're dodging the sun as it goes in and out of the clouds. I'm standing in the entrance to the lot, jumping out of the way when a car needs to get in. She's trying to pretend there's not a vine trying to crawl up her dress and choking down fits of laughter.
And it's all fantastic!
Personal Brand Photography Melissa Koren Photography. Outside the box, fun, photography for good people. Good people like you! NH, Maine & Beyond. You can see more of my work online at melissakoren.com and also on Facebook and Instagram! If you'd rather contact me directly, please email me at melissa@melissakoren.com!