You blink for what seems like a second, and all of a sudden, your tiny little seven-pound-twelve-ounce baby is 6+ feet tall and about to graduate. Not you? Ok, well, I've been there.
All that is meant to say, take pictures with your kids, not just of them.
Make the time, not excuses. And with an NH Fall Mini Sessions, you need even less time. No Excuses!
MKP Mini-Session specials are a 15-minute time slot at a pre-determined location. You show up, we rock through the combinations, and you're on your way. They can be sweet, silly, serious, or sassy, but they're always fun!
All files included. While I do cull out the blinks and not-so-fun bloopers, your gallery will be full of images that are yours to download. There's no set number or limit on files delivered – most mini-sessions average 30-50 images.
Mini-sessions are non-refundable. In the event of inclement weather, there will be a rescheduled date. Case-by-case reschedules will be considered.
If no slots are showing, we're sold out! The mini-session special rate is only available for these sessions; I have "schedule your own" mini & full session rates as well. Just ask!

Mini session pricing: Session + Online Gallery + high-res image files = $250 (due at booking)
Delivery: Gallery and file delivery within 10 days of session date.
There are multiple dates and times. If your date and time aren't available on the schedule, it's because it's all sold out.

Schedule your appointment below the image!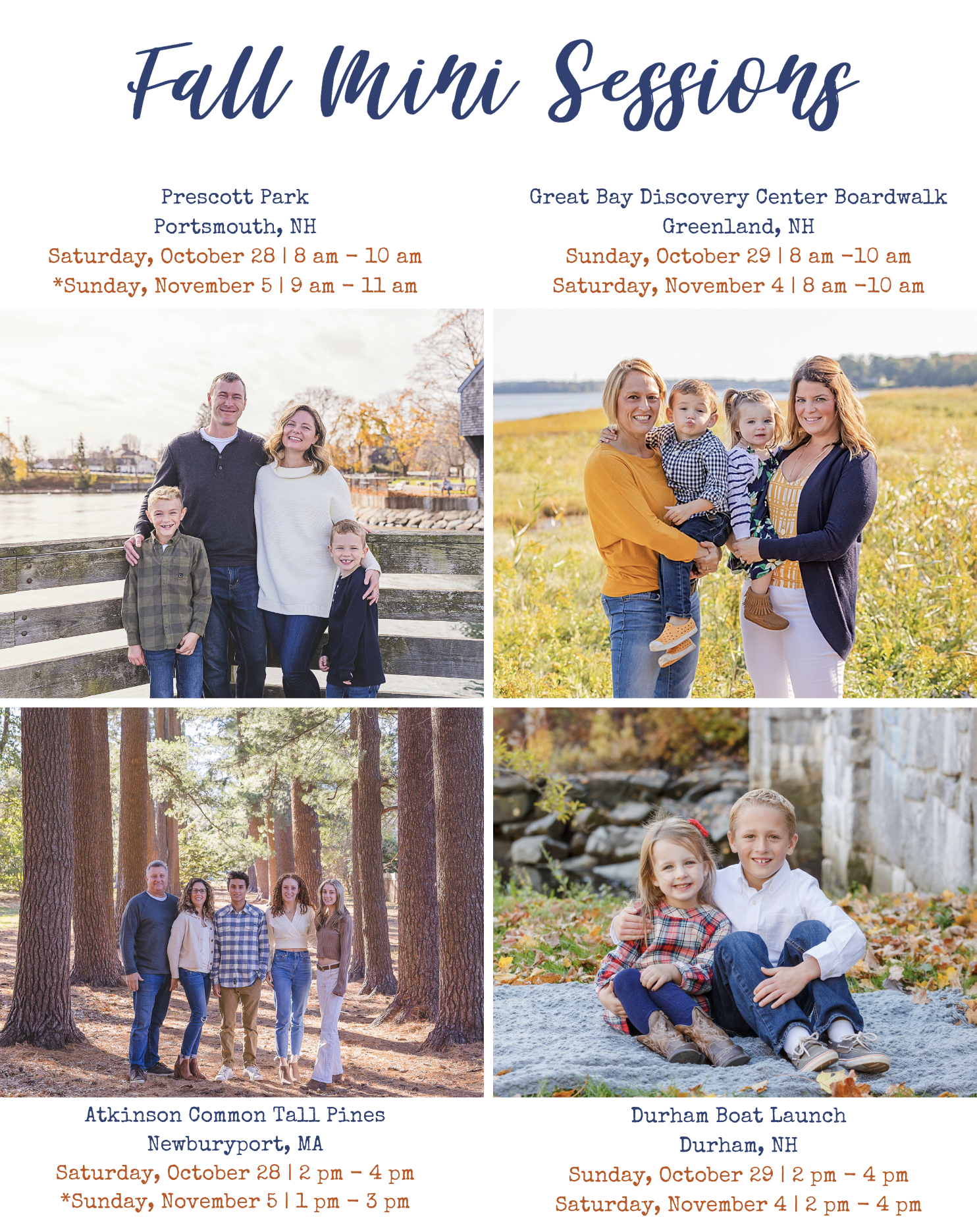 2023 Mini Sessions
Prescott Park, Portsmouth, NH
Saturday, October 28 | 8 am – 10 am
*Sunday, November 5 | 9 am – 11 am
Great Bay Discovery Center Boardwalk, Greenland, NH
Sunday, October 29 | 8 am -10 am
Saturday, November 4 | 8 am -10 am
Atkinson Common Tall Pines, Newburyport, MA
Saturday, October 28 | 2 pm – 4 pm
*Sunday, November 5 | 1 pm – 3 pm
Durham Boat Launch. Durham, NH
Sunday, October 29 | 2 pm – 4 pm

Saturday, November 4 | 2 pm – 4 pm
*Daylight Savings Begins 11/5, Fall Back