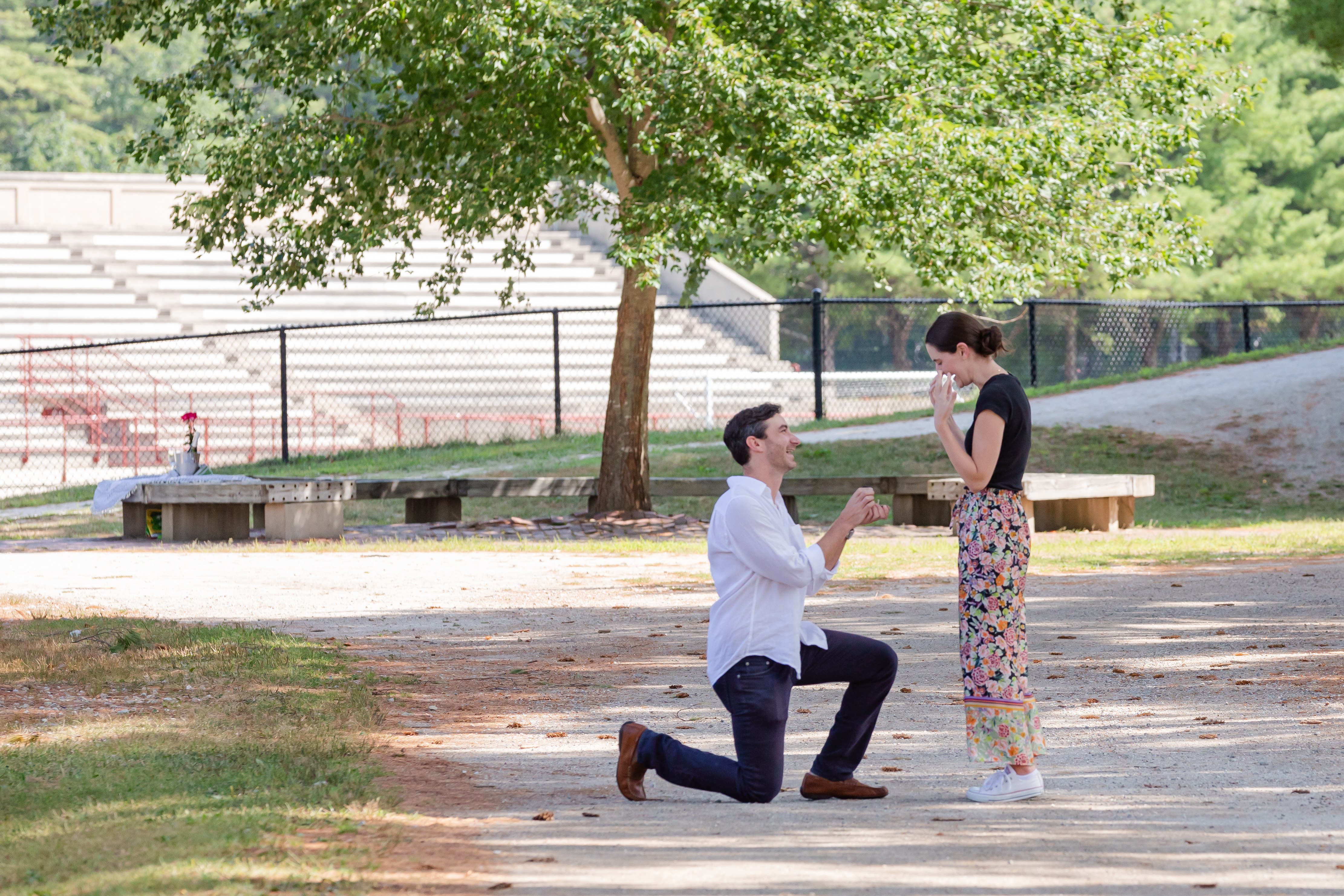 She thought it was just A Walk Down Memory Lane… But it was really a direct path to their future! This Summertime NH proposal was fantastically orchestrated by the groom-to-be!
He reached out to me about a week before their planned trip up to visit his parents. They'd met during their time at Phillips Exeter Academy, and visiting home seemed like a good time to take an alumni walk around town!
Little did she know that along the way they'd 'stumble' over an engagement ring, champagne, roses, and a whole new set of plans to make – for a wedding!
As they made their way towards the agreed upon spot, I hung out by the dog park and pretended to photograph the dogs and their humans. I let them know what was up, so I didn't seem like some creepy stalker, and when the moment actually happened, we could hear them clapping and shouting congratulations from the park! ?❤️
After everyone's nerves settled (mine included, proposals are so fun but definitely a little nerve wracking in the not giving it away before it's time category) we wandered back through their old campus stomping grounds for some quick 'just engaged' photos!
Congratulations, you two!
NH Proposal Photography. Wedding, Family and Newborn + Brand Photographer Melissa Koren Photography photographs good people. (How's that for overuse of a word!) This NH based photographer provides a relaxed approach where the value is put on fun and efficiency.
MKP clients are wonderful, loving, quirky, sassy, laughing, fantastic, and often cheeky people. Good people like you! Microweddings, LGBTQ photography, NH Mini Sessions, Massachusetts At Home Newborn Photos, Maine Engagement Photos, Seacoast NH Family photographer. Grateful to have worked at Maudslay State Park, Emerson Inn, Winthrop Carter House, Portsmouth Country Club and many many more!
Based in Exeter, NH, Melissa Koren Photography works in New Hampshire, Maine, Massachusetts, and anywhere you'll have me! You can see more of my work online at melissakoren.com and also on Facebook and Instagram! If you'd rather contact me directly, please email me at melissa@melissakoren.com.
There are adventures to have and memories to keep so let's get to it!