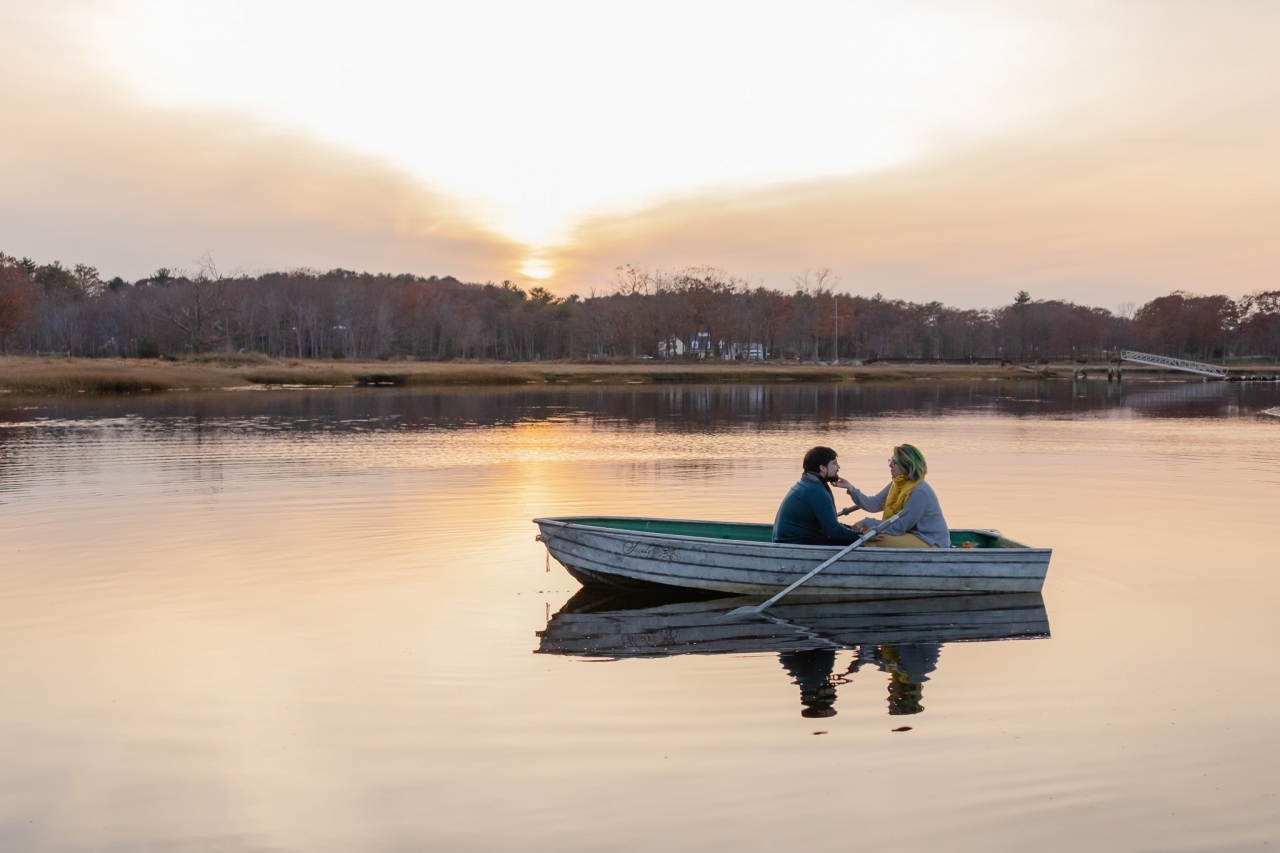 I like people who take action.  Dave proposed to Summer, and she pretty much immediately jumped on the task of finding an engagement photographer at rye, NH to complete her Odiorne Point Boat Launch Sunset NH Engagement Session vision! (damn, that was a mouthful, sorry!)
While we were chatting on the phone, Summer said, we were thinking we'd bring our boat and head out on the water. Are you ok with that!?
Um, yes!!! I'm SO SO SO OK with that!
That's their thing. It's something they're passionate about. It brings them joy and it brings them closeness.
I love that it was a boat and I love that we had this golden glow in the sky and beautiful reflections. But I LOVE that it was them. It was special to them and they wanted to celebrate that.
What's your thing?… pizza making? Or sheep sheering? Bowling? Wine tasting? Let's use it for our Odiorne Point Sunset Engagement Photographs in Rye, NH! 
What is that thing that always makes you think of your significant other? Something that's a pillar of your relationship. A thing that just makes you grin from ear to ear when you overhear it somewhere.
My afternoon with Summer and Dave and their boat during their Odiorne Point Boat Launch Sunset NH Engagement Session was nothing short of wondrous.  They are FUNNY.  And either really polite or they thought I was funny too. 
We walked over the boardwalk bridge and through the path. They showed me where Dave proposed, by the ocean. WITH A CELLIST. I was already taken with them but when I heard that, man, I was smitten. A cellist was the ONE thing that I wasn't going to do without at our wedding. (And we found the best one, she's still a friend to this day, her twins and our son ended up being in the same grade and I've watched them grow up alongside ours!)
We emerged from the one side of the water and headed over to the launch where I gleefully pushed them off and then run up and down the edge trying not to slip in the muck and laughing like a fool. AND I COULDN'T HAVE BEEN HAPPIER!
I also can't pick a favorite, but here are some of my top choices! I'm so glad you guys found me!