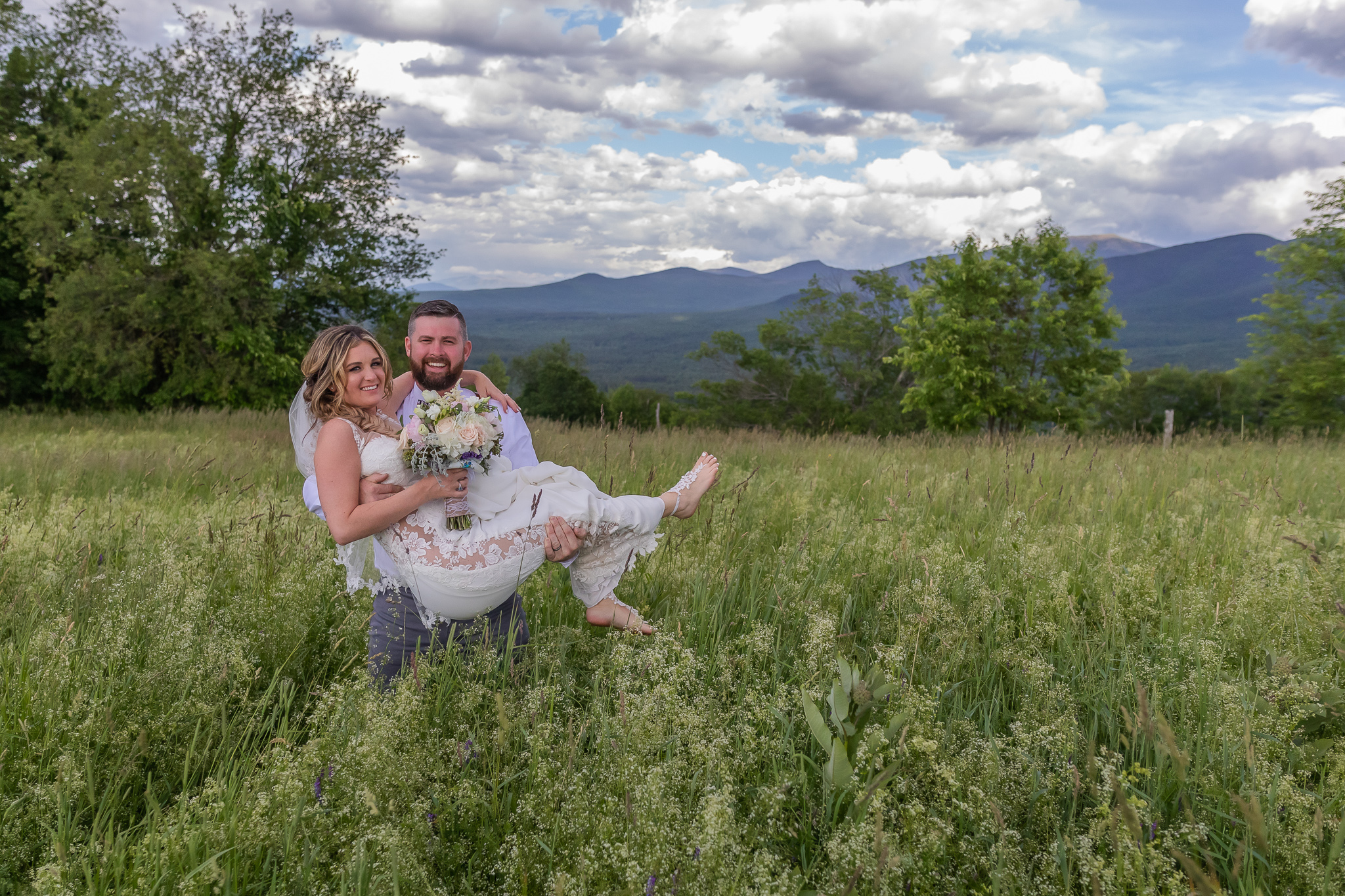 When Jacklyn saw her friend Sam post her Toad Hill Farm Summer wedding photos she instantly fell in love with the venue (and the photographer! ?.)
Fast forward a few years and Jacklyn found Jereme and they started to plan their wedding. Toad Hill didn't seem like it was going to be in the cards, but they found a nice place and then contacted me!
We met and chatted (for 3 hours over tacos and margaritas) and planned their 2019 Wason Pond engagement session and plotted their 2020 wedding.
You can probably guess where this is going .. but there was a twist. Somewhere along the line, they visited ToadHill in real life and just couldn't picture being married anywhere else, so they booked their dream venue.
Then #pandemiclife
Luckily, they were able to get basically the same weekend in 2021, with their dream vendor team and after MUCH anticipation, the day finally arrived.
It could not have been more perfect. The weather in Southern NH was hot and humid, but up in the mountains, it was a perfectly slightly breezy 80-degree day. The clouds perfectly covered the sky for the ceremony, and then started to scatter and cleared out for the late afternoon reception and evening dinner.
The amount of love, laughter, respect, adoration, happiness, family, friends, support (and dessert) present at J + Js wedding was immeasurable. But I do think it was documentable. 😉
Congratulations, Friends! I'm so grateful to have been on this adventure with you!
xoxo – Melissa
Venue The Toad Hill Farm
Officiant Devin LaRoche
Caterer Joseph Grella – Custom Eats and Sweets
Florist Renee Paris
DJ/Entertainment Peter Anania
Cake/Dessert Assorted dessert table
Hair Emma Deguio
Makeup Ashley Jenson
Photobooth We have a photo backdrop we are making
Videographer Cathy Cooke (A friend of ours who is going to capture some video for us!)
Review from the couple ♥️♥️♥️♥️♥️
Melissa was absolutely amazing. When I first reached out to her about photographing my wedding she was responsive and so friendly. She suggested we meet in person to talk about our wedding and what we were looking for from a photographer. She likes to engage with her clients and really get to know them before you both decide if she's the one to photograph your moments. And let me just say, she IS the one to photograph your moments. When my husband and I met Melissa for the first time in person, it was like meeting up with an old friend. We literally closed down the restaurant because we just sat and talked and were having too much fun! Melissa got up at one point to go to the bathroom, and that's when my husband and I both looked at each other and said "We can't get married without her." And that was that! She was hired and we were so excited. At our first meeting, I told Melissa I love candid photos! I know we were going to do some traditional and structured photos of course, but candid pictures meant so much to me and I really wanted *moments* captured to look back on. I don't think anything I say will ever do justice to the photos we received. We were absolutely blown away at how Melissa was able to capture EVERY single beautiful moment of the day! I get to relive my wedding day every time I look through my photos. I hung up some photos in my operatory at work. I have a conversation with every single patient that comes into my chair about my pictures. Every patient I have comments on how beautiful they are which prompts them to keep asking questions about my wedding. Melissa gave me that. She gave me and my husband and our guests pure moments of the best day of my life. She is so talented and amazing, I can't say it enough. She also went above and beyond helping me with things I didn't know I needed help with. She was always right there, ready to help and make sure every single minute of your day was perfect. If you are lucky enough to have Melissa as your photographer, I promise you, you will not be disappointed!!! She is the absolute best! We couldn't have asked for a better person to be behind the camera. Thank you Melissa for everything you did for us, and for sharing your talent with us! We are so grateful!

Jacklyn + Jereme
Toad Hill Farm Summer wedding. There are adventures to have and memories to keep so let's get to it!