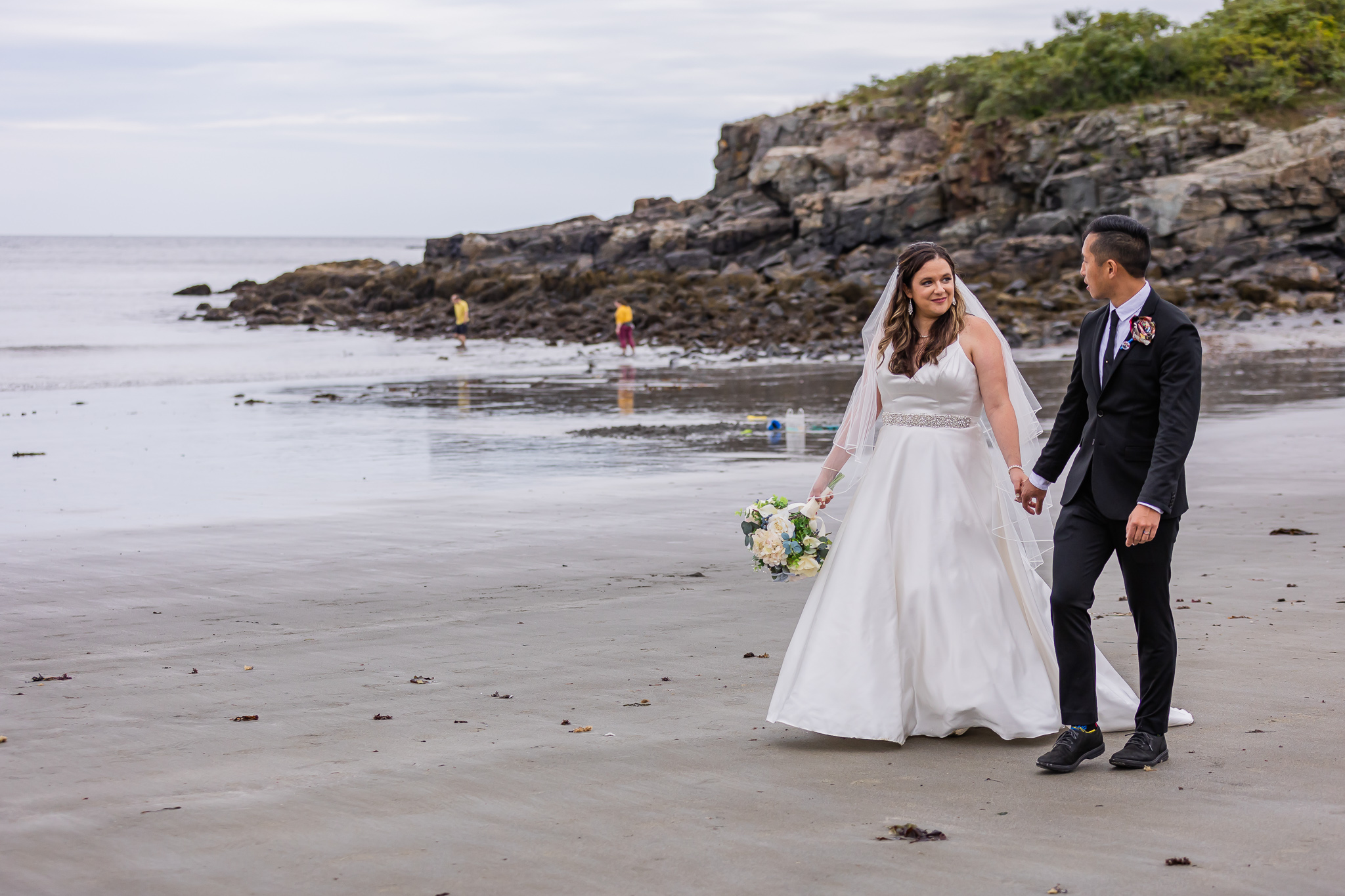 As I watched Christina and Ejay finally get their first dance at their long-awaited York Harbor Inn Late Summer Wedding, I welled up with tears. I was so completely overwhelmed with how lovely they were as people, as a couple, and how amazingly surrounded with support and friendship they were.
But most of all, I was overwhelmed that this was my job and I was lucky enough to work with them.
Their fantastic and fun beer-based engagement session feels like forever ago at this point (#thankscovid) but honestly finally seeing them in person, it all came back like it was just yesterday!
The details of this York Harbor Inn late summer wedding were so unique and special. Superhero boutonnieres, sparkly sneakers, HAND MADE CUPS for all the guests made by the bride. Oh, and all the florals? Also created by the bride!
They used their engagement photos to do a cutout of themselves as cake toppers. I'd never seen such a thing before but I had the best laugh and was totally in love with it.
But before the cake – was the first look 😭 and with enough time to get all the family and wedding party photos done before the ceremony! After they said "I Do" all their loved ones were able to go directly to cocktail hour.
Meanwhile, we stormed the beach and made some M.A.G.I.C.
I joked these images screamed "Tell me you got married on the rocky coast of Maine without telling me you got married on the rocky coast of Maine"
Once we were done they joined in cocktail hour and mingled with all their guests until it was time for the grand celebration!
And grand it was!
They choreographed a surprise first dance mash-up, Ejay's dad sang the song for the mother-son dance, they were toasted with such love and adoration (and a little snark, because well, you wouldn't be a perfect MKP client without a little snark in your life) 😂..
And then they danced the night away!
Christina and Ejay sent me on my way with my very own hand-crafted cup, and I immediately recreated one of their signature drinks – an old fashioned – in it when I got home.
Then I read their thank you card and cried some more 😭
"Melissa, Where to begin? I absolutely, positively, CANNOT imagine having our wedding day without you. In fact, I cannot and do not believe that there is a better photographer out there than you!"
It goes on, but I'm crying again so I'll wrap it up here.
Thank you my lovely sweet friends for being you, and for being you with me!
xoxo Melissakoren