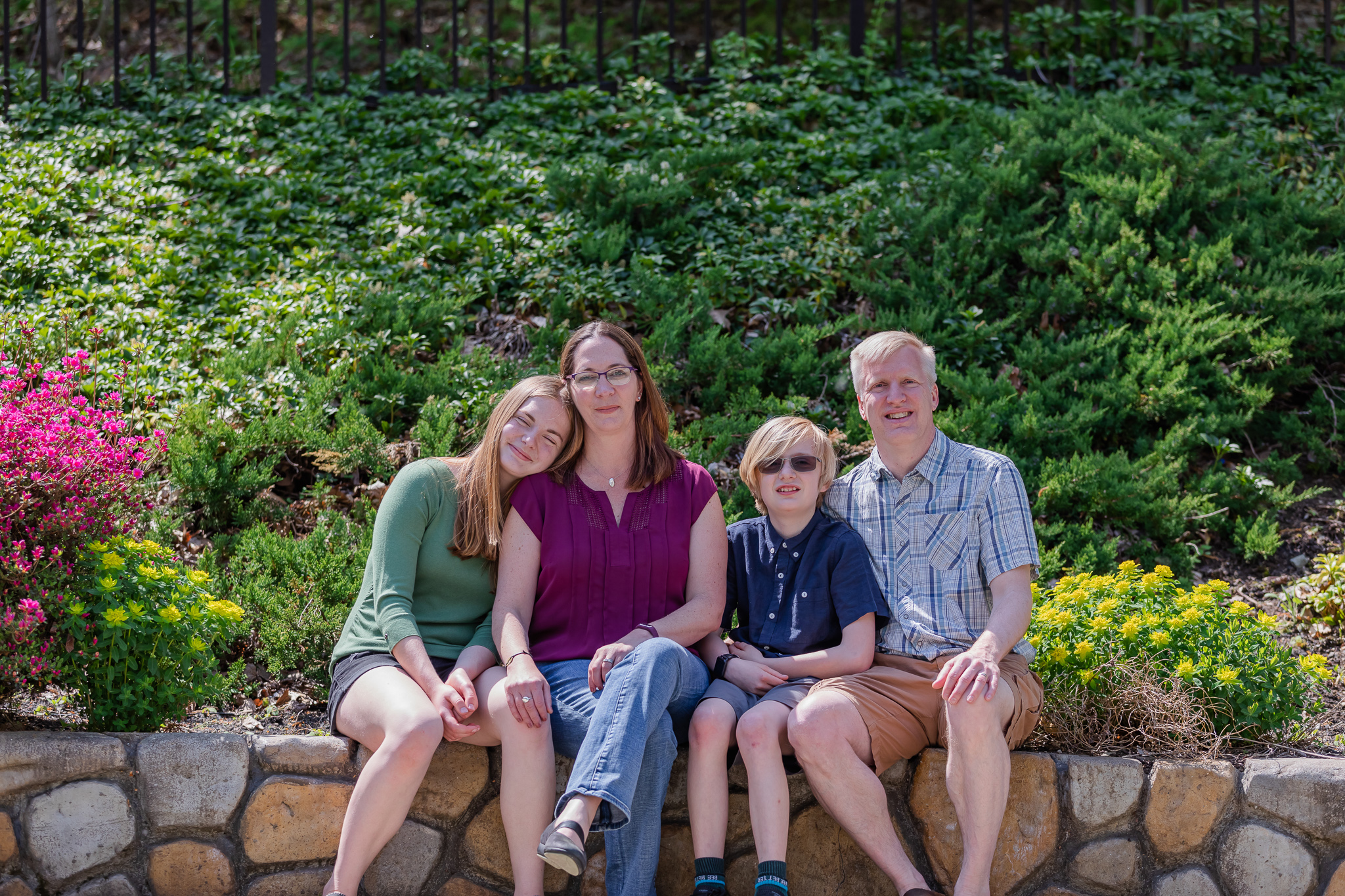 Springtime.. but also that time it snowed on me in the middle of May. Ok, it wasn't real snow… but bottom line, I had an absolute blast with these Exeter NH Springtime Family Photos. It's so fun to see how families interact and connect. And this family does so on all levels!
I joined them at their very lovely property. Every corner was another great spot for photos!
We started on the green grass on a shady hill. The dogs were curious about what I was doing there and happy to play along for a few photos, but ultimately had more fun photobombing us than "participating" 😂
The kids were much better sports, but I suspect also a little jealous of the dogs being freed so early. They were also full of ideas, and not too embarrassed to be lovey.
There was this wonderful swing hanging from a very cool multi-trunk tree. It was the perfect place to squeeze them in for a sibling's photo.
We used the old wooden fence for a few individual shots of the kids, and a long strip of grass at the top of the cool fenced-in pool area to do all the different mom, dad, kid, kid combinations.
A very well landscaped pool area featured these GIANT boulders!
*tangent* when we had some work done in our yard they found a pretty large boulder that now sits under one of our trees. I wonder if they found these huge rocks while they were installing the pool!
Anyway.. back to the Exeter NH Springtime Family Photos.
So many wonderful rock walls and walkways!
I think my favorites of the session though are on the other side of the tree swing. The bright green of the springtime leaves arched over halfway to the ground. The deeper green of lilies and irises reaching up out of the earth and lined the bottom.
And the space between –
It created this perfectly framed vignette of nature.
I had mom + the kids in place and told dad to go join them. He decided to "present" them in the most hilarious way.
Dogs photobombed the whole time.
Oh – and the snow! We had just started to take photos and the neighbor chose that exact moment to mow his lawn/hay his field. Which was apparently covered in dandelions, particularly the fluffy ready-to-fly parachute pappi kind! It was a hilarious moment to see, but not so great on my allergies. 😝
It just added to the adventure – It's safe to say we laughed. A lot.