Meet Chris & Ana.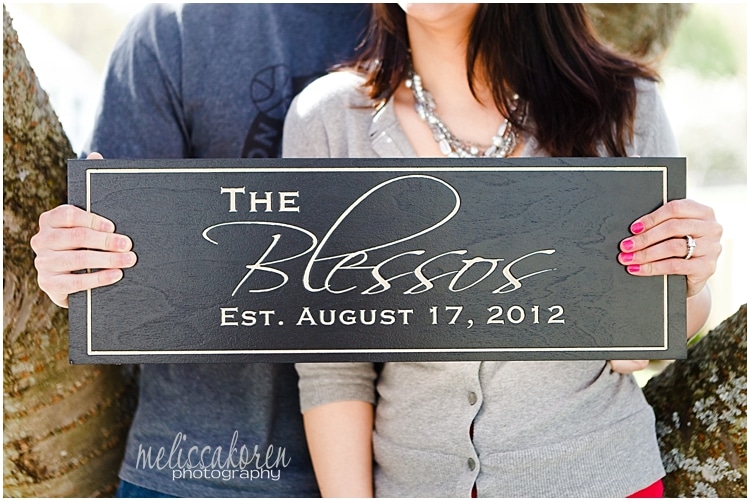 Ana is the type of person that you can't help but just feel happy around.  She's effervescent and adorable.  I dare you to meet her and not smile.  Go ahead I double dog dare you.  Chris obviously already lost that dare because he's all smiles when she's around.
Chris is handsome and kind and SMART.  He's going for his PhD in nutrition at UConn – Ana refers to him as "Mr. Nutrition" — and now I refer to Ana with questions for Mr. Nutrition 😉
A plan ahead sort of girl, she and Chris booked me for their 2012 wedding this past February.  In March, 2 months before the e.shoot, this arrives in my email – Melissa, I just had to share this with you, then I promise to stop emailing you like a crazy person! I was SO excited over getting our pictures taken, that I went on Etsy bought a prop… It's the CUTEST sign! It says, "The Blesso's, est. August 17, 2012″ I CANNOT WAIT!" (sign made by etsy vendor MRC Wood Products)
Now first things first, HOORAY for props!  Secondly, I'm just as likely to "email like a crazy person" and I love every second of it.  Third – can you see how infectious her excitement is?!  I couldn't wait to meet them in person. They did not disappoint!
Seriously – how gorgeous are these two? Is that even legal?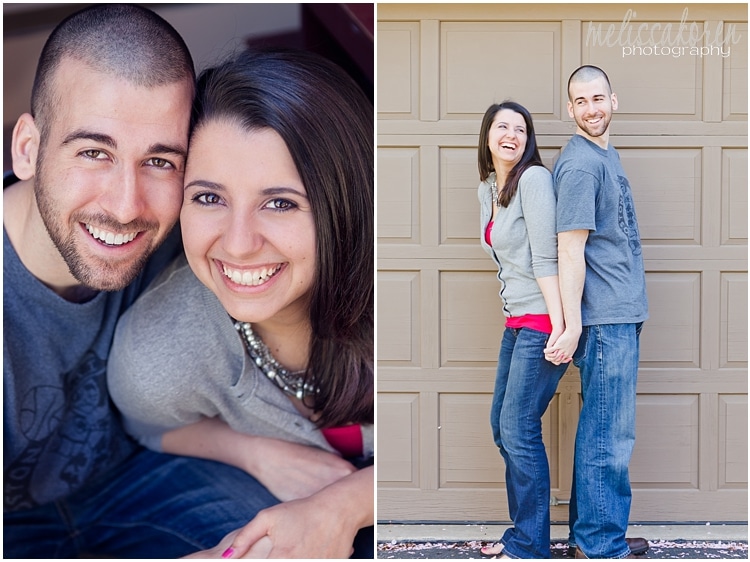 They're  just so NICE.  We met up at Chris' parents house and hung out.  I wanted to have a bbq and tie up a hammock and read a book.  They are all just that relaxed and inviting.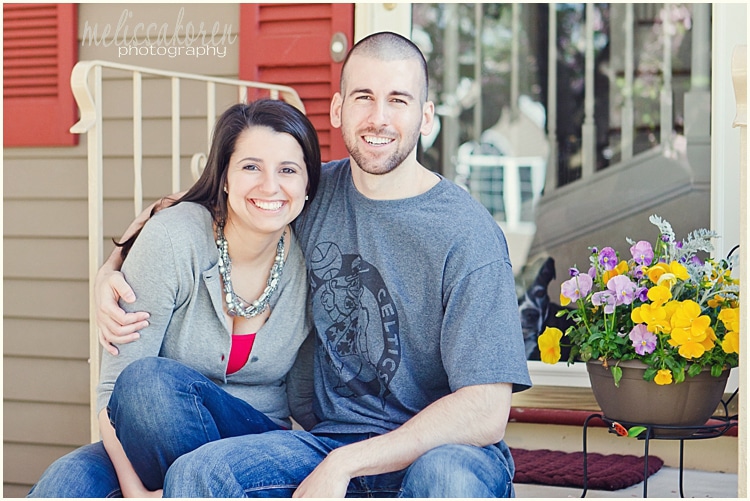 As we wandered out back I noticed the shed and said "oooh I like that door!"  Chris informed me that that's where he had his prom photos taken.  So I required him to reenact it, this time with his permanent prom date. He's such a good sport.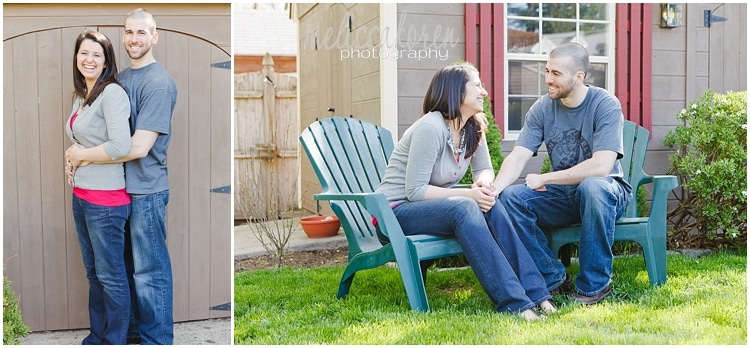 Having to think outside the prom box I used the other side of the shed.  Smooth huh?  I'm such a genius I tell you. HAHA. 😉  Still though – I love these two (pictures and people.. but I bet you'd picked up on that by now)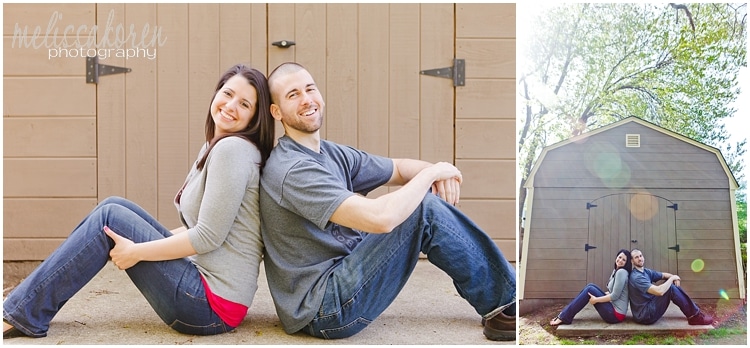 Chris' parents lawn was immaculate so I thought I'd get up close and personal with it 😀
Oooooh Bella…  Bella is their sweet puppy, most definitely a daddy's girl.  She joined us for the photos after putting her owners through a particularly rough night by deciding to snack on some rat poison.  Having taken the proper precautions they were sure they were all set and ready to roll.  Less than 5 minutes after shooting with Bella her poor face started to swell up and Chris' dad rushed her to the emergency vet – seems somewhere in a split second she was stung by a bee and had quite the reaction but not knowing or seeing the bee we could all only hope it wasn't related to the rat poison.  Talk about a Diva Dog! <3  I'm SO relieved she turned out to be just fine though.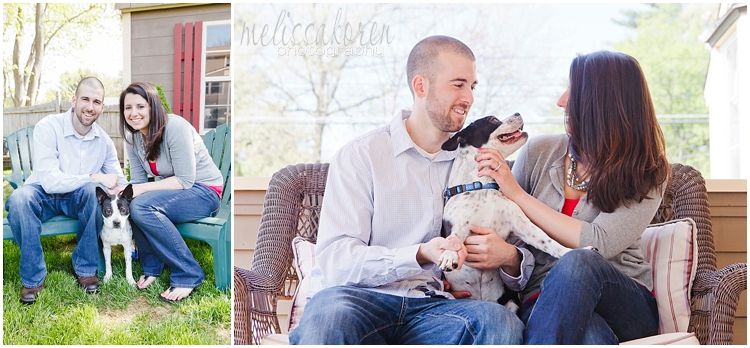 Since Chris had just changed into his button down, we snagged a few more photos then called the session finished so they could follow over to the vet and check on their furry kid.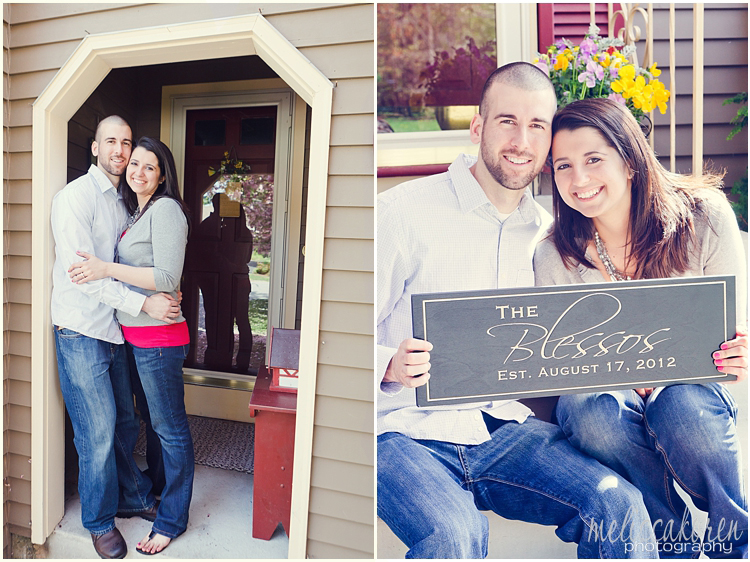 I had so much fun falling for these two.  Ana's already started the countdown to the wedding – – only about 62 more weeks to go!  I'm super proud of these photos – but I was really relieved when Ana passed Chris' response on to me ….  "Can we blow one of them up HUGE and run through it at the reception?"  (yes! please do!) and then even more relieved when I found out his mom loved them too!
Yay Blessos!