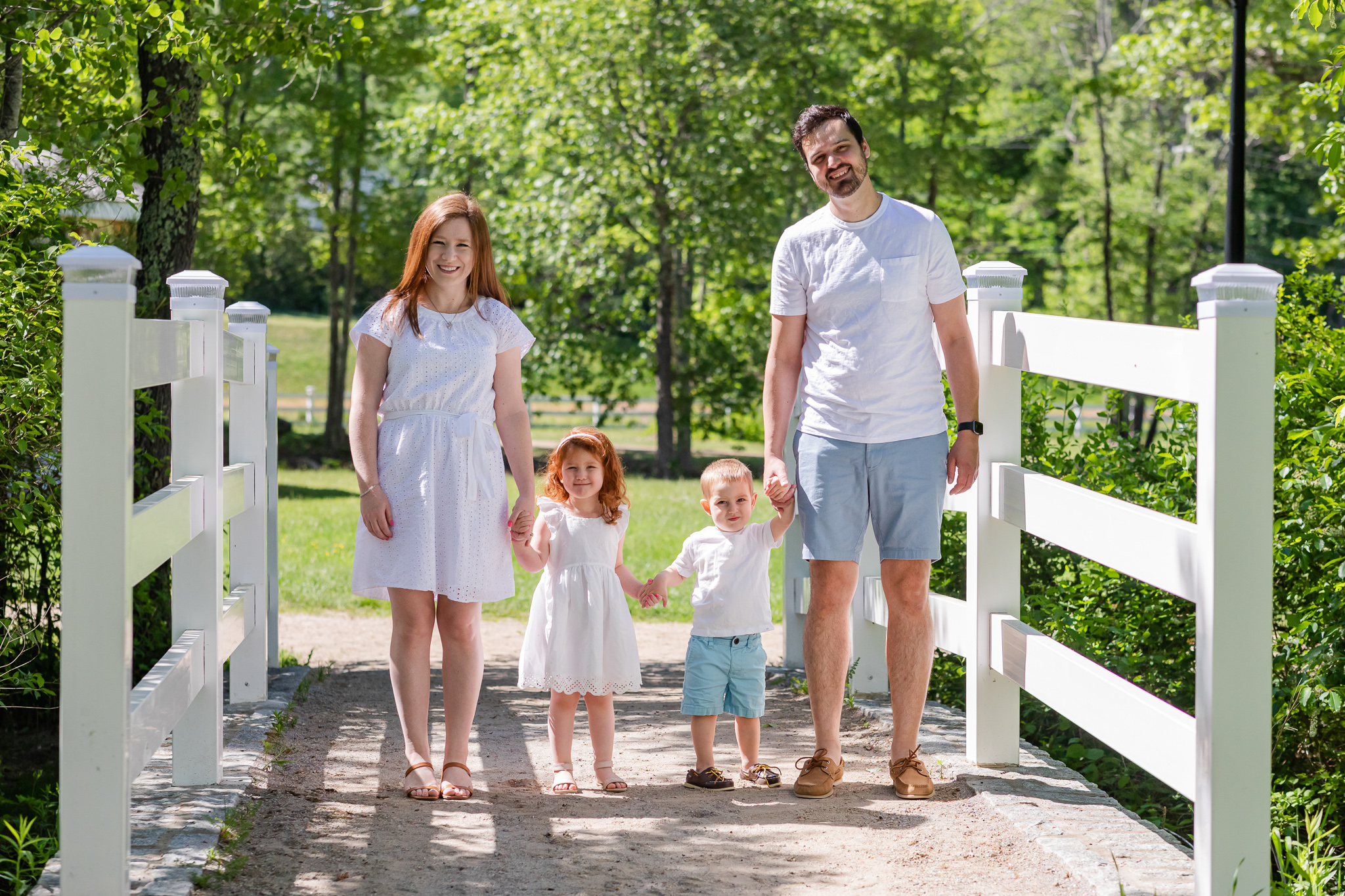 … and these Bedford NH Family Photos feature the most patient family EVER.
I think it's one of the most anticipated family photos sessions I've ever completed.
We were scheduled for early fall, 2019. It rained.
So we rescheduled for mid fall, 2019. The morning looked overcast, but not anything like rain. Until we pulled in to the park and the skies opened up.
We rescheduled for late fall, 2019, but the cold snap that week just wasn't conducive to a comfortable fall session.
So we decided to wait until early spring, 2020.
And then.
Yup, a pandemic.
Cool story, bro.
Once we were finally free(ish) to carefully move about the state, we tentatively placed a date on the calendar.
The day neared. Weather looked good. The time came and I got in my car and drove over to Bedford Village Commons .. watching the sky the whole time. The beautiful, blue, puffy cloud sky with perfect temperatures rewarded us for all our patience.
It was finally time for family photos of mom, dad, and their mini-mes!
Bedford NH Family Photos. Wedding, Family and Newborn + Brand Photographer Melissa Koren Photography photographs good people. (How's that for overuse of a word!) This NH based photographer provides a relaxed, outside the box approach where the value is put on fun and efficiency. Wonderful, loving, quirky, sassy, laughing, fantastic, and often cheeky people like you. Photos for you! You are good people! Microweddings, Intimate NH LGBT Wedding photography, Adorable MA Newborn photos, ME Engagement Picture Sessions, Seacoast NH Family photographer.
Based in Exeter, NH, Melissa Koren Photography works in New Hampshire, Maine, Massachusetts, and anywhere you'll have me! Outside the box, fun, photography for good people. Good people like you! NH, Maine & Beyond. You can see more of my work online at melissakoren.com and also on Facebook and Instagram! If you'd rather contact me directly, please email me at melissa@melissakoren.com.
There are adventures to have and memories to keep so let's get to it!