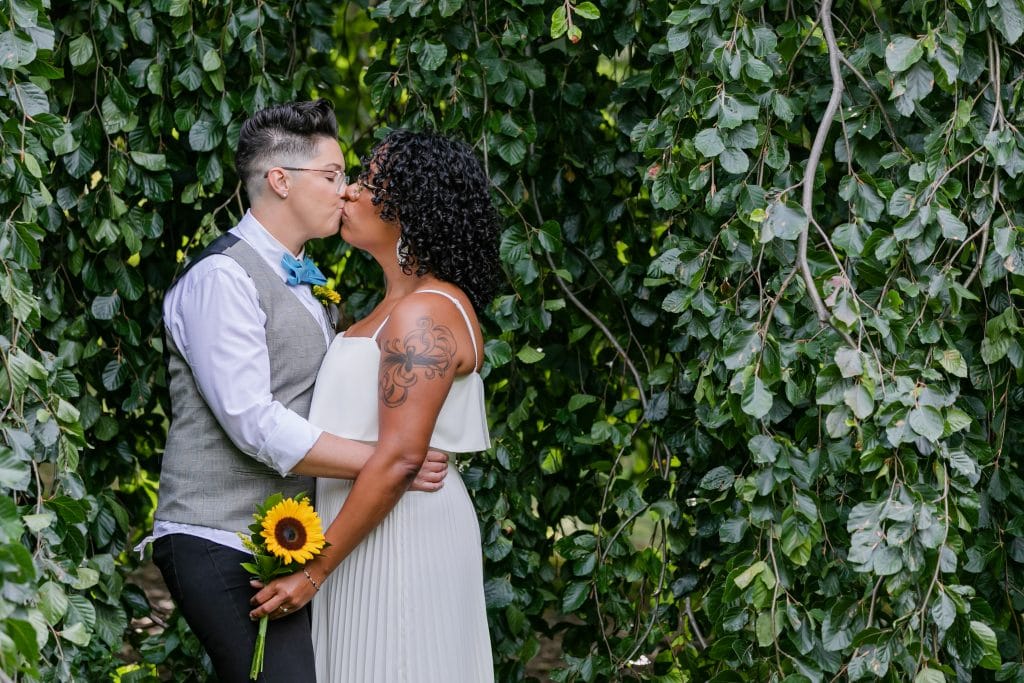 Not only really great song lyrics, but they made for fantastic signature cocktail names at Vanessa & Jen's Bella Luna Queer Wedding.
As a kid, my dad was always into classic cars, and I'm nearly certain we went to the Larz Anderson Car Museum at one point. If not, I'm not sure why I'd have had such a flashback connection when I received Jen & Vanessa's wedding sheet and saw they were doing their first look and family photos at Temple of Love in Larz Anderson Park.
I don't really remember it, then, if it was such a thing in my memory, but I'll never forget it now! What a wonderful place!
I just LOVE the anticipation of a first look, and the setting for this one couldn't be beat either. And while Jen & Vanessa had the perfect, intimate moment, there was one more first look to be had.
Vanessa hadn't seen their kids all gussied up yet and so as they head down towards us and she caught a glimpse, her reaction was priceless!
We explored a part of the park and did some adventure style photos with the whole family and then the kids gave us some more alone time for a leisurely stroll.
Then it was time to get married so we headed off to one of the more emotional ceremonies I've been honored to witness.
I don't think there was a dry eye in the house as they said and signed their vows.
The care they take of each other, and their family, is immeasurable. They love so freely together and laugh so big.
Never lose that friends, it's magic.
Bella Luna Queer Wedding by Melissa Koren Photography. You can see more of my work online at melissakoren.com and also on Facebook and Instagram! If you'd rather contact me directly, please email me at melissa@melissakoren.com!