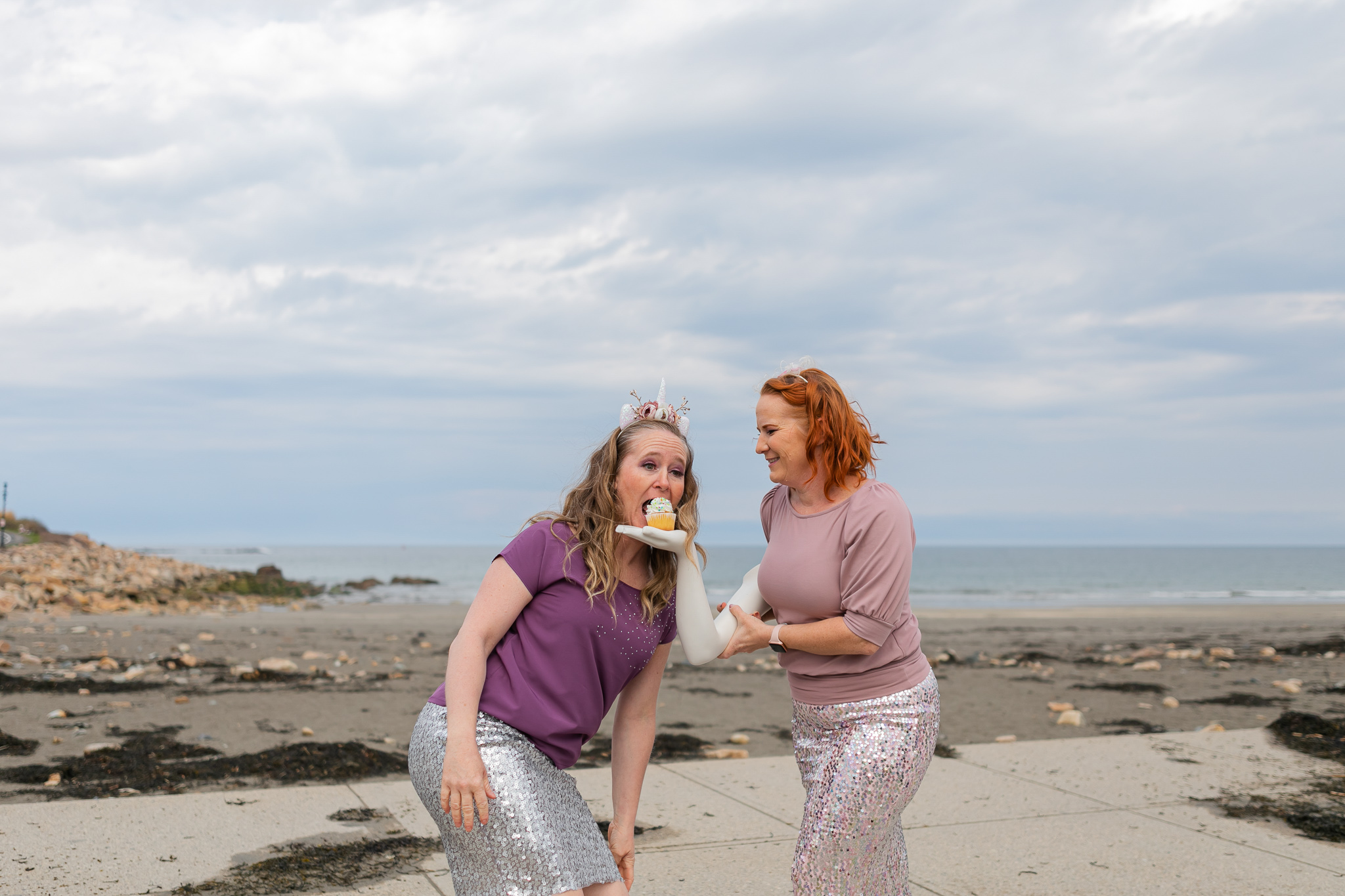 Stop everything you're doing right now and check out these BFF 40th Birthday Celebration Session York Maine photos. Pay no attention the sh*tty grammar and sentence structure of that previous sentence and just do it.
Then, once you've done it, decide who YOU'RE going to have a session that is simply to be silly, have fun, drink white claws, and eat cupcakes.
Eat cupcakes off mannequin arms even.
I am slowly, but surely, seeing a trend in silly, fun, for sake of it, birthday sessions.⁠
⁠
And I WANT THEM ALL!⁠
⁠
The email started like this:⁠
⁠
"Hi, Melissa! I am looking for a photographer that loves to have fun for a best friend photoshoot." ⁠
⁠
(Um, yes, that's totally me!)⁠
⁠
And ended with "possibly prom dresses with champagne"⁠
⁠
(Um, yes, I totally want to be a part of this/friends with you 😂)⁠
Prom dresses turned into bridesmaids dresses they found at the thrift store the day before, and champagne turned into 40oz White Claws, but honestly, that's how it was meant to be.
After cavorting along Short Sands Beach in their handmade sequin skirts, and cheersing to the 40th birthday at hand, this BFF 40th Birthday Celebration Session York Maine took a walk on the wild side. Well, I mean "wild" as in this is how they are in their friendship and it's so much freaking fun.
Y'all – it was April and that water is COLD. Maine isn't known for its balmy ocean EVER, but certainly not in the spring 😂
That didn't stop these two from splashing in the waves, rolling in the sand, and rocking the next fashion week look: Navy blue bridesmaid dress, black sombrero, and a 40oz.
Cheers to a most fun session, ladies. Thank you for finding me and having me as a part of your little adventure!
Who's next‽