What do you do when you're given the opportunity to meet, and learn from, your photography idols? WHATEVER IT TAKES. So when I learned that bobbi+mike, a husband and wife team of fabulousness from Indianapolis, whom I have blogstalked since almost the beginning of my MKP adventures (I have a message to her in Sept 08 telling her how much I admired her work, but that I swear I wasn't a stalker) were hosting their first ever workshops, that's what I did.
It's no secret that I fell into photography accidentally. Until early 2006 I really had no idea I loved it – or that other people (aside from my ever loving mother (hi mom!)) had any appreciation for the photos I took. But in December 2006, I made a website, sold some prints & note cards, took some family photos, and was asked to shoot a wedding. 07.07.07 I shot my first wedding – and I haven't stopped going since. I love EVERY SECOND of it (well maybe not tax season..) but for real – this is an amazingly humbling thing I've found within me and I wouldn't change a thing.
However, sometimes in the back of my head, even with 250+ shoots under my belt, I think – "but I never took a class, what if I'm doing it all wrong?"
There are photography workshops every time your turn around – near & far – short & long – and some hosted by people that I would totally consider it an honor to learn from – but when Bobbi hinted at a workshop I thought, gosh – THAT would be the one. And when she released the options for dates of the workshops I thought – gosh, THAT would be the one. And then I decided that HAD to be the one. I needed to do this for myself as a photographer, and more importantly for myself as a person. Outside the fact that I have a total photo.girl.crush on Bobbi (and totally a crush on Mike too!) I needed to pursue this adventure and to hear whatever it was that they had to say. … Looking back, when I signed up, I really had no idea what they were "selling" syllabus wise – I just knew that I couldn't miss it.
In early February they announced the dates, and then announced when they'd open signups. 10 people per workshop, 3 workshops – but I wanted the first one. (you never forget your first!) Sign ups opened at 3pm.. the time I leave work. At 2:45 I opened the page and frantically followed her twitter feed waiting for go time in between refreshing the signup page to see if the cart was open yet. tick.refresh.tick.refresh.tick.refresh.tick. GO! I was all full of adrenaline and crazy as I added the 2 day photography workshop and 1/2 day album designing workshop to my cart, submitted my order, and squealed with delight as I was IN! Then I got in the car to drive home and thought – now what the heck am I going to do?! I'm going all alone to a place I've never been to meet strangers to talk about something I don't even know that I'm doing right. crap.dammit. But I pulled up my big girl panties and made the appropriate travel plans. Leave Sunday, come back Wednesday night – taxis & a giant hotel rooms to myself. It would be the longest I'd ever been away from home on my own. If I wasn't before, I was certainly a grown up now. (within reason of course ;))
Less than 2 months later it was time to go. Nichole & Benjamin drove me to the airport and with only minor, but hugely frustrating delays on my layover, and a not so scary taxi ride, I was in downtown Indianapolis and freshening up to go for a drink with the beautiful Ashley Cohn from MN – another workshop attendee, we'd all been emailing once the workshop roster was released and Ashley and I managed to coordinate evening schedules. It was nice to know heading into it Monday morning that there would be at least one 'familiar' face.
The workshop was phenomenal we talked and learned and loved and laughed and cried and taught and shared and collaborated. I didn't do much with my camera, I probably could have just as easily left it at home, but I did bring it along on the real-people-not-models-who-were-actually-engaged engagement session we got to witness and I couldn't help but take a few photos.
Here's the whole group (minus one Michelle) l:r Michelle, Ashley, Faye, Jenna, Sarah, Leslie, Heather, Mike, Crystal Jo & front and center, Bobbi taking photos of BJ & Rachel – engaged couple extraordinaire. Let me tell you – watching bobbi+mike shoot was so awesome. Not only are they fantastically hysterical, they had even more crazy tricks up their sleeves than I did – which means I was totally on the right track and now armed with even more fun and hilarity! new & improved! 😉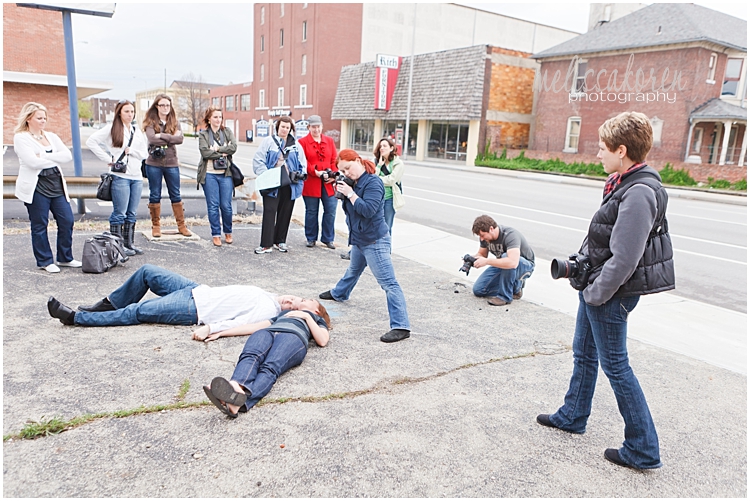 Downtown Indy is really fascinating – so industrial and full of very-different-than-I'm-used-to shooting opportunities. I've learned to look harder around here in the seacoast, but it really is strangely idyllic… (I do love that, but sometimes old and broken and different is a lot of fun too!)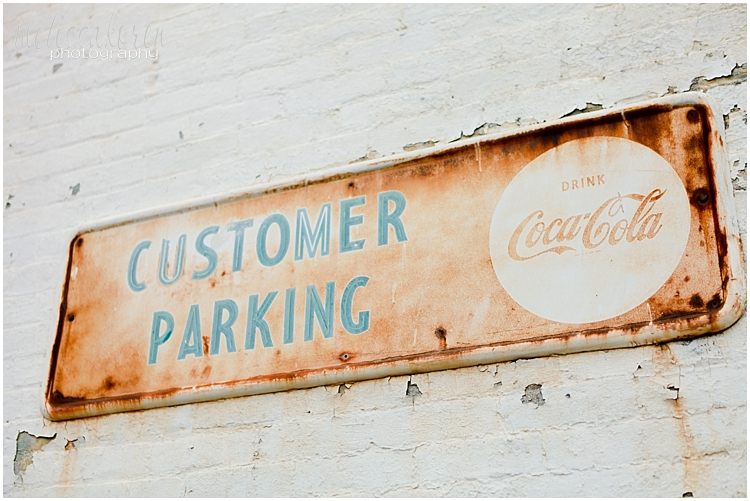 The weather had been overcast all day, but by the end of our shoot, the 'magic light' tried to make an appearance – we were all on the top of the parking garage and I decided to pull out my 'far away' lens and see what I could do from my strictly observer standpoint working around 11 other people all watching or shooting the same subjects. It was awesomesauce x2.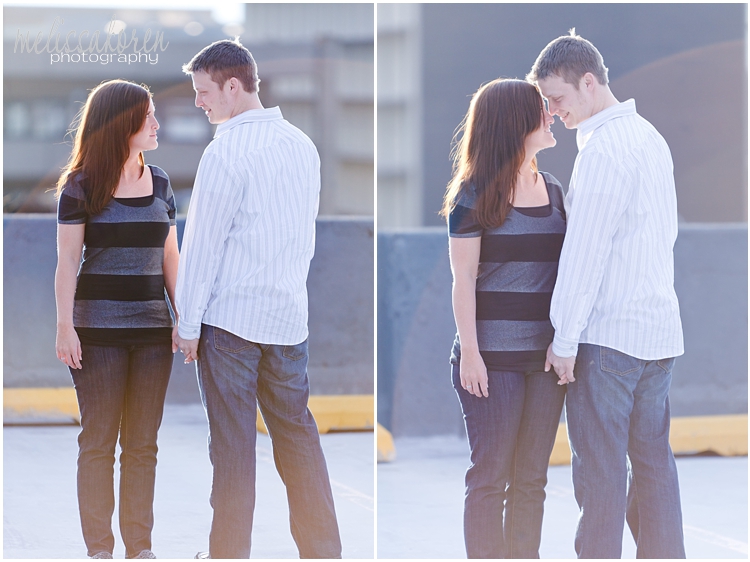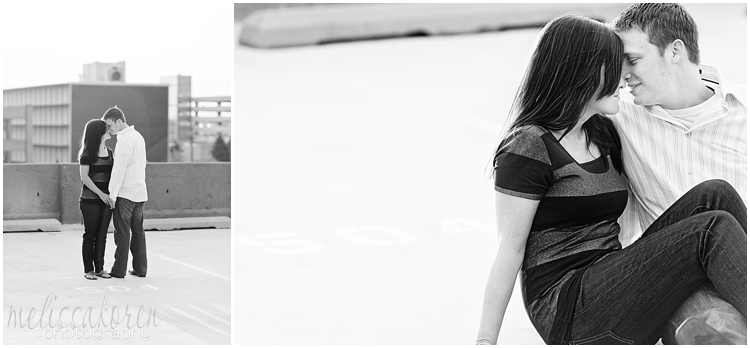 Bobbi explaining some of the thoughts behind her shooting – so much genius packed in to such a petite body!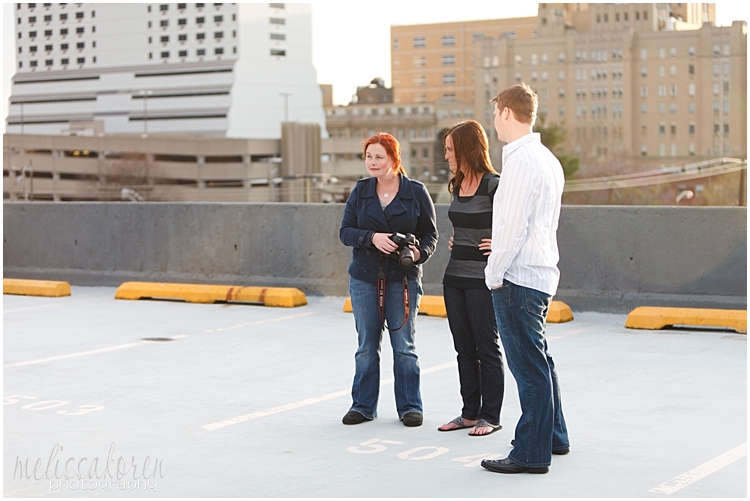 I sort of love these 4 – a lot.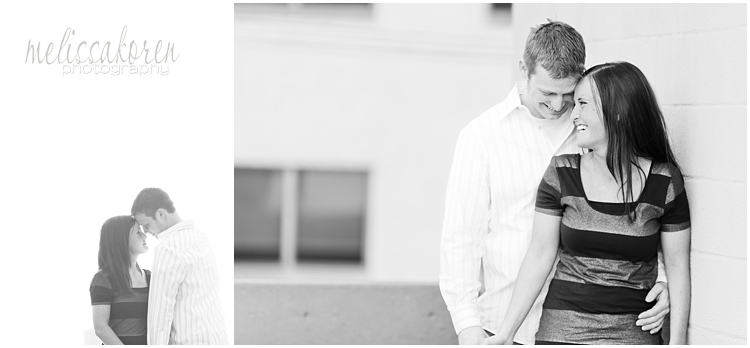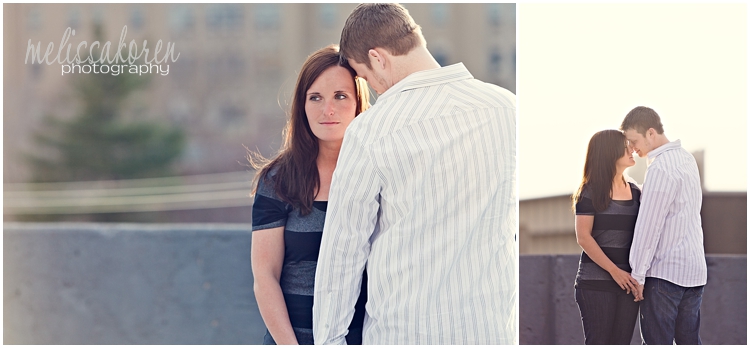 I can honestly say that this was the best thing I've ever done for myself – bobbi+mike and the rest of the group were fantastic and the knowledge was invaluable. I left Wednesday afternoon with new friends, new ideas, and secure and comfortable knowing I am headed in the right direction and that I want to do this for years and years to come.
much love friends!