Another year was winding to a close and Christmas Eve was upon us again. This year we were lucky enough to have Allison & Lochlin at our celebration! (Seriously kid, you're less than a month old and already on the blog 3 times?! ;))
It was my mom's first time meeting him so she swooped him up when he got there, but she quickly learned she had to share.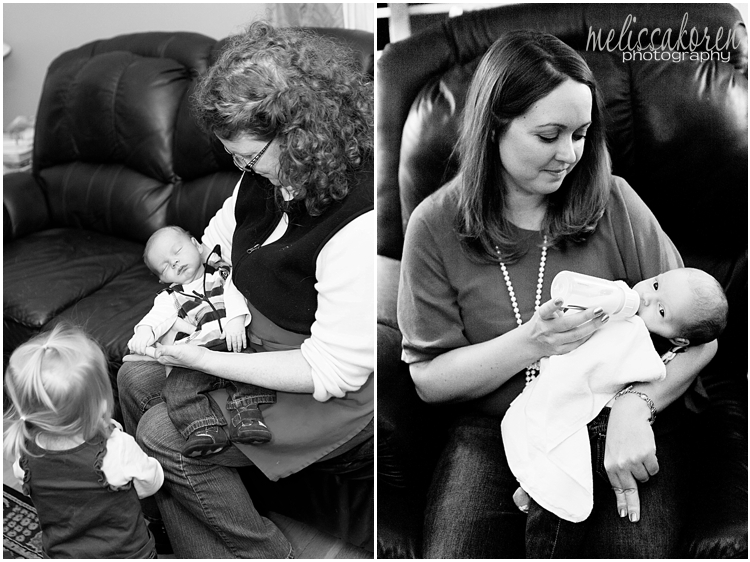 With her grandchildren!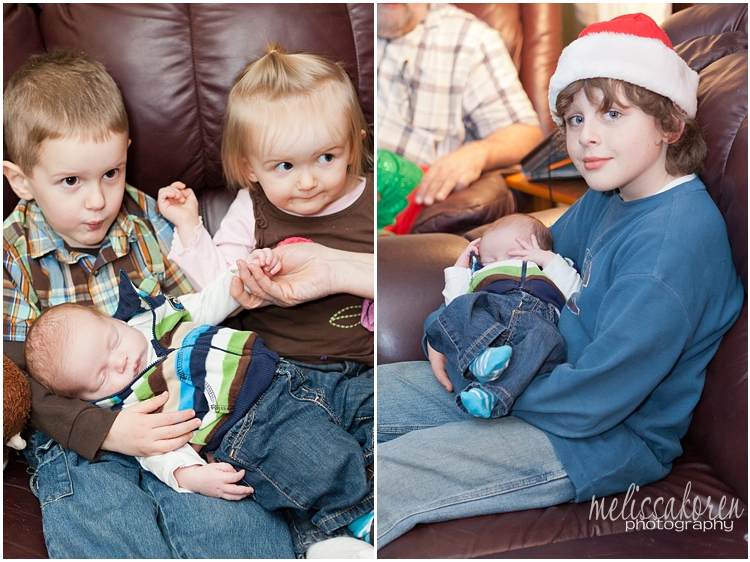 Killian who was just over 3 1/2 got to hold him all by himself, and he even shared his cherished monka with him.  And that there on the right, that's a meeting of the minds.  Sweet, loving, minds.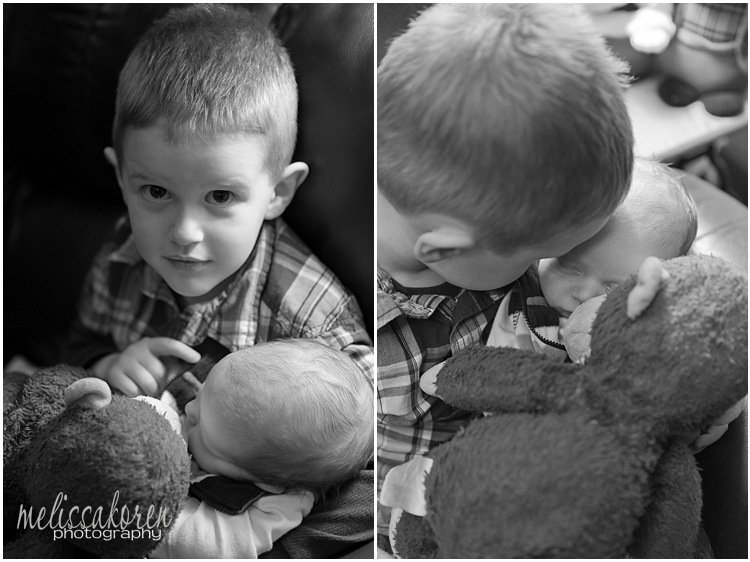 Avery, 19 months, also got to hold him.  And love him, and tell you that he's HER baby, and smooch on him. (And cry when we took him away, but I didn't take a picture of that because it was my turn to hold him so I was the one doing the taking!)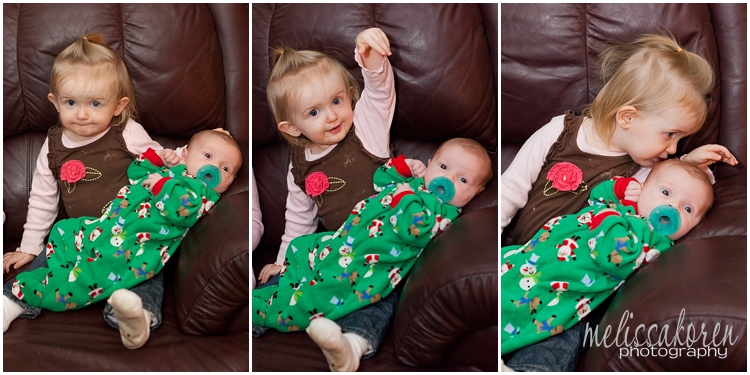 We distracted the kids with presents – always a good plan.  Books for everyone!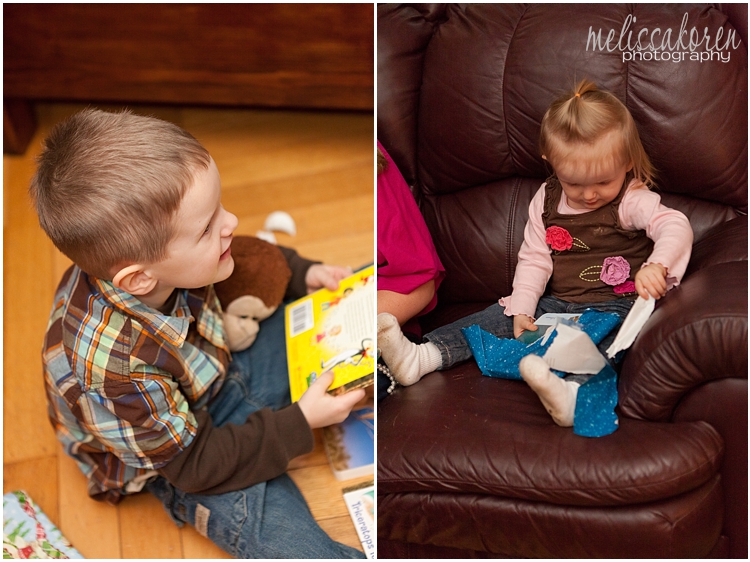 Benjamin read his younger cousins their new books and then my dad did the annual reading of The Night Before Christmas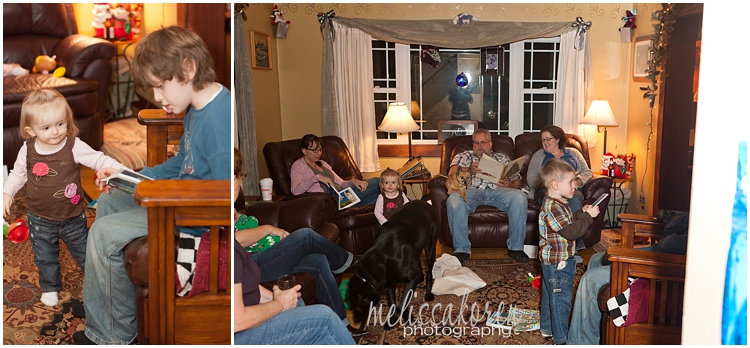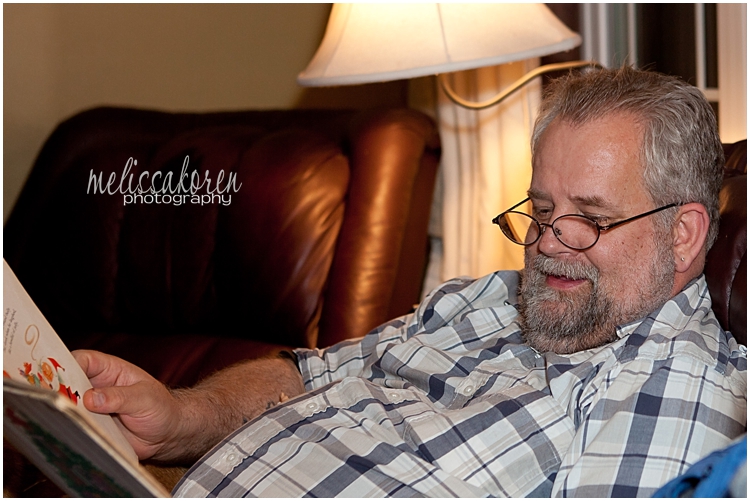 Christmas afternoon we headed back to my mums in the afternoon for more Christmas goodness.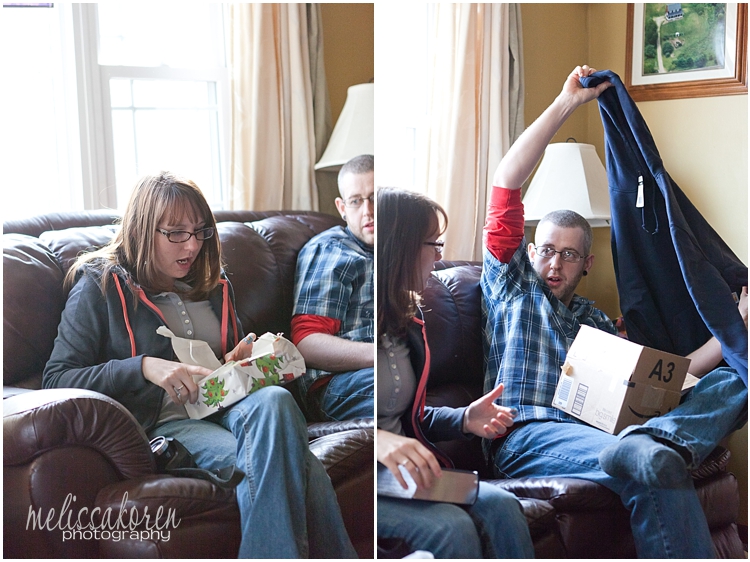 Harry Potter – books & bluray!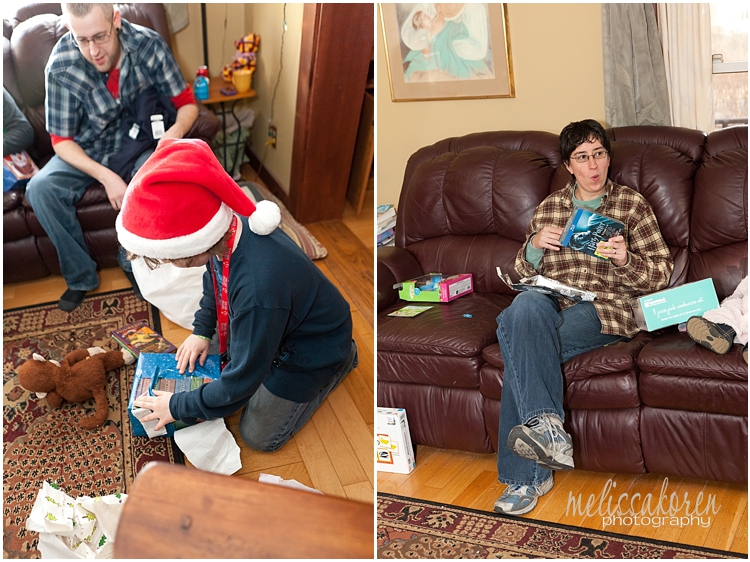 Avery had had enough of Christmas and wasn't too sure she wanted to be awake from her afternoon nap.  But she reluctantly showed me the elephant feet, and then mum got some slippers meant for elephant feet!?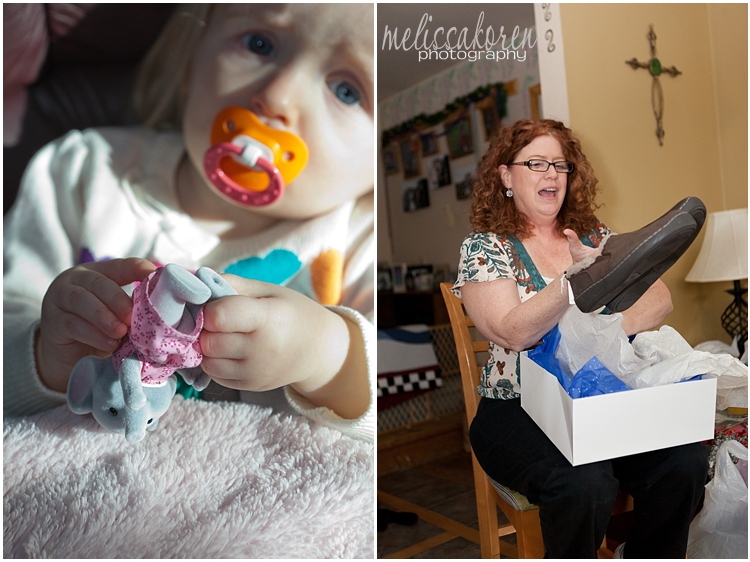 Then Santa did something all crazy santa like..  Killian had had a small green Amy Coe blanket since before he was born.  It was called facey and then one day, sadly, facey disappeared.  We all looked high and low for facey but he was no where to be found.  Nor were there any more to be found in Target, or anywhere.  Well, Santa has some really good internet finding skills and decided that this just couldn't be.  And a small, plain box wrapped in blue tissue with just the name Killian on it was found under the tree.
With good old three year old ferocity he ripped into that package as his mum sat behind him saying 'what is it?' … then out of the box comes the blanket and out of the Killian comes "FACEY" .. and out of my eyes come tears and love.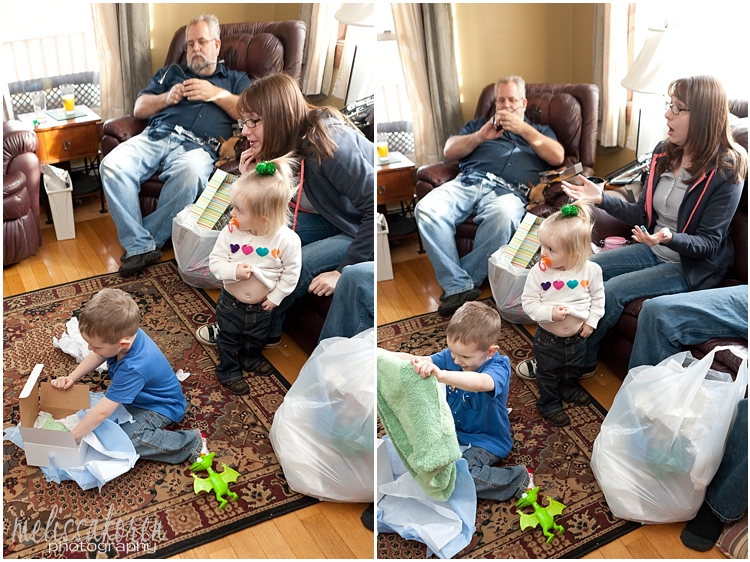 And facey got a proper love also and then a group hug from Killi's mum & dad too.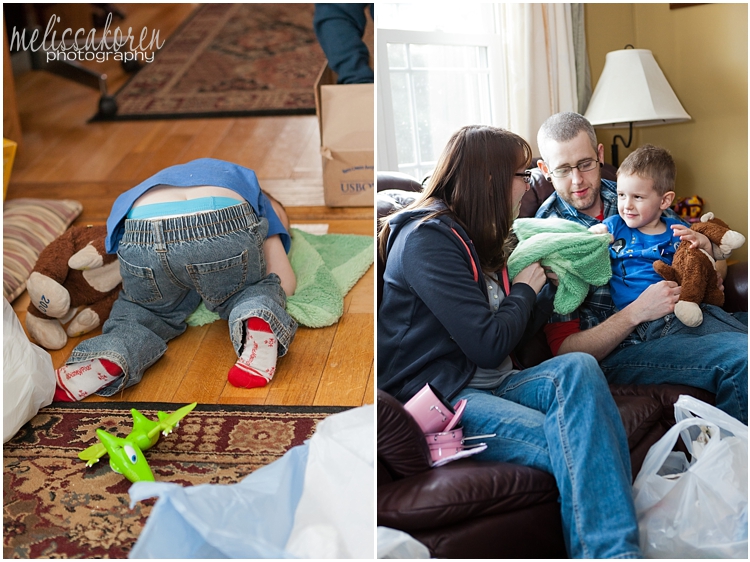 And then, Benjamin did this.  And I couldn't find a photo to partner with it because it tells it's story ALL on it's own.  Oh yes, he's mine, all mine.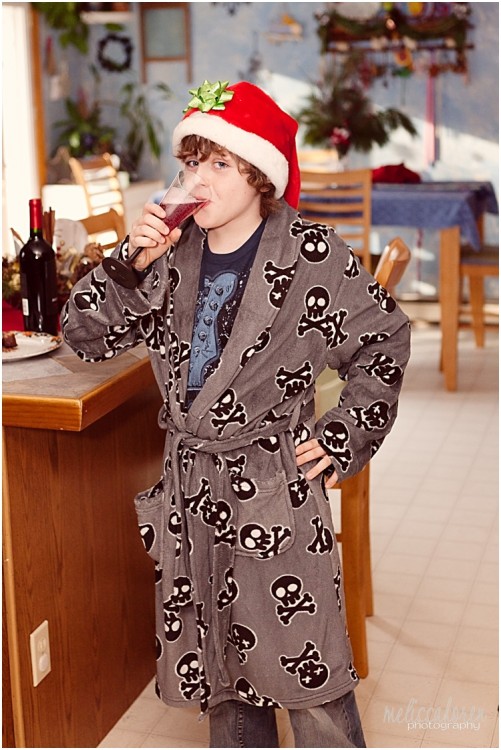 One final Christmas – ours!  And it was great.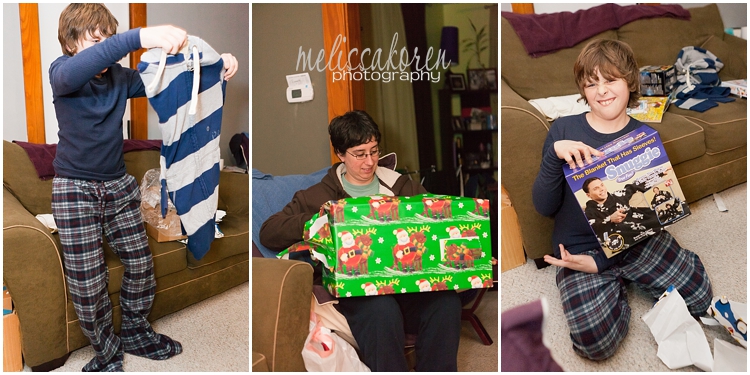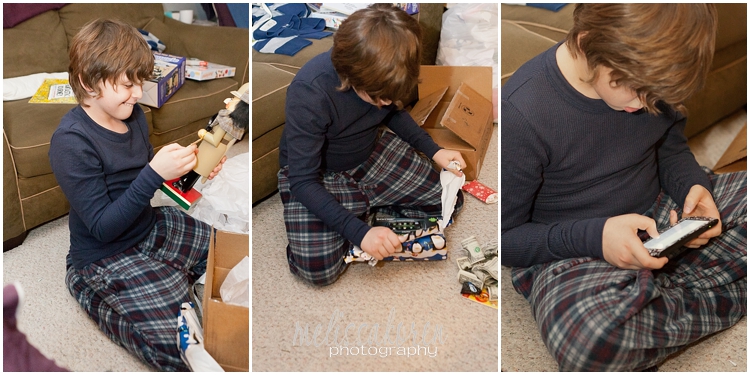 The last gift was an Archos Internet Tablet – and then we never heard from him again 😉
Merry Christms! (you know, 5 months ago)