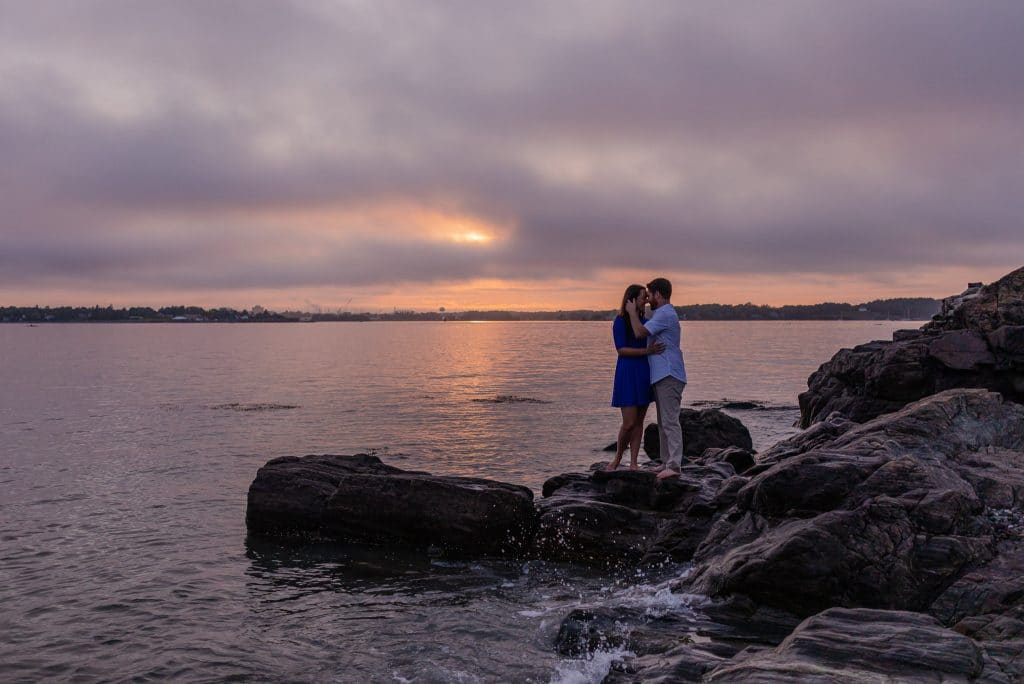 And our sunset ?. Sounds super dramatic, right? (Probably not.) But this Fort Foster Engagement Session kept us on our toes!
Garlande & David very graciously invited me to join for a drink and a snack pre-session. The whole drive to Bistro 1828 at Pepperell Cove the sky was crazy. And it sprinkled. And the fog at the bridge to Maine. (But much to the amazement of the plethora of cars going 30mph over it, it didn't actually disappear and I still, in fact, made it to the other side ?)
Once we sat down for drinks on the water, the skies cleared, and we chatted about the weather, and like, everything else under the sun. Which we were, under the sun.
Then, just as we were getting the check, the skies changed again.
This epic fog rolled back in.
We hustled over to Fort Foster and realized we had to park outside the gate and haul ass in. Through the valley of mosquitoes. Fog = Humidity = Bug paradise ??‍♀️
We arrived at the water, triumphant and mostly unscathed.
And then, we had SO.MUCH.FUN.
I don't think there's any scenario where these two would NOT have the best time.
And the weather just added intrigue and fascination the situation!
I can't wait for their 2020 wedding!
Fort Foster Engagement Session by Melissa Koren Photography. You can see more of my work online at melissakoren.com and also on Facebook and Instagram! If you'd rather contact me directly, please email me at melissa@melissakoren.com!