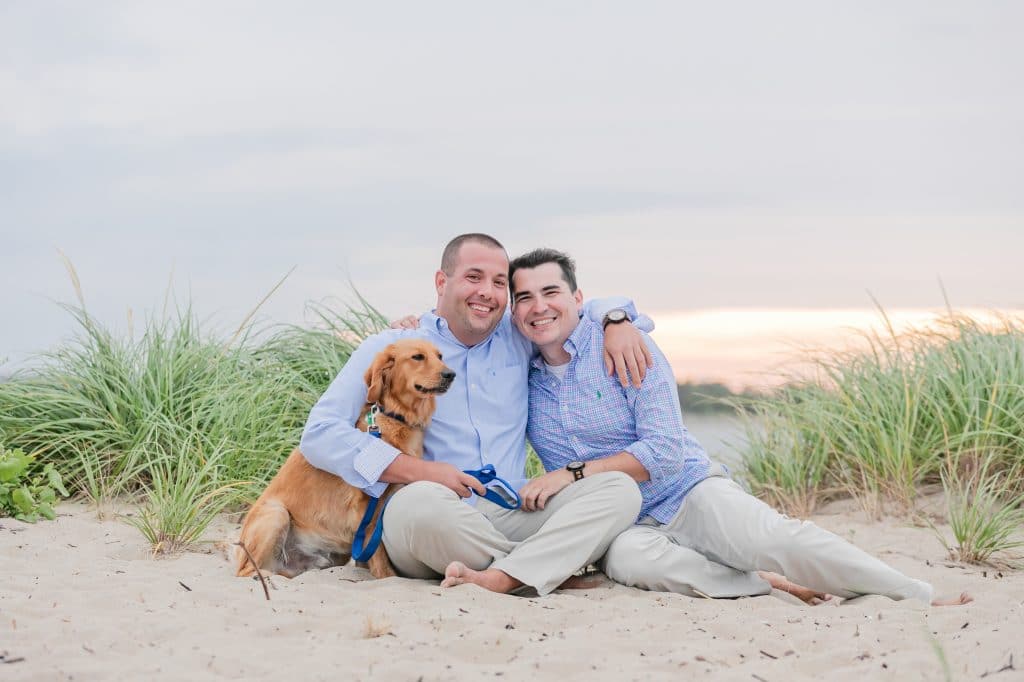 Let's go to the beach the said. It will be fun they said. Well, these LGBT Engagement Photograph Salisbury Beach photos were fun. But it was a little windier than we bargained for!
We knew there was a tropical storm churning further down the coast, but thought we'd still try our hand at photos. We'd wait so long for it to finally be time, and schedules being what they are, time was of the essence.
So we met up at the beach, which is normally a windy place, and just laughed about it!
Do you see the one where their dog looks like he's got his head out the window while flying down the highway at 65 mph? Yeah. It was hilarious.
But we were well rewarded for our tenacity with a beautiful sunset!
Oh – and you have to check out their engagement watches, too!
Explore these Fabulous LGBT Engagement Photographs in Salisbury Beach, MA.
Wedding, Family and Newborn Photographer Melissa Koren Photography photographs good people. (How's that for overuse of a word!) This NH based photographer provides a relaxed, outside the box approach where the value is put on fun and efficiency. Wonderful, loving, quirky, sassy, laughing, fantastic, and often cheeky people like you. Photos for you! You are good people! Intimate NH LGBT Wedding photography, Adorable MA Newborn photos, ME Engagement Picture Sessions, Seacoast NH Family photographer.
There are adventures to have and memories to keep so let's get to it!
Based in Exeter, NH, Melissa Koren Photography works in New Hampshire, Maine, Massachusetts and anywhere you'll have me! Outside the box, fun, photography for good people. Good people like you! NH, Maine & Beyond. You can see more of my work online at melissakoren.com and also on Facebook and Instagram! If you'd rather contact me directly, please email me at