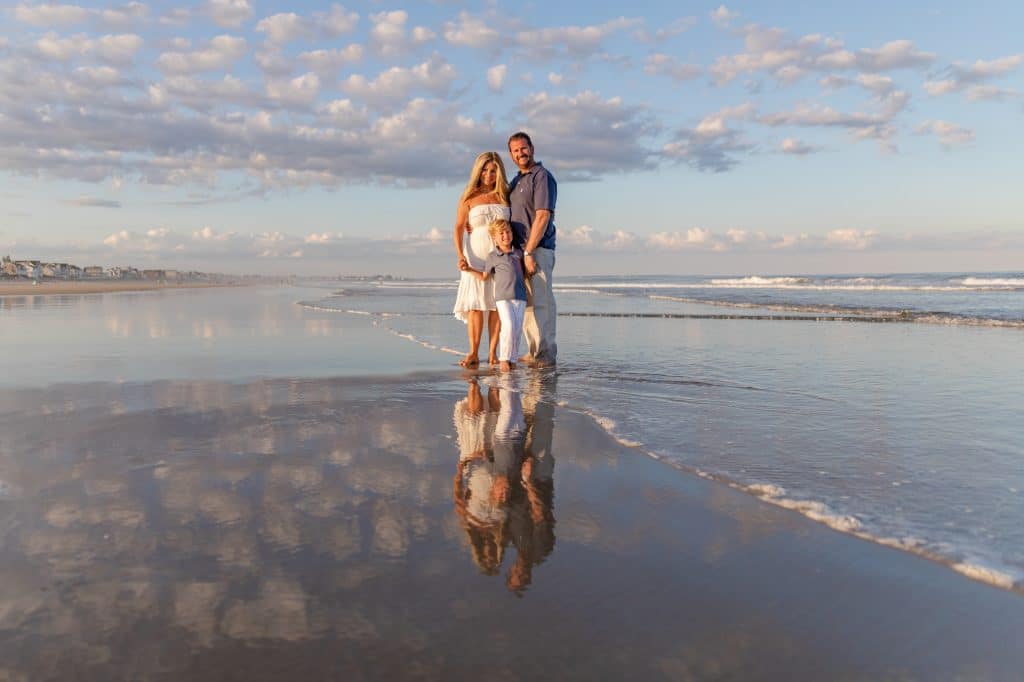 Are you kidding me with that sky? All my Ogunquit Maine Family Photos are wonderful, we get some great sunsets, there's plenty of fun being had. But sometimes – just sometimes – mother nature ups the ante.
We've talked prior about my obsession with reflections anyway. When you add in the dappling of mottled stratocumulus clouds? I mean – I was flabbergasted and elated!
And this family of three made the whole thing complete! I love my big family beach parties, but it's nice to be low key silly with a smaller group from time to time, too!
Ogunquit Maine Family Photos. Wedding, Family and Newborn Photographer Melissa Koren Photography photographs good people. (How's that for overuse of a word!) This NH based photographer provides a relaxed, outside the box approach where the value is put on fun and efficiency. Wonderful, loving, quirky, sassy, laughing, fantastic, and often cheeky people like you. Photos for you! You are good people! Microweddings, Intimate NH LGBT Wedding photography, Adorable MA Newborn photos, ME Engagement Picture Sessions, Seacoast NH Family photographer.
There are adventures to have and memories to keep so let's get to it!
Based in Exeter, NH, Melissa Koren Photography works in New Hampshire, Maine, Massachusetts and anywhere you'll have me! Outside the box, fun, photography for good people. Good people like you! NH, Maine & Beyond. You can see more of my work online at melissakoren.com and also on Facebook and Instagram! If you'd rather contact me directly, please email me at melissa@melissakoren.com!