Lizz & Andrew met with me well in advance of their 09.09 wedding.  Lizz's personality is stupendous.  She's effervescent and kindness personified.  And Andrew soaks up every second of it.
When I arrived at her parents' house, it was again obvious that America run's on Dunkin's – more specifically – New England Brides run on Dunkin's!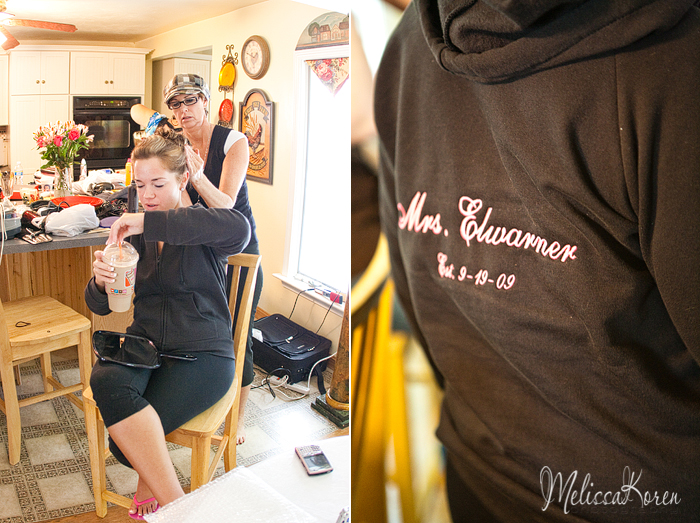 While Lizz was getting her hair did (yes, I said that), her sister and crew birthed the dress down the stairs.  It was quite the feat and there was no way for me to help, so I just had to take pictures.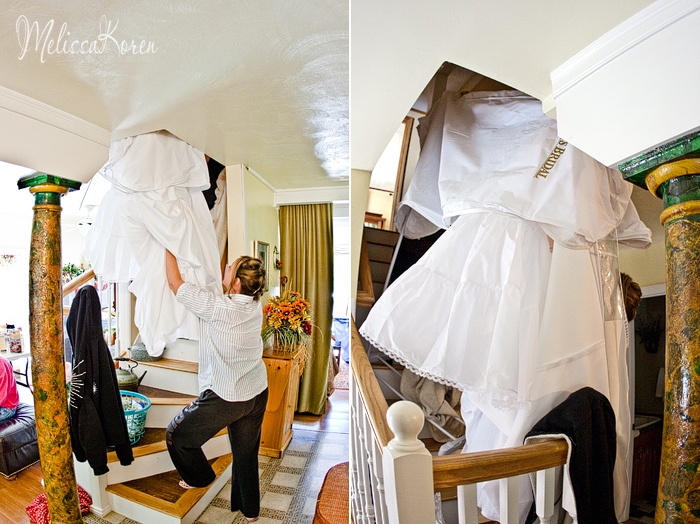 As it turns out – Lizz's mom makes cakes.  And not just any cakes – absolutely exquisite ones.  I was literally dumbfounded when I found out she made both the wedding & groom's cake! (Oh and they made all the bouquets too.  The details in this wedding are OTT!)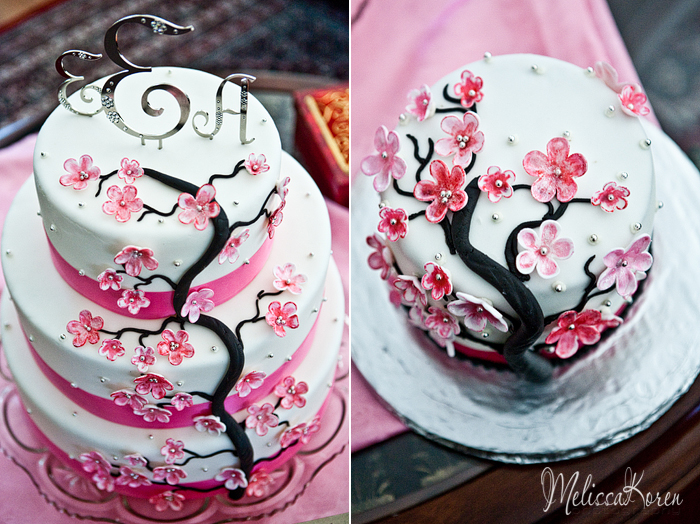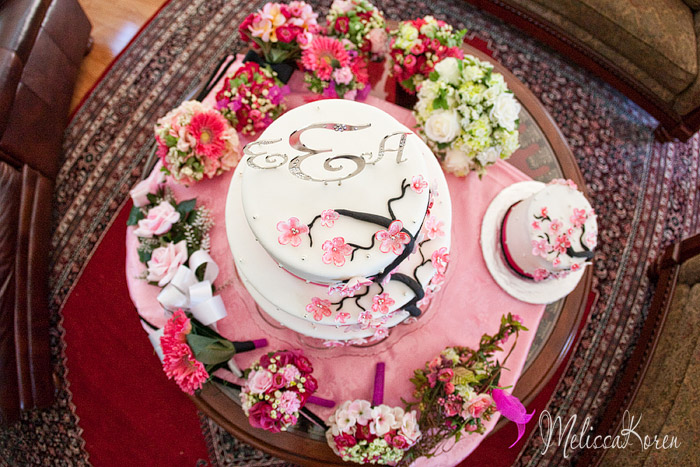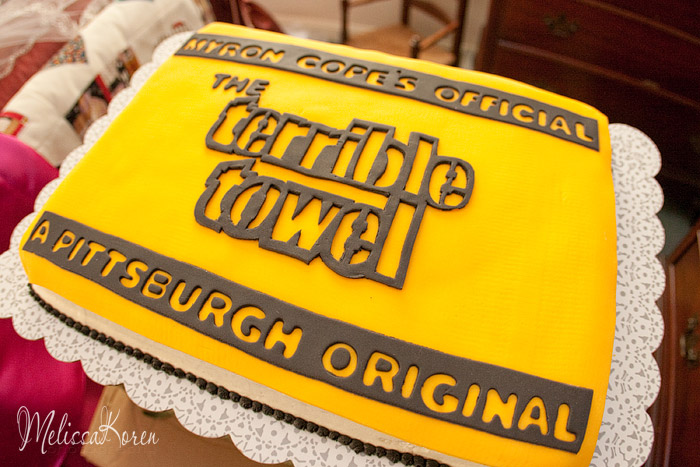 Once Lizz's stylists left she helped the other girls prepare.  It was the most fun atmosphere of excitement and girliness.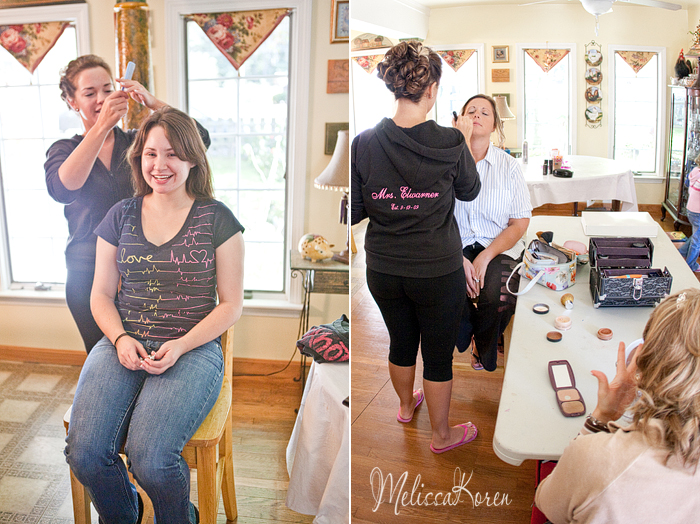 Hi Lizz's mom! You're AWESOME!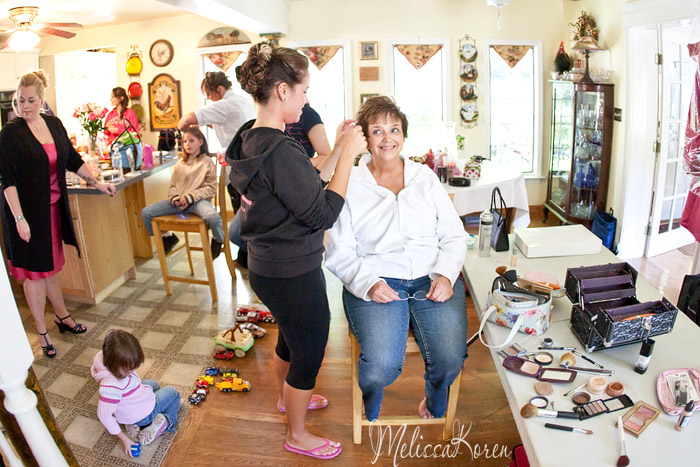 There were some VERY adorable flower girls – this sweet pea was not too thrilled with having to have her hair done, but she's pretty pleased with the result!  (And I helped!)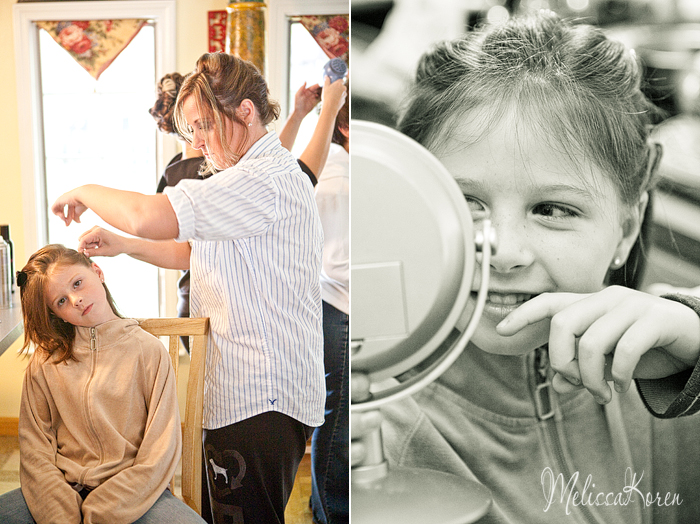 Meanwhile her younger sister was ready in a jiffy – that is after she got all her vehicles to the starting line.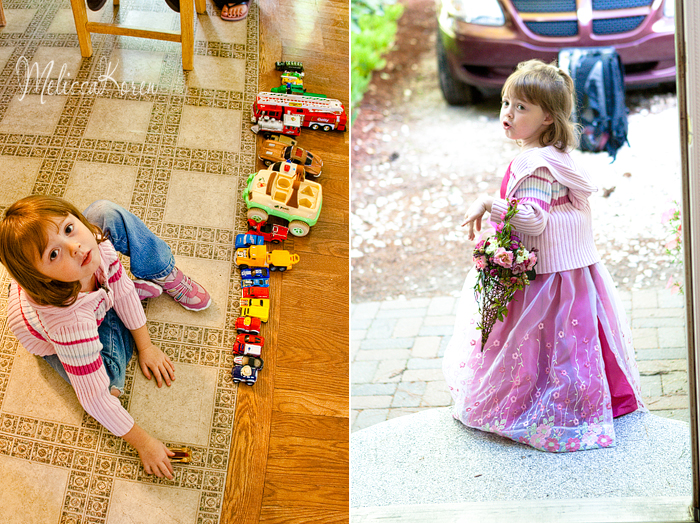 And here's yet another flower girl checking out the dress.  I can only imagine what's going through her head.  I remember being her age in my first wedding and wondering what all the fuss was about.  Boy do I ever get it now. 🙂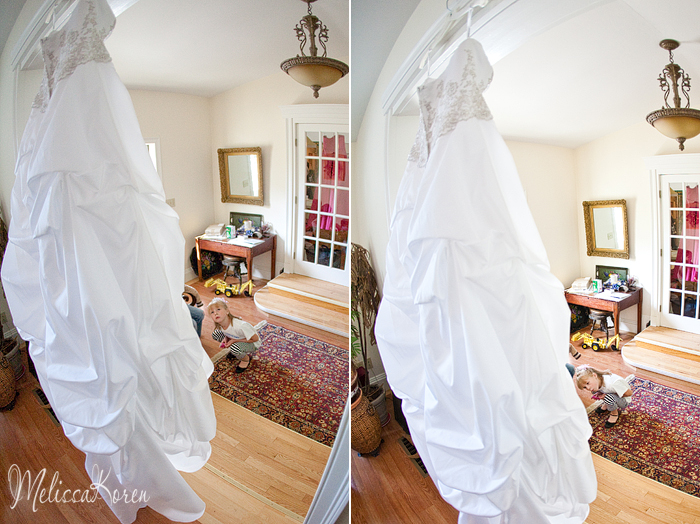 One tiny girl, one gorgeous (humungous) dress coming up!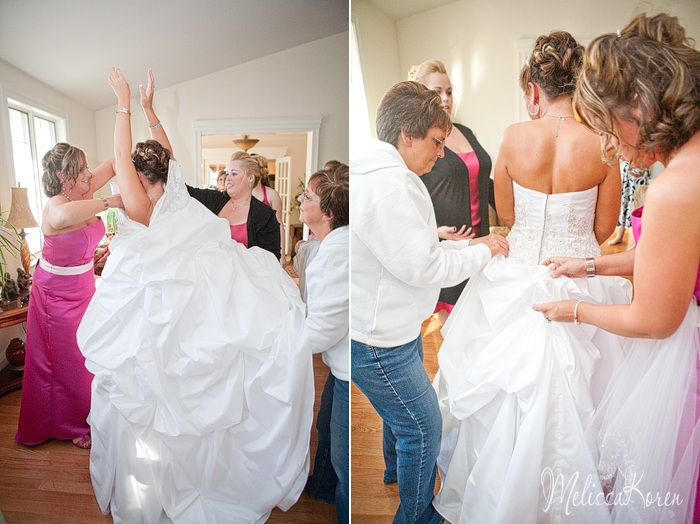 Lizz – you're beautiful. Like just out of a magazine.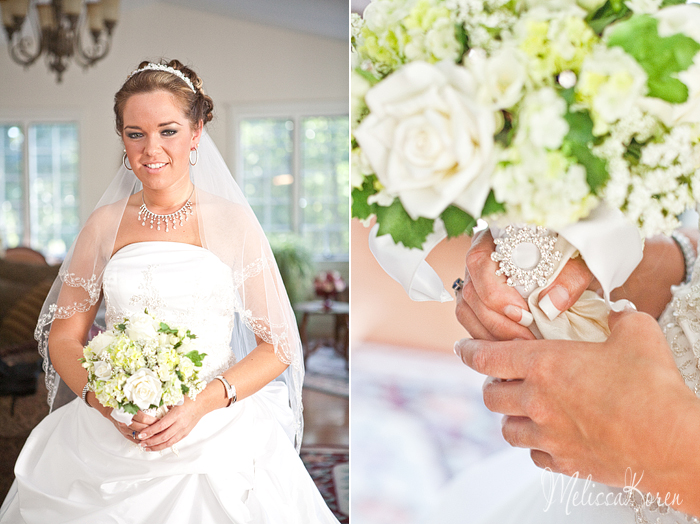 While I'm positive the dress weighed more than she did, she had NO problem maneuvering that thing.  Total amazingness.  Although – I'm quite drawn to her sweet sweet father holding her bouquet and watching over her. (*sniff.tear.sniff*)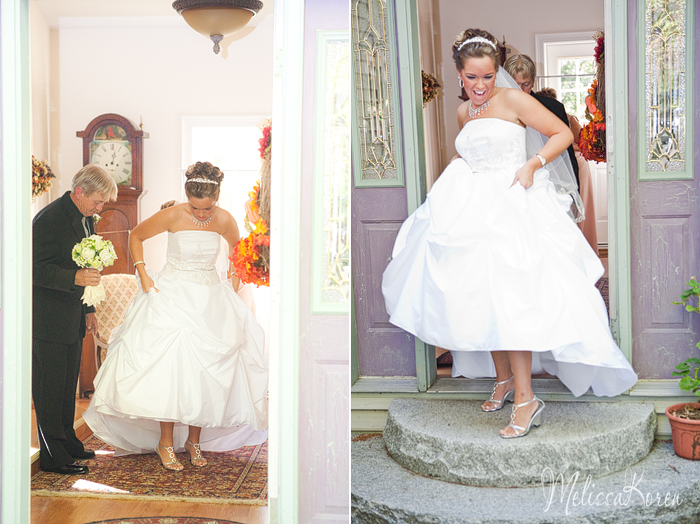 There were scads of children involved with this wedding.  And they were the best, most well behaved, cooperative children ever.  And OMG can you STAND the coordinating?! (I can't obviously. It's too perfect)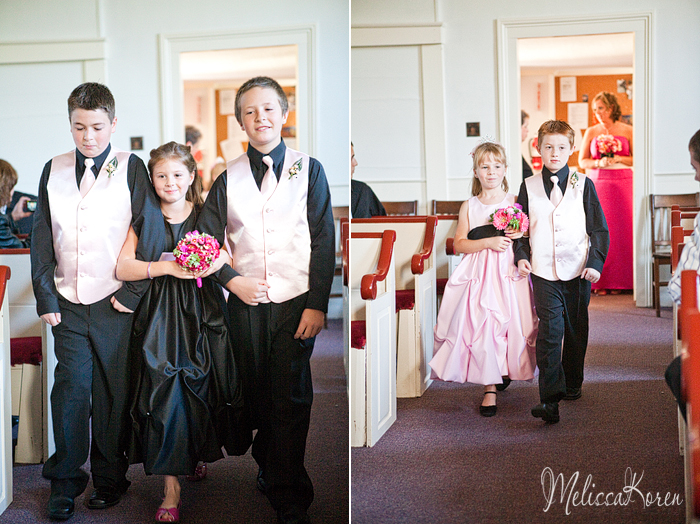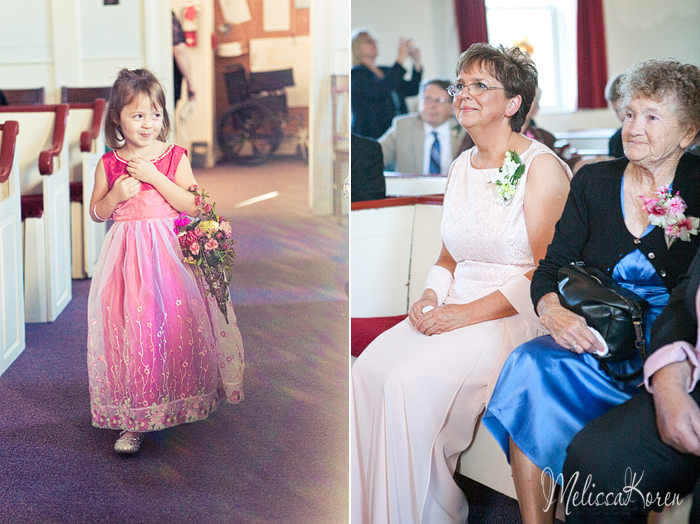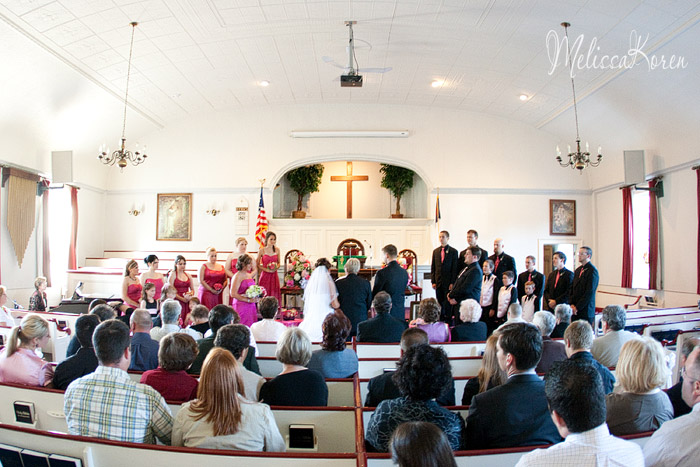 You can tell how important family is to Lizz & Andrew.  With a foundation like that they are bound to go far.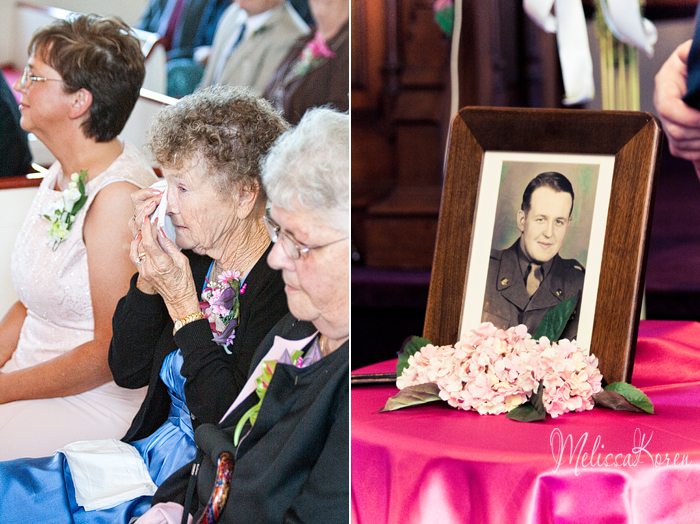 Steal the show why don't you? 😉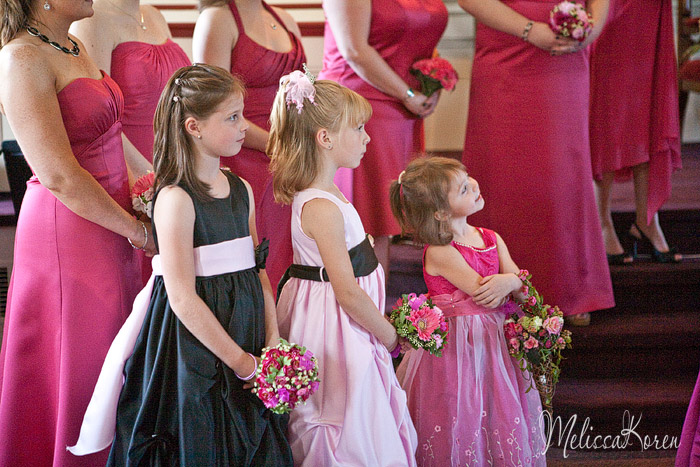 Married! (p.s. I love bubbles, I highly recommend them at all occasions ever.)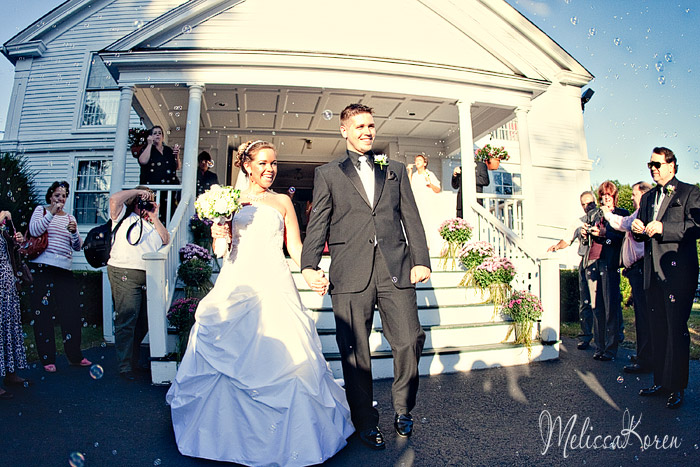 Hello Bridal Party!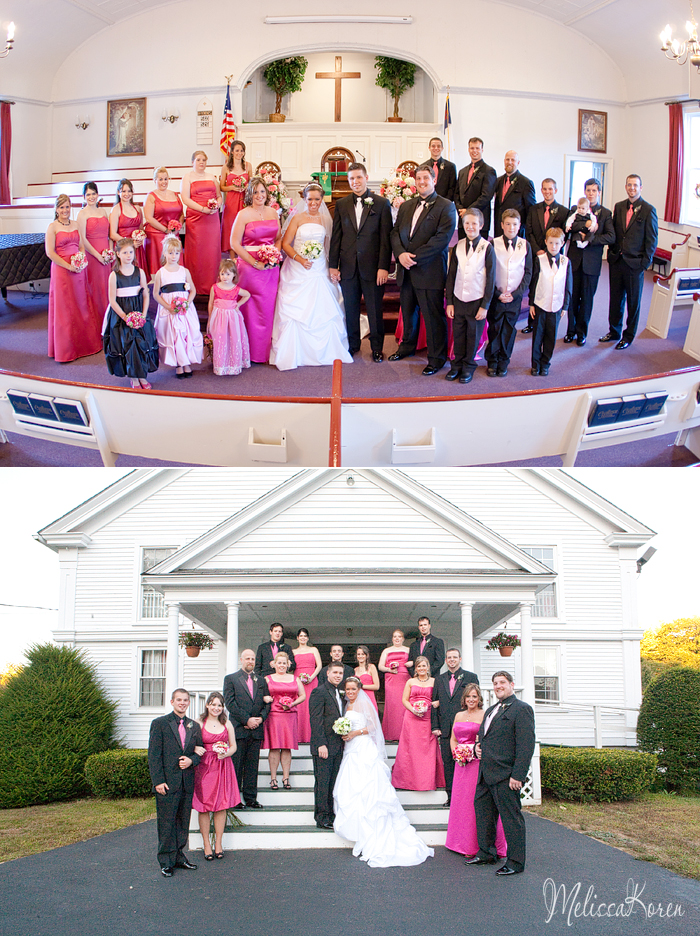 Candy buffet win!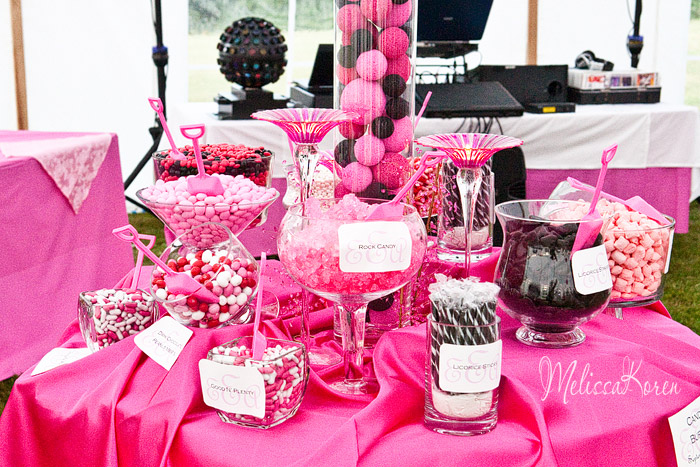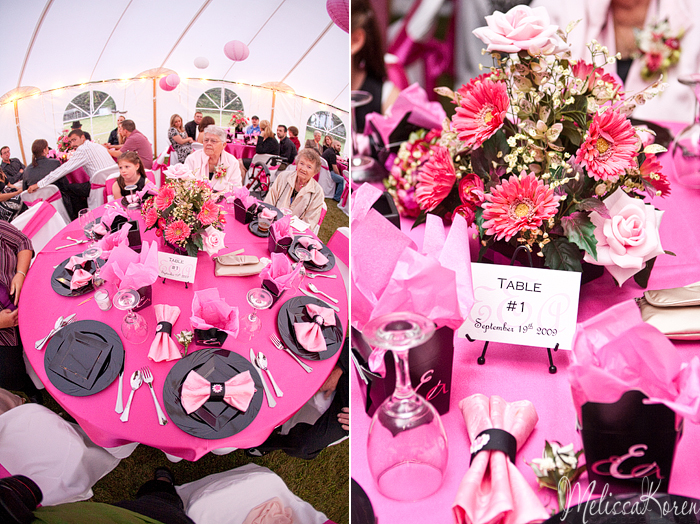 The photo on the left is one of my all time favorites ever.  Everything about this wedding was thought out – down to the monogram on the floor.  And there's a story about someone sleeping in the tent and leaving unmentionables, but lucky for them it's been so long I can't remember exactly what it's all about. 😉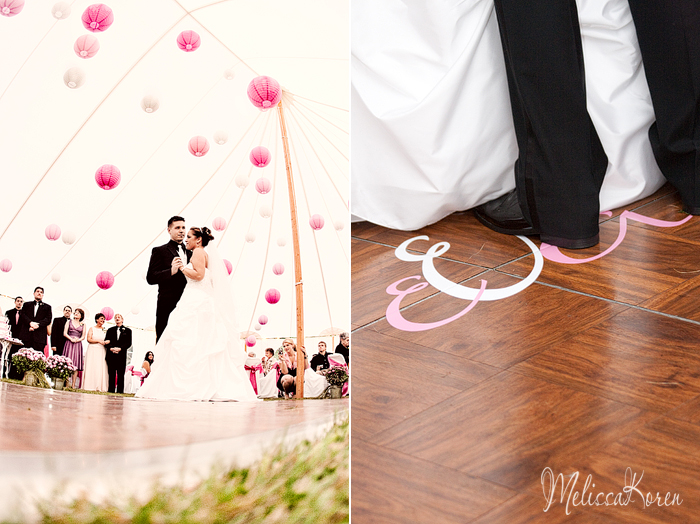 'Oh no you're not about to shove the cake my mother made us in my face!'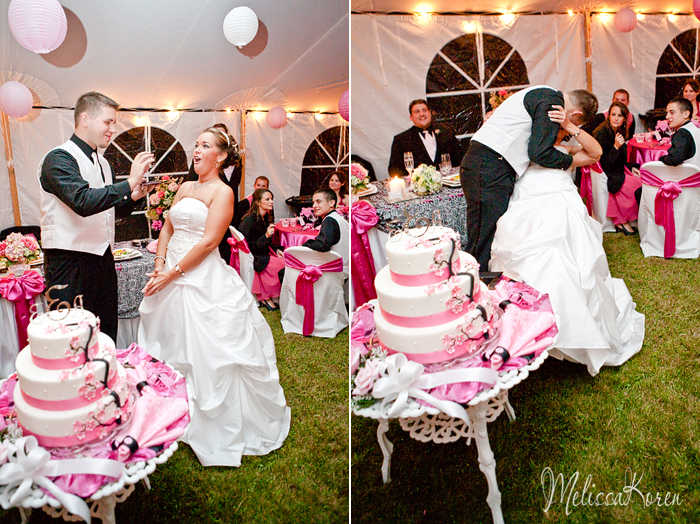 After formal cake since he was nice… enough… Lizz presented Andrew with his grooms cake.  I think it was a hit 🙂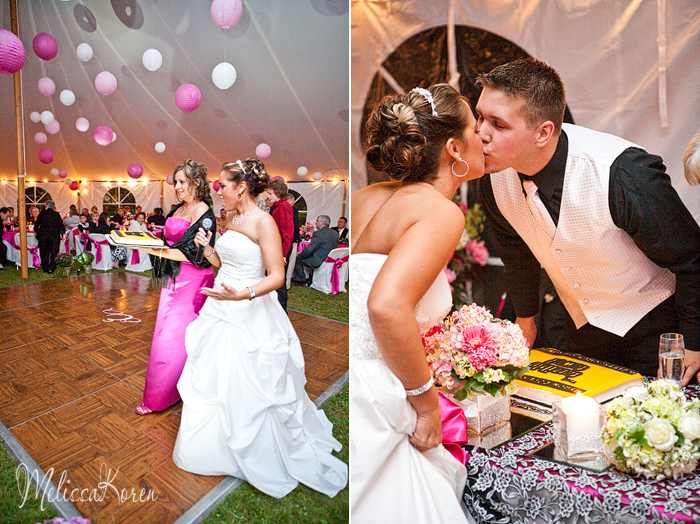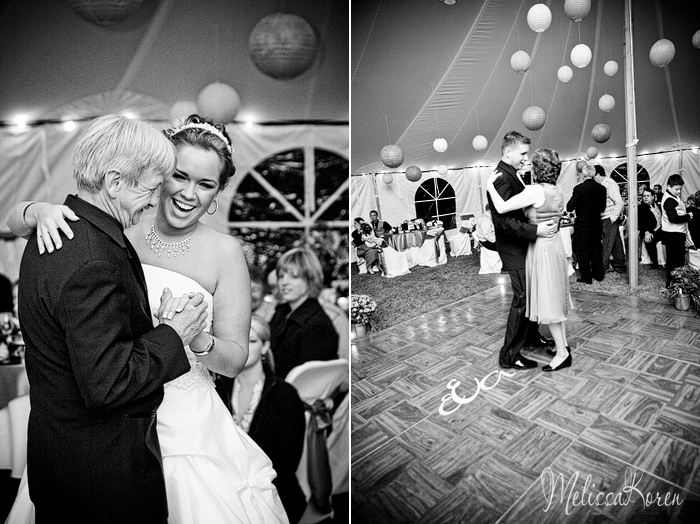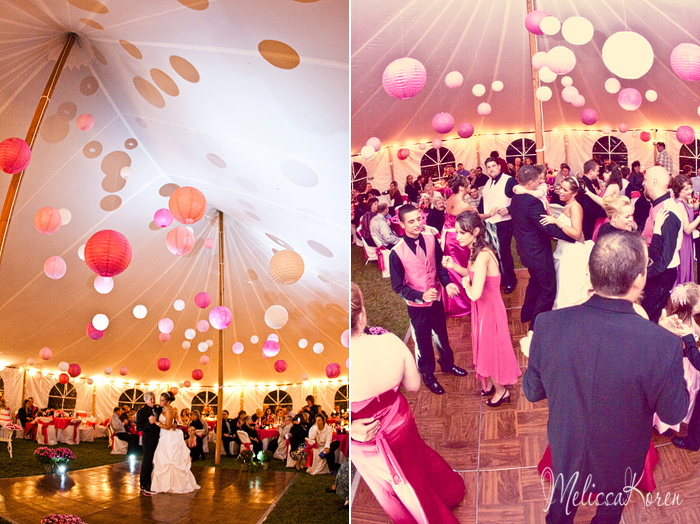 Ok, Ok, I know – it's a big post already.  But. But. THESE KIDS!  AYKM!?  Suspenders and a blonde curly fauxhawk?!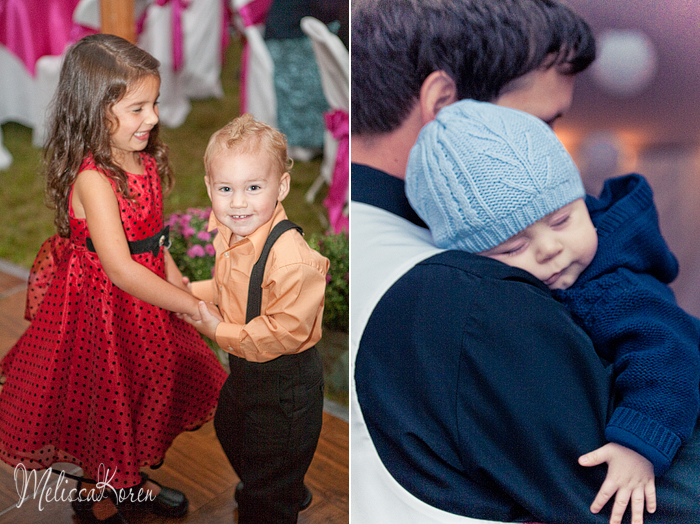 Uh oh – I think the girls are about to have a feather boa throw down.  The boy on the right is holding on to his steadfastly and not going to get involved.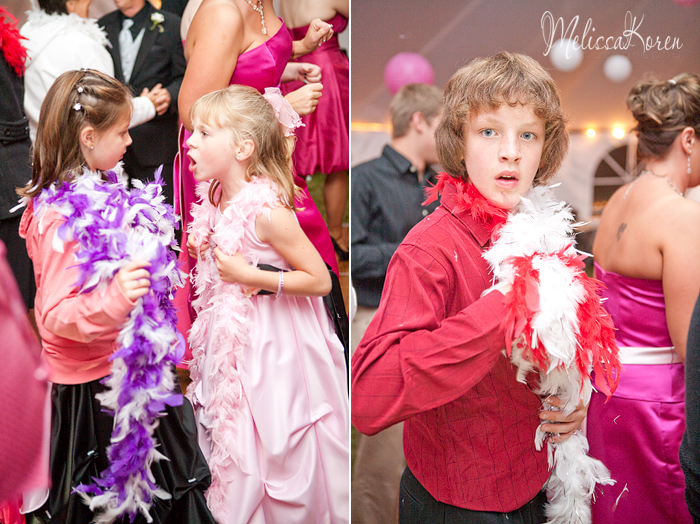 Wormin' it.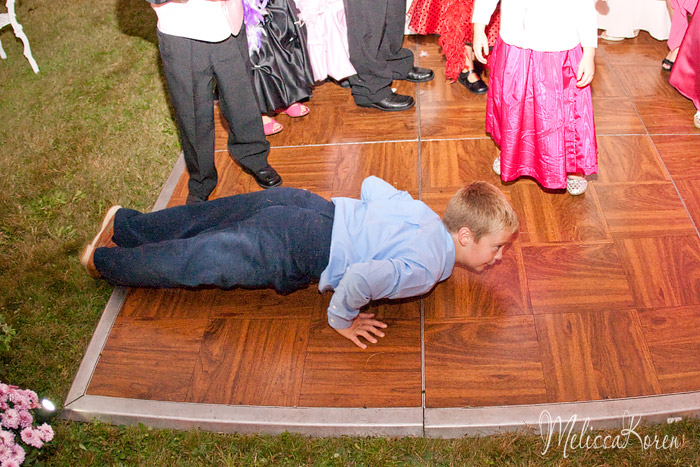 Honest to Pete I could have followed these two around for days.  And props!?  Hey Mr. DJ – mad props man!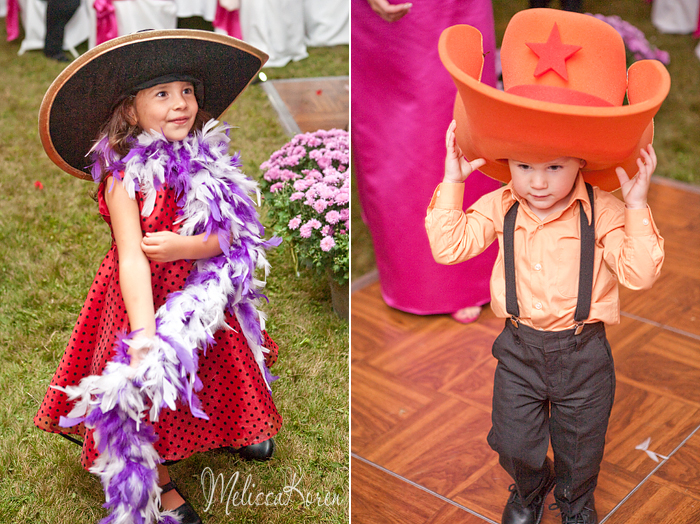 Not to be out done these kids had some moves to show off too!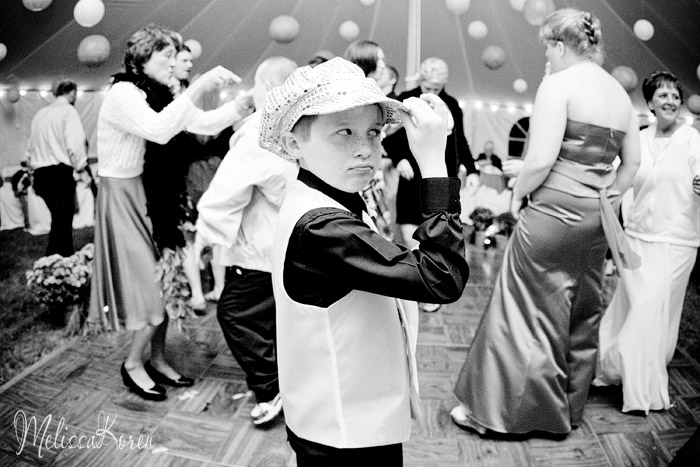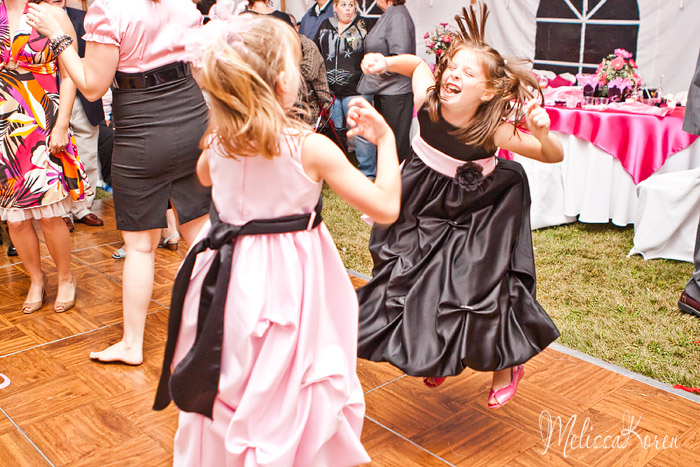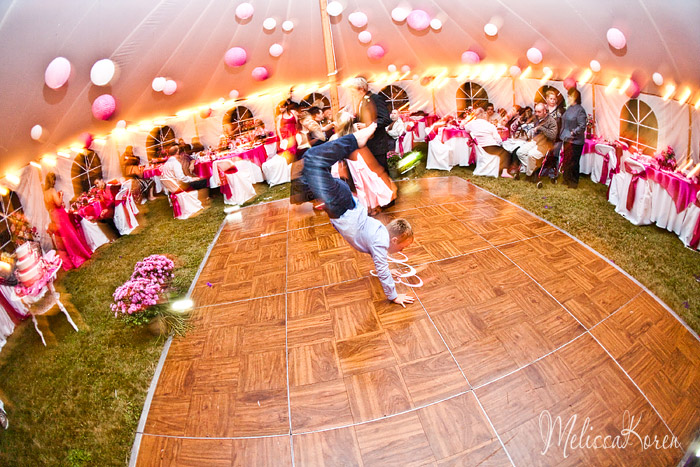 Ok, ok, moving on.  And did we ever move on.  That's right. We limboed. Ok, I didn't limbo.. that just wouldn't have been pretty.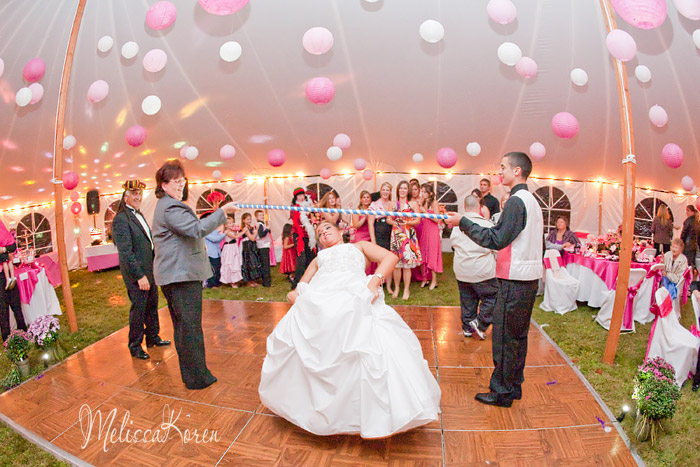 And then just as my time with them was winding down, Lizz changed in to this most stunning party dress!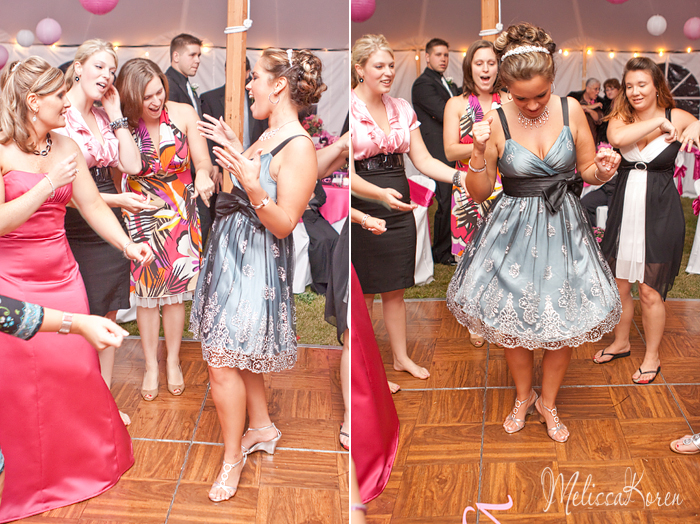 Lizz & Andrew – I wish you the best that life has to offer.  I was so honored to be part of your day and a momentary part of your family.
~MelissaKoren