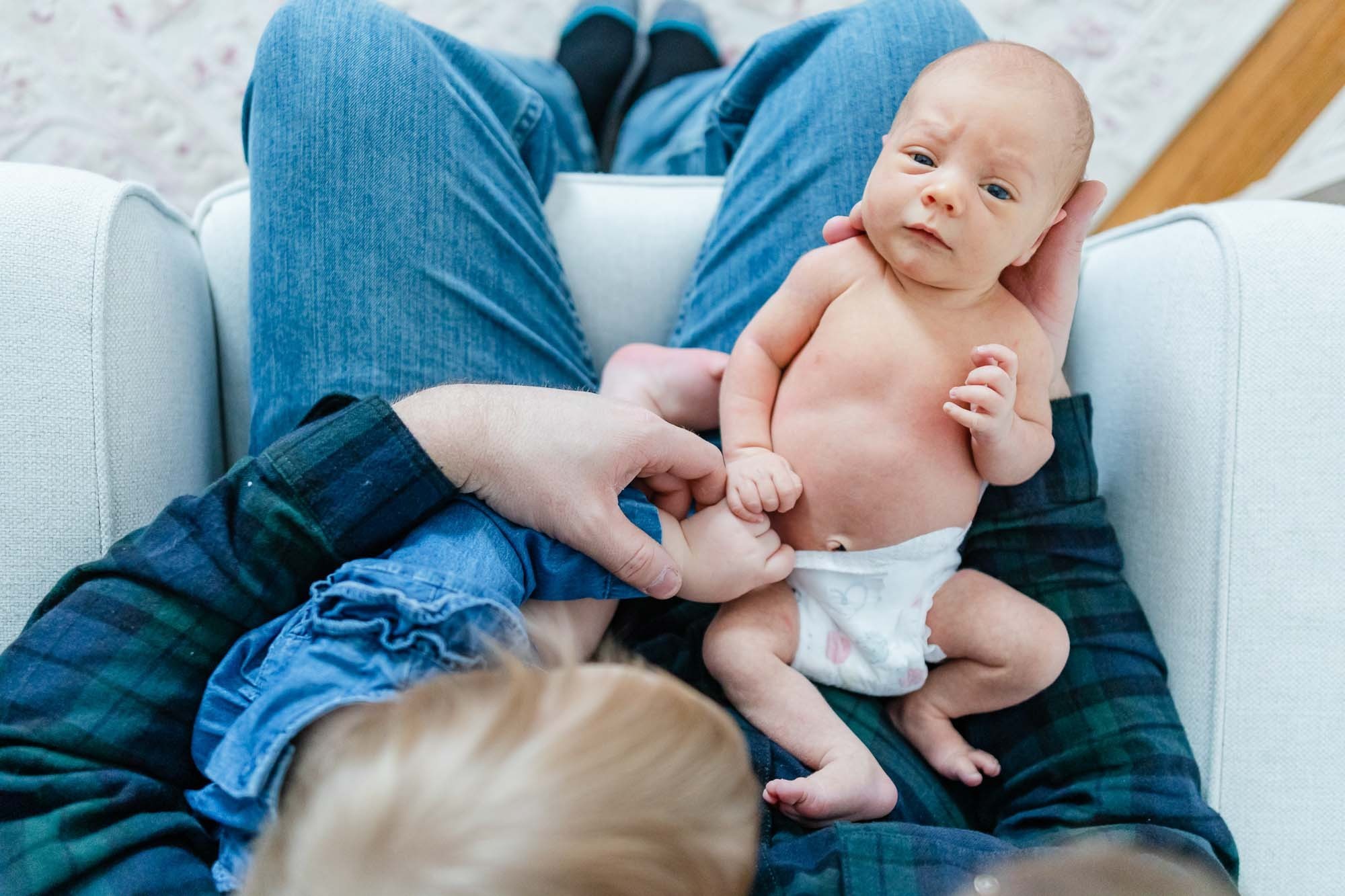 Well, I would say it's like it sounds, but that's because I've been doing it for a while now. In the case of this, and most Massachusetts At Home Newborn Family Photos, it's a mix of feedings, photos and fun!
I generally try and start with photos of the whole family, all the siblings, and fur pets. We can work in the nursery if you have one, in a big pig pile on the bed or couch, or if the weather is nice, outdoors as well.
In this session, I played just as much 'look what I threw in the crib and watch me get it out' as I did taking photos ?
Big sister is enamored with her little brother, and she's always keeping track of where he is, but she wasn't sure if she wanted to play second fiddle. I was either there to play with her or take pictures not both ?
Oh, and lately I've had a lot of inquiries as to if I do maternity photos – and the answer is of course yes! Any newborn package can add on a mini-maternity session that can be for you + the family!
Massachusetts At Home Newborn Family Photos. Wedding, Family and Newborn + Brand Photographer Melissa Koren Photography photographs good people. (How's that for overuse of a word!) This NH based photographer provides a relaxed approach where the value is put on fun and efficiency.
MKP clients are wonderful, loving, quirky, sassy, laughing, fantastic, and often cheeky people. Good people like you! Microweddings, LGBTQ photography, NH Mini Sessions, Massachusetts At Home Newborn Photos, Maine Engagement Photos, Seacoast NH Family photographer. Grateful to have worked at Maudslay State Park, Emerson Inn, Winthrop Carter House, Portsmouth Country Club and many many more!
Based in Exeter, NH, Melissa Koren Photography works in New Hampshire, Maine, Massachusetts, and anywhere you'll have me! You can see more of my work online at melissakoren.com and also on Facebook and Instagram! If you'd rather contact me directly, please email me at melissa@melissakoren.com.
There are adventures to have and memories to keep so let's get to it!