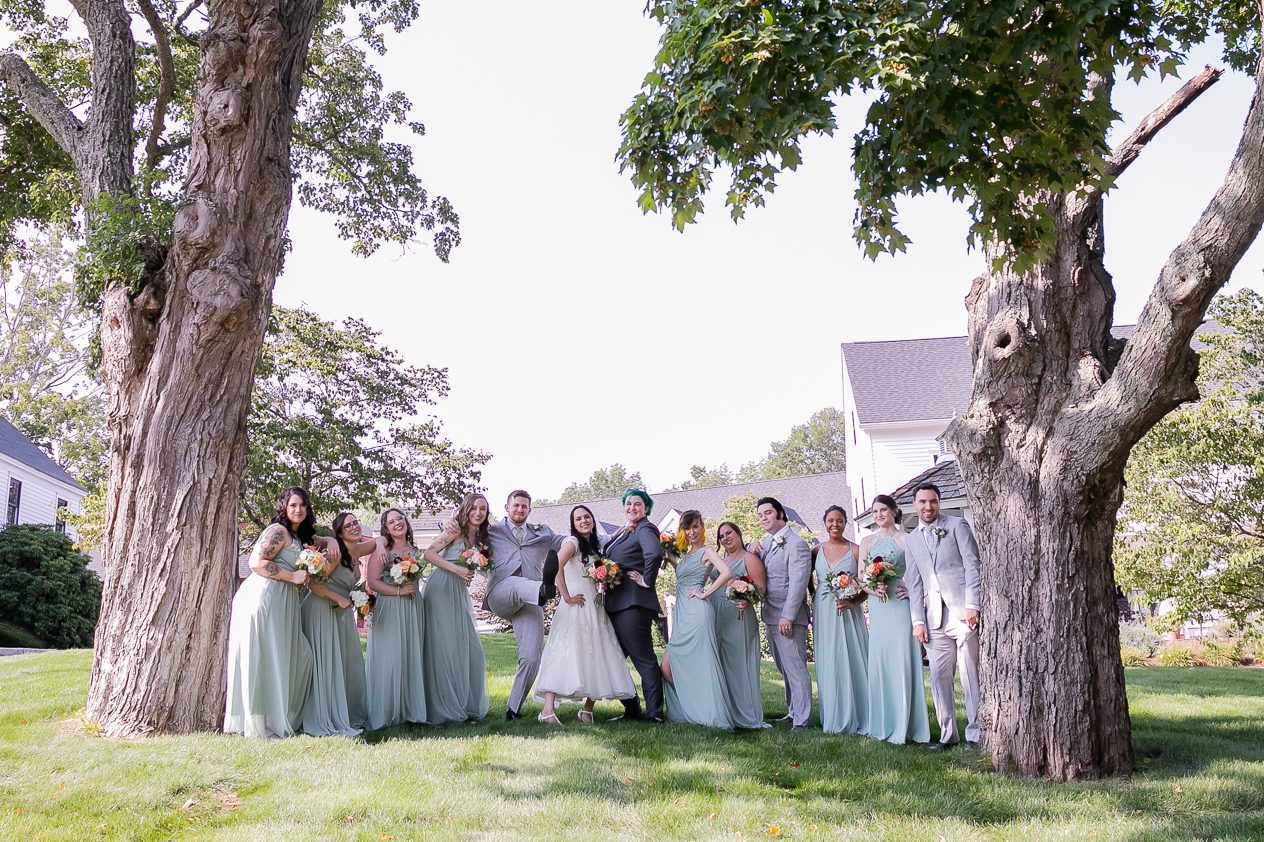 Oh the FUN we had at this Wight Barn Sturbridge MA Queer Wedding!
The bright blue sky was amplified by perfectly puffy clouds as Emma and Steph got ready in the same space, but divided by a barn door. They'd seen their various pieces and accessories, but not the whole look altogether.
They shared a quick conversation through the door but waited for the first look for their full reveal.
Steph was in place and looking sharp (and full of excitement and anticipation) as Emma rounded the corner in the most perfect tea-length wedding gown, elegant strapped shoes, and colorful bouquet that HAS to have been designed around Steph's tie (it coordinated SO WELL!)
They turned around to see each other and MAN, the TEARS! (Mine, not theirs haha) – the exuberance and happiness were overwhelming!
We did a few quick couples photos and then the whole crew, family, and wedding party, joined us to get all their "formals" knocked out before the ceremony.
The benefits of a first look are many, but one of the top reasons is getting everything done and checked off before you say I Do. That way you can join the cocktail hour post-ceremony (and post a few newly wedded photos) and do all your mingling then, together, with a drink in hand AND still eat your dinner in peace! OR you can have some alone time, with drink and snacks and silence – time to sit and revel in the wonder of your wedding day, not just be blown through the whirlwind of it all.
Steph and Emma did a little bit of both. Talk about maximizing cocktail hour!
But wait – I skipped over the Wight Barn Sturbridge MA Queer Wedding ceremony. Which was expertly crafted by their friend, Jarrod. They did such an amazing job. The perfect balance of knowing the couple, being well-spoken, having a sharp sense of humor, and a warm and inviting presence. I've seen a lot of ceremonies, but Jarrod's presentation is up there in the top 10.
When it comes down to celebrating, laughing, and dancing these two TAKE THE CAKE (a very cute cake with felted bluebirds on top!) Between the parent dances where they each danced with both parent 😭, a dollar dance that left me winded just watching it (these folks like to DANCE) and just a general feeling of merriment and love well – I couldn't have imagined a better way to have a wedding for these two!
They dropped me a quick note via Instagram the next day. ♥️
Thank you SO much!!!!! You were the MOST incredible photographer and an absolutely essential part of our day!! Your work is fantastic and we are so grateful to you!!

Emma + Steph
Thank you, friends, for asking me to be your wedding photographer. It was an honor, a privilege, and a joy! xoxo Melissa