Monica & Rob and I met last November to do some low key engagement pictures and talk about their wedding in August.  The time FLEW by and before I knew it, I was at an amazing 'back yard' wedding.  The guys constructed a red carpet for Monica & her girls to walk down to the platform they constructed under the huge old willow tree.  It was glorious!  They also had the largest tent I've ever seen!  Not to mention the amount of fun. 
I arrived at the groom's family's house as all the boys were getting ready.  I grabbed a few shots of them and then went two streets over to the bride's family's house to get them in action!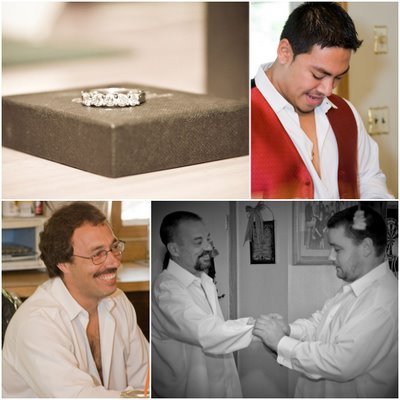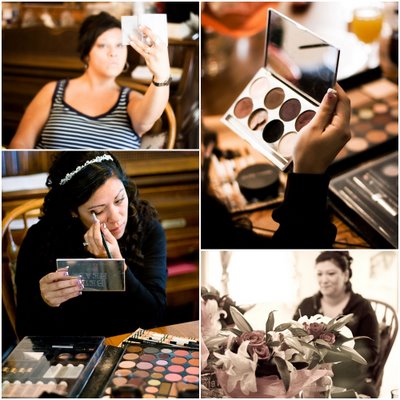 Monica helped everyone out with the final touches on their makeup after she artfully did her own.  Such GORGEOUS girls!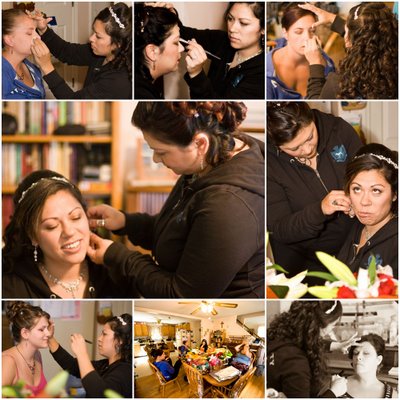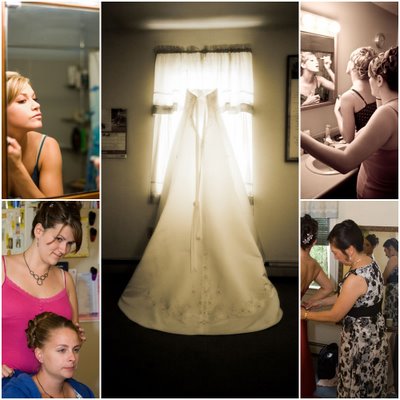 Monica's plan had been to be promptly 'fashionably late' to the ceremony, she wanted to make sure that everyone had the chance to show up!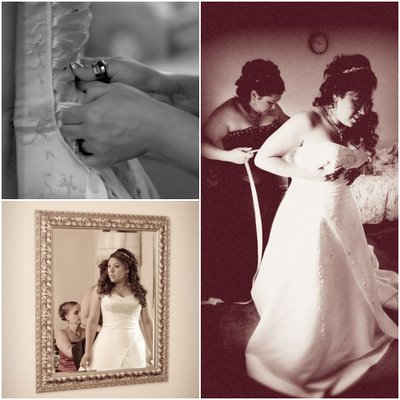 Well, mother nature thought she do one better – just as we were getting the dress to climb in the limo and head to the ceremony site, the skies opened up.  Sheeeeeeeeeeets of rain – SHEETS! But it passed and cleared and the guys set about clearing up ceremony site to proceed as planned, if only a little later.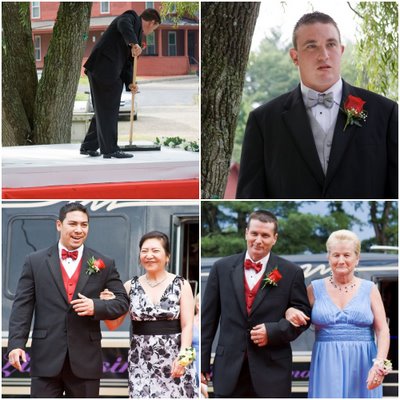 The limo pulled right up to the end of the 'red carpet' and let the everyone off – it was SOO Cool.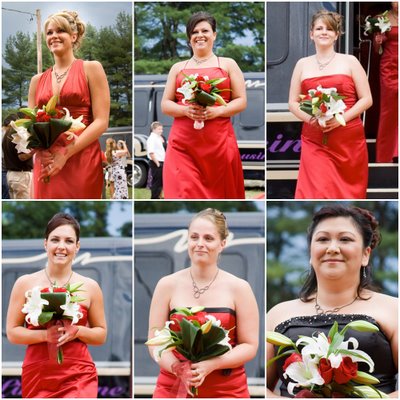 The guys had been ribbing Rob about shedding tears, but we were all more than moved when we saw Rob see Monica for the first time –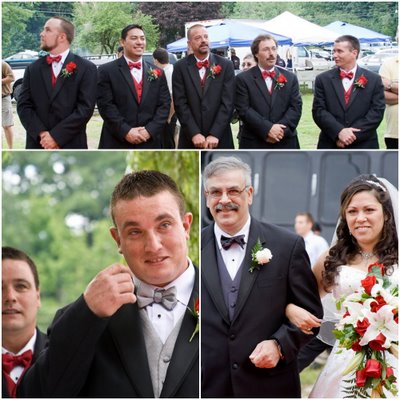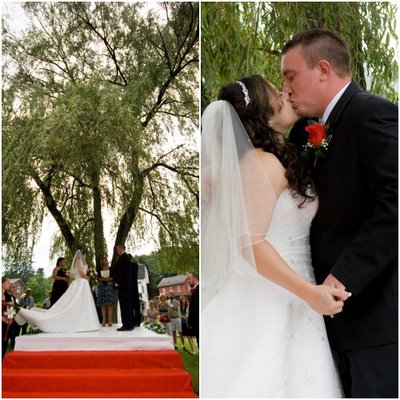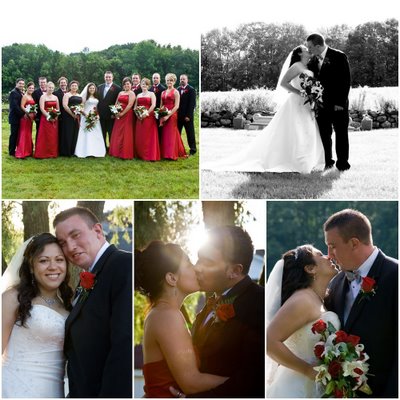 After formals it was time to party!  I love the black & red – its SHARP!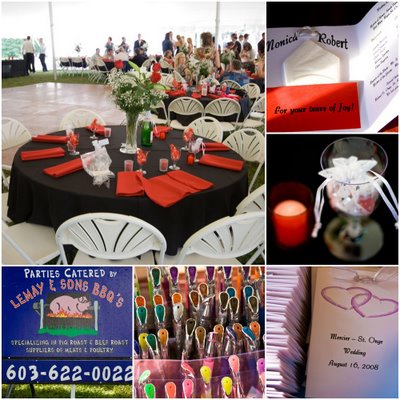 Ok, Ok, I know – this is a whole montage dedicated to the cake – but it was SUCH a cake.  A moose, a raft, a fishing bride – I could have taken more pictures than this I tell you!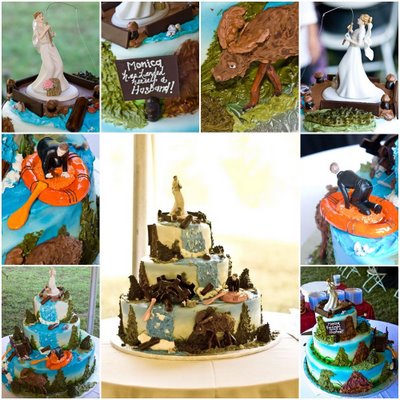 This was my first true smashing wedding – I love the reactions of the couple in the background.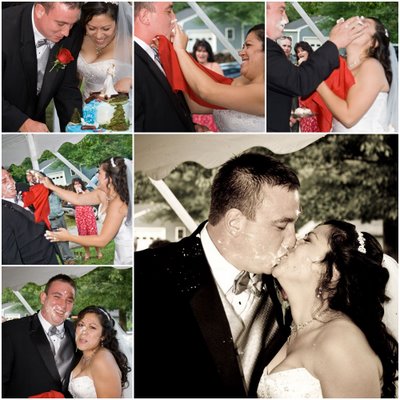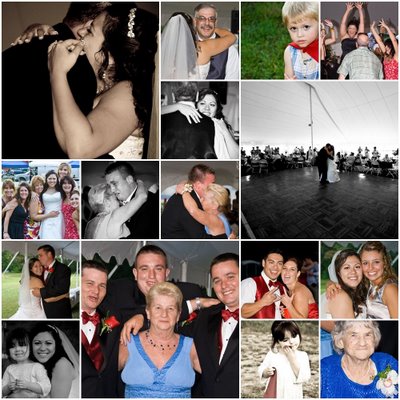 Did they ever dance the night away!  But at one point there seemed to be a lull on the dance floor.. I went out to investigate, and what did I find, but a keg toss in action!  I relize the picture of the bride isn't the crispest, but the form, the poise, the style!  (and the last of my flash batteries and staying far away from the incoming keg)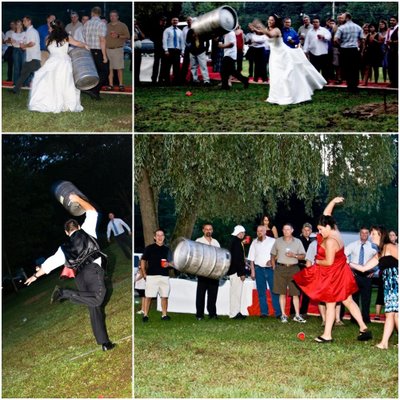 OMG

I absolutely love all the pictures!  You did an awesome job!!! Thanks again for everything, I

couldnt

have asked for better!! PS: One of the girls that was in the wedding party wants to have you as her photographer for her wedding when she gets married!! ~Monica
This is Monica's Dad. Wow you did a fantastic job on the wedding photo's, thanks for everything Melissa, job well done ~Joe
Thanks to you all for your warmth and hospitality — I had such a great time!