First comes love (and their Ogunquit sunset engagement shoot) then comes marriage (and an amazing Flag Hill Winery wedding) then come Arianna & Faith with a baby carriage! (and a simply splendid at home newborn photography session!)
When I first met with these gorgeous women they told me they were so excited to start their family, so when I saw their Halloween baby announcement I could not have been more delighted for them! I followed along on their journey through their monthly chalkboard pregnancy countdown posts (Arianna is a pinterest genius.  She's never had a #pinterestfail – I'm so jealous!)
It was finally baby day!  I headed off to their house and finally got to meet this sweet little snuggle monkey.  Ryder is perfection.
We had some family cuddle time on the big bed to start – and got Ryder's furry older siblings in on the action.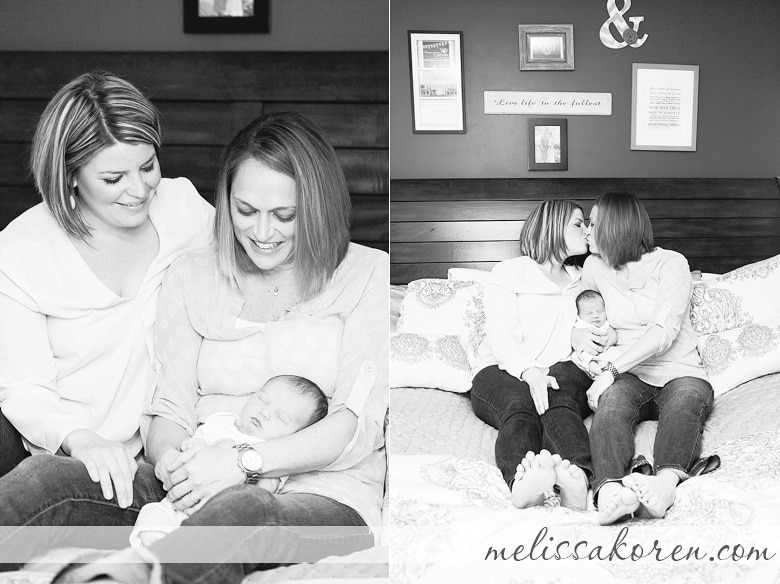 I'm not sure I've ever taken a happier newborn family photo.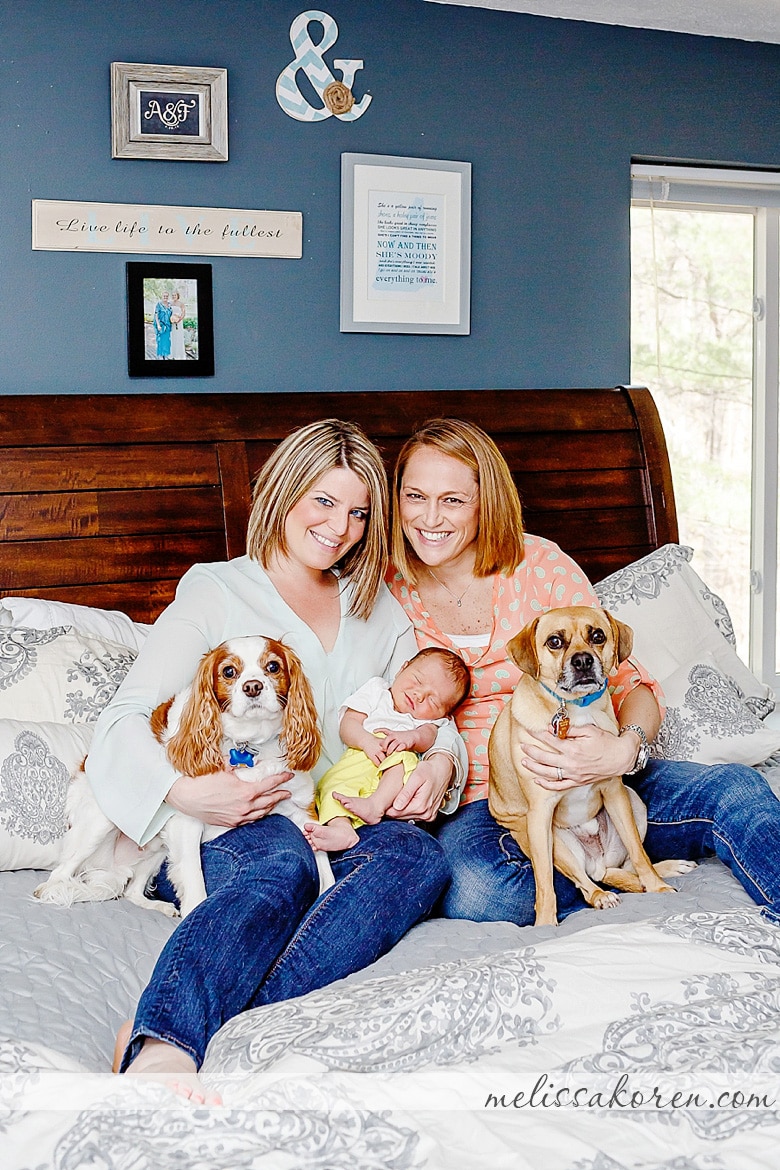 Yesterday my 'baby boy' gave me a hug and I had a flashback to when his entire body was shorter than my torso.  He even snuggled up next to me for a second and let me lament as to how tiny he used to be and now he's nearly 4″ taller than me now.  Seeing these mother's hold their sweet baby boy in simply their arms fills me with just a touch of bittersweet remembrance.
Also – Faith (in the peach colored shirt) worked out nearly every day she was pregnant. 10 days later, she looks better than I could ever even start to look. 😉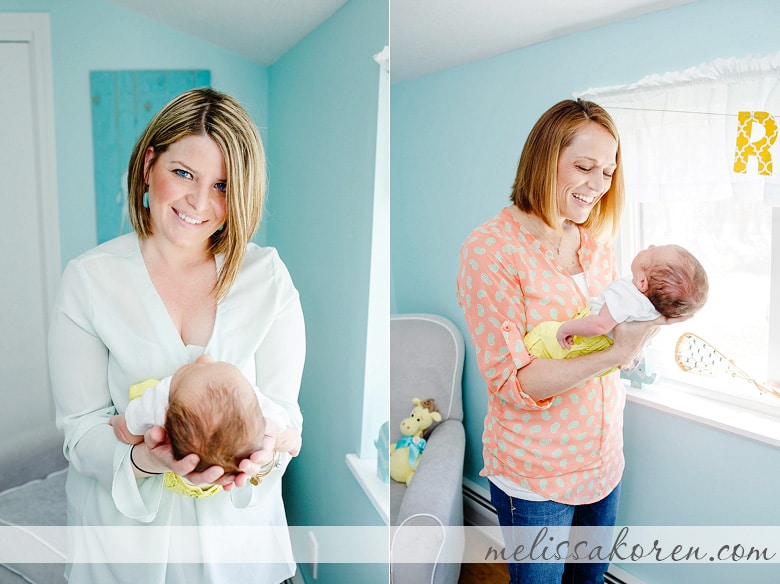 Seriously beautiful family though.  And the nursery is straight out of a magazine.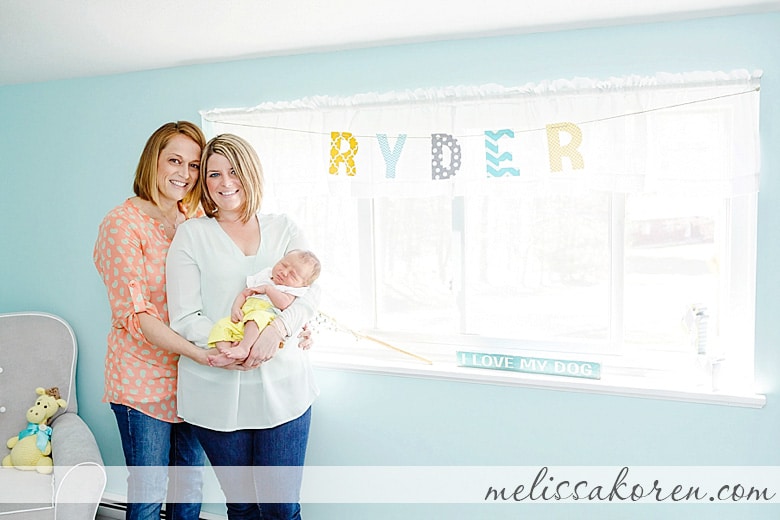 We went for the great baby undressing and it woke Ryder up from his slumber.  He stared at me with his gorgeous deep blue eyes and his perfect little nose and precious eyebrows.  I was instantly in love.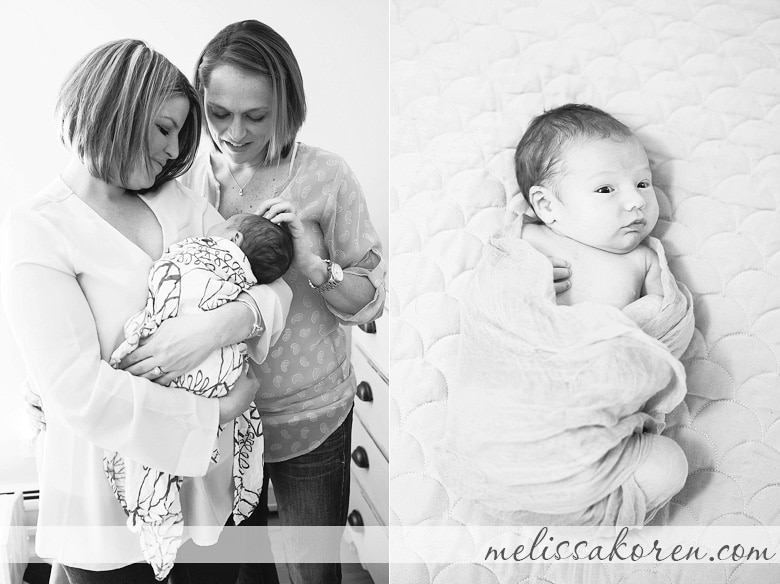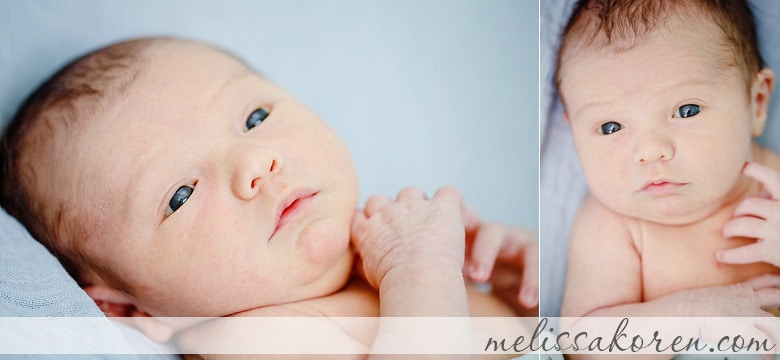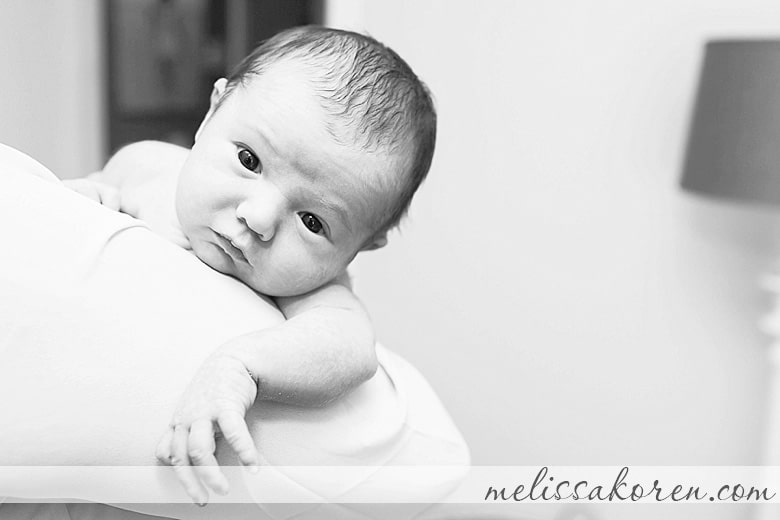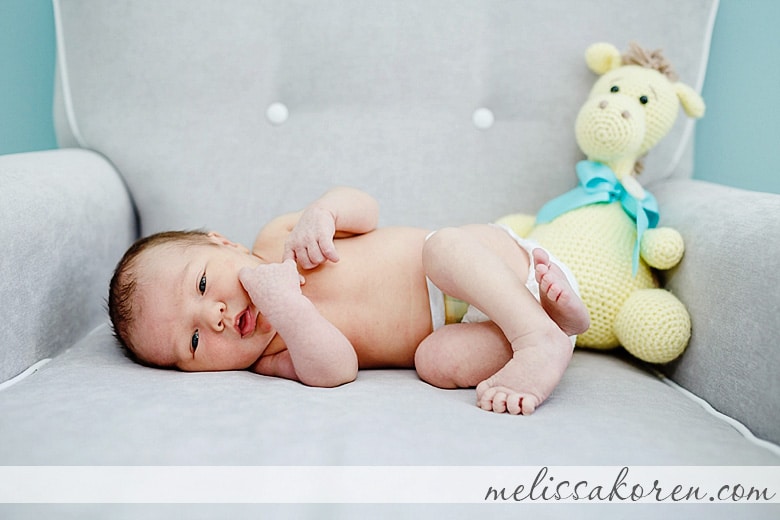 I mean, what's not to love?!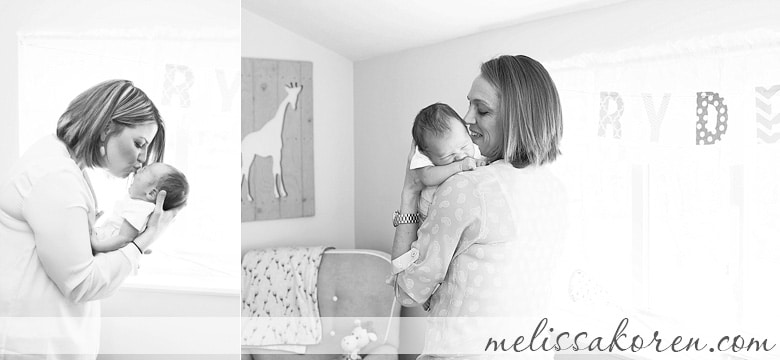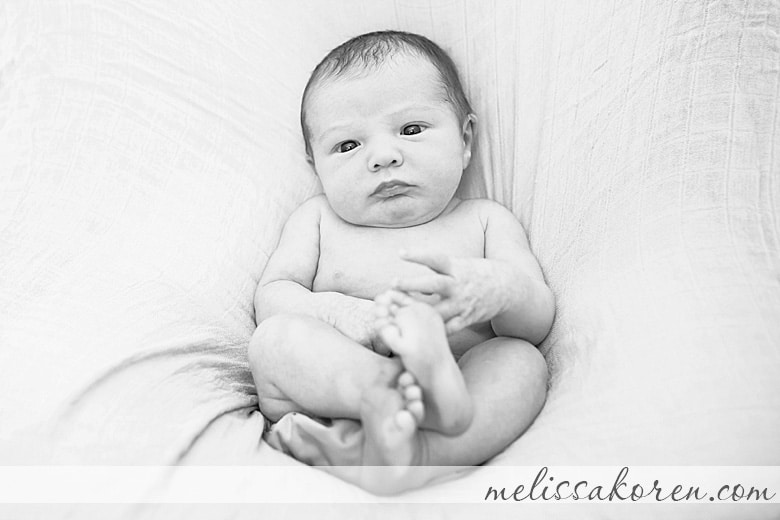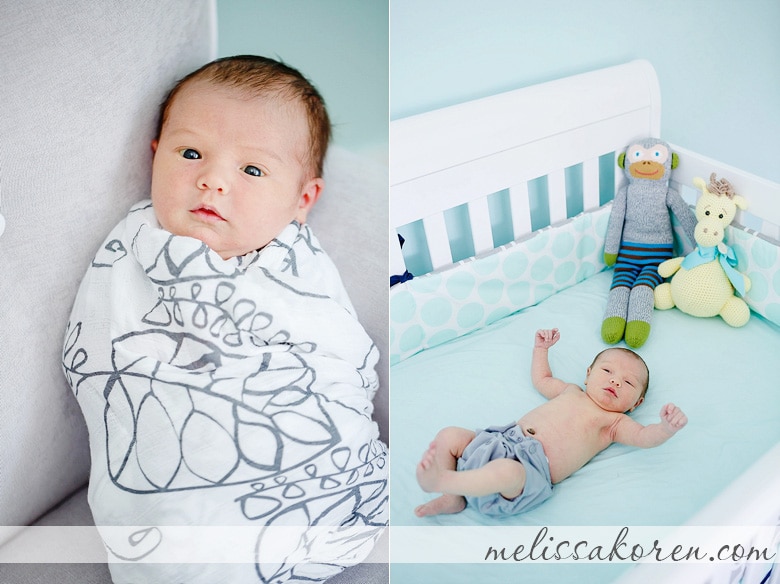 What is it about baby feet?  Grownup feet aren't really all that captivating, but baby toes!? Their so enchanting and wonderful!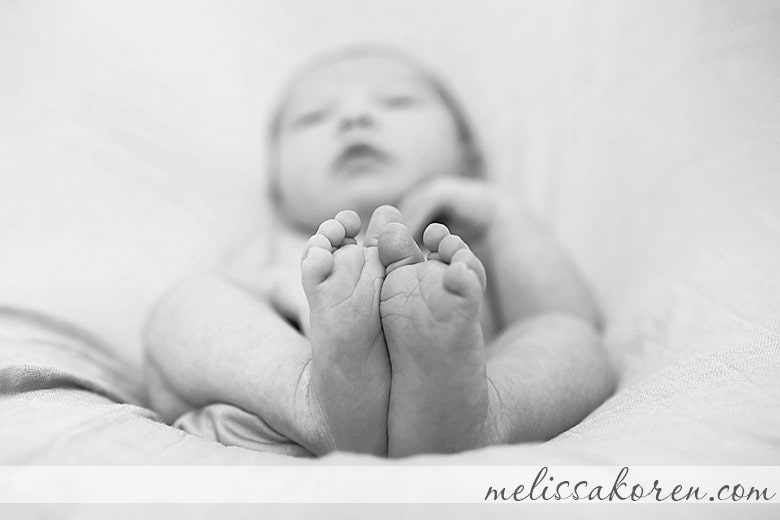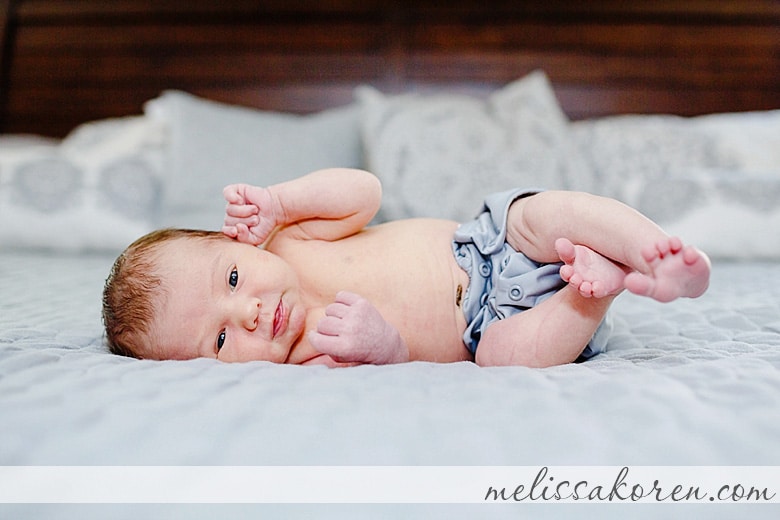 Sweet friends, my joy for you and your new mommy-hood is indescribable.  I'm so grateful to know you and to have the undeniable privilege of helping to archive your memories and watch your adventures unfold!