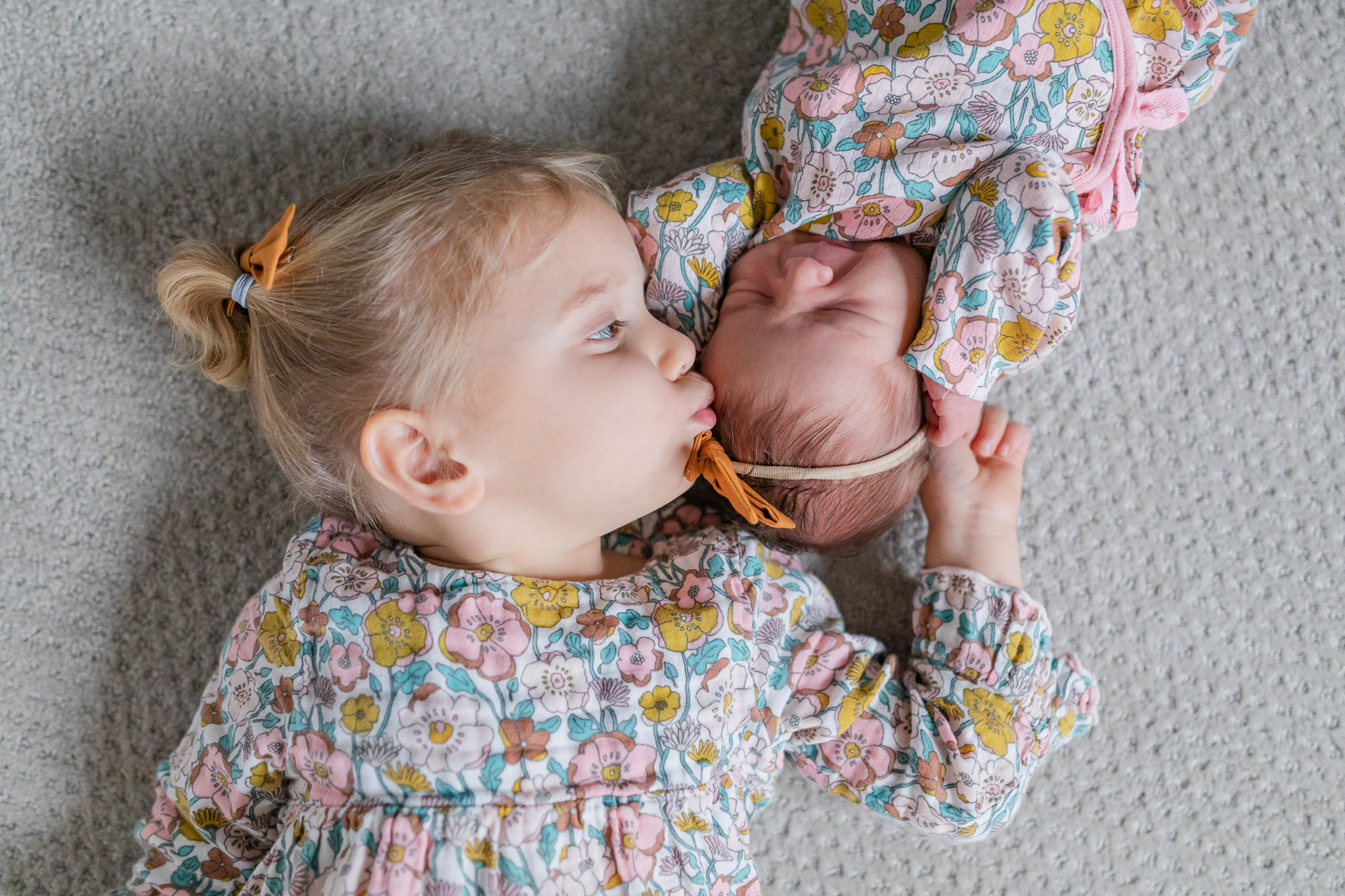 Stop the cuteness? I don't see that happening ANY time soon with these two sisters! This Seacoast NH At Home Family Newborn had my heart growing 3 sizes + more!
Proud big sister greeted me at the door and proceeded to give me the lay of the land. This is mom, dad, baby sister. Come see my room. Let's play!
It's important at a newborn session that the older siblings don't feel like chopped liver. I like to meet them at whatever level of interest they show. If they're totally disinterested, I try not to overwhelm them. If they're cool with smiling and playing along for a few minutes, I try and get all the family and sibling photos done before my newness wears off.
And if they're engaged and curious the whole time?
Let it be so!
When it was time for baby's sisters solo shots, big sister went up to her room to get me 'one toy' to play with. One toy = one basket 'toy' filled with a whole bunch of other toys. Smaaaaart that one!
While the little one had a much needed snack, the cutest pigtail wearer and I played blocks and read books. And it was magic.
Seacoast NH At Home Family Newborn. Wedding, Family and Newborn + Brand Photographer Melissa Koren Photography photographs good people. (How's that for overuse of a word!) This NH based photographer provides a relaxed approach where the value is put on fun and efficiency.
MKP clients are wonderful, loving, quirky, sassy, laughing, fantastic, and often cheeky people. Good people like you! Microweddings, LGBTQ photography, NH Mini Sessions, Massachusetts At Home Newborn Photos, Maine Engagement Photos, Seacoast NH Family photographer. Grateful to have worked at Maudslay State Park, Emerson Inn, Winthrop Carter House, Portsmouth Country Club and many many more!
Based in Exeter, NH, Melissa Koren Photography works in New Hampshire, Maine, Massachusetts, and anywhere you'll have me! You can see more of my work online at melissakoren.com and also on Facebook and Instagram! If you'd rather contact me directly, please email me at melissa@melissakoren.com.
There are adventures to have and memories to keep so let's get to it!