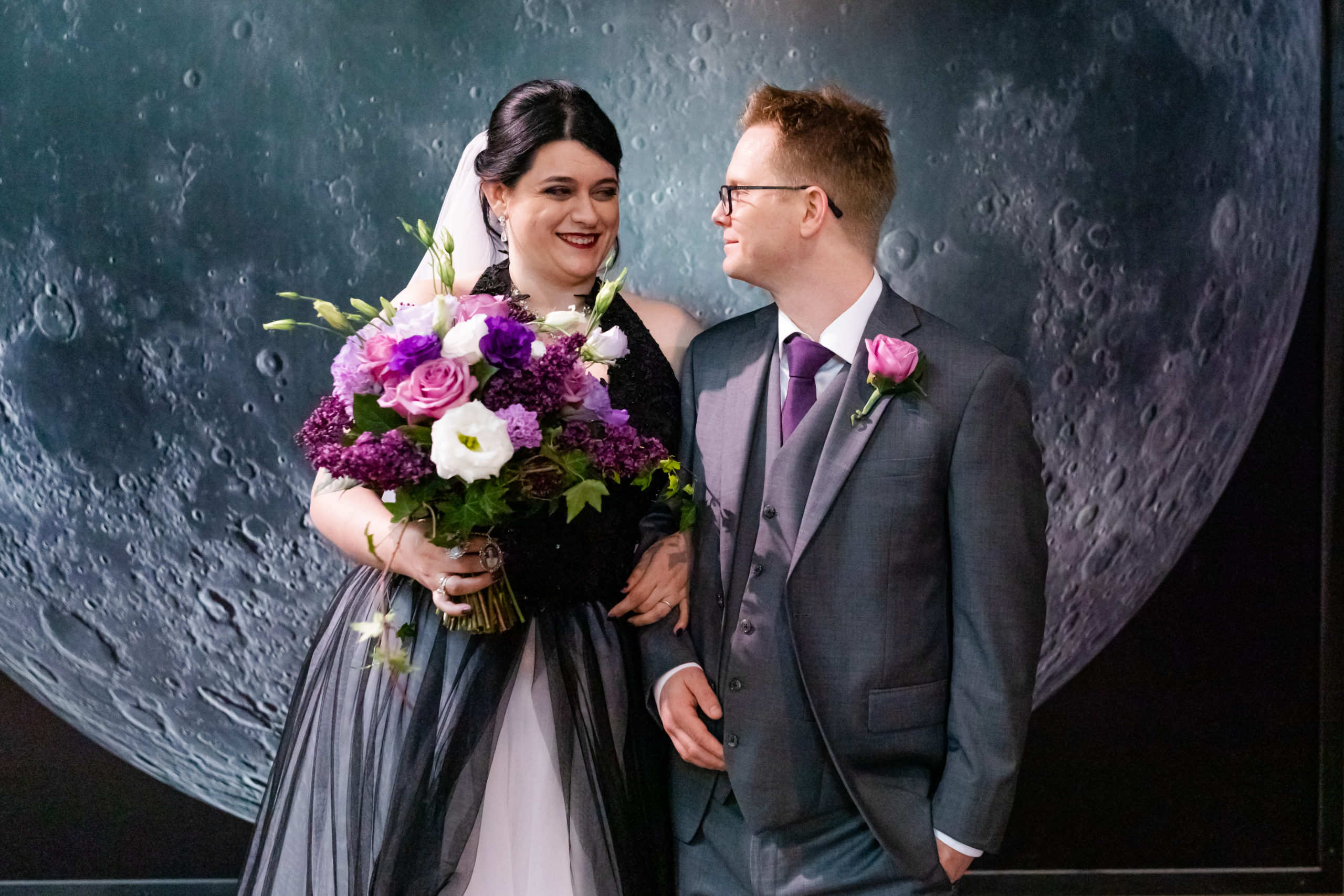 To the sun and beyond. Our love will blast off like a rocket. The myriad of similes, metaphors, and puns that ran through my head as we celebrated this Mcauliffe-Shepard Discovery Center Concord NH Wedding, were ENDLESS.
Everything about this [Deep] Space May Twenty Nine wedding was fandamtastic.
Astronaut Ice Cream adorned all the tables as favors and treats for the guests, the floral bouquets and arrangements by D Mcleod Florist were bold and full of all the best shades of pinks and purples.
My favorite DJ (no really, she was OUR wedding DJ, we go way back!) DJ Jodi made sure their hand-picked processional and recessional song went off without a hitch and that the party was rocketing off into the stratosphere!
The bride's hair and makeup, done by LuLu Beauty totally suited her – and rumor has it she got up at the crack of dawn to work with them. I can see why!
And while we're on the subject of the lovely bride.. THAT DRESS! Top 5 favorite wedding dresses ever.
Not to be outdone, the groom's shoes are reminiscent of walking on the sun and gave his dapper grey suit that extra POP.
I loved that they had a GF cupcake display as well, and while I didn't get to taste one of Kathryn's Confections, they smelled DELICIOUS.
Our time together was short and sweet, from the rocket backed ceremony, to family photos and newlywedded portraits however, I can tell that these two are writing etching their fates into the universe, and more importantly, that the universe has their back.
xoxo Friends! Thank you so much for having me photograph your Mcauliffe-Shepard Discovery Center Concord NH Wedding! Now, to try and take over the world!
Mcauliffe-Shepard Discovery Center Concord NH. Wedding, Family and Newborn + Brand Photographer Melissa Koren Photography photographs good people. (How's that for overuse of a word!) This NH based photographer provides a relaxed approach where the value is put on fun and efficiency.
MKP clients are wonderful, loving, quirky, sassy, laughing, fantastic, and often cheeky people. Good people like you! Microweddings, LGBTQ photography, NH Mini Sessions, Massachusetts At Home Newborn Photos, Maine Engagement Photos, Seacoast NH Family photographer. Grateful to have worked at Maudslay State Park, Emerson Inn, Winthrop Carter House, Portsmouth Country Club and many many more!
Based in Exeter, NH, Melissa Koren Photography works in New Hampshire, Maine, Massachusetts, and anywhere you'll have me! You can see more of my work online at melissakoren.com and also on Facebook and Instagram! If you'd rather contact me directly, please email me at melissa@melissakoren.com.
There are adventures to have and memories to keep so let's get to it!