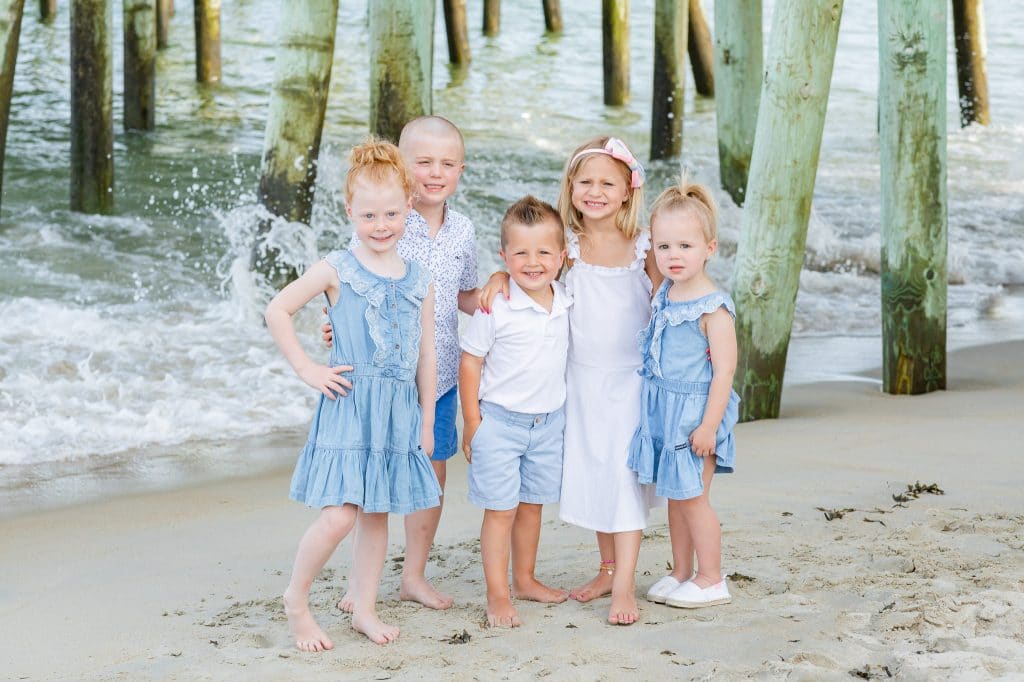 This Old Orchard Beach Family Session was all about location, location, location!
I try and plan family photography beach sessions for as late in the evening as possible, generally about an hour before sunset.
The flip side of that is the sun sets at about 9pm in July and an 8pm session is not usually a good plan for a lot of little ones.
So we plan for as late in the afternoon as possible and hope we can grab a piece of beach and that there's a little cloud cover, a place for shade, or at least an emptyish beach so that you're not taking family photos with a bunch of strangers.
This Old Orchard Beach Family Session presented a few location challenges. The beach was still packed, the little bit of shade provided by the boardwalk was taken up by beach-goers, and the tide wasn't quite far enough out when we started.
But, we still made magic!
It was hot and bright, and we needed shade. So we started up by this shed, basically in the path to the beach, but the grass and the shade were too good to pass up.
As soon as a spot opened up by the water under the boardwalk we made a break for it!
This squad was quick on their feet and quick with the smiles! Thanks for a great time!
Old Orchard Beach Family Session Melissa Koren Photography. Outside the box, fun, photography for good people. Good people like you! NH, Maine & Beyond by Melissa Koren Photography. You can see more of my work online at melissakoren.com and also on Facebook and Instagram! If you'd rather contact me directly, please email me at melissa@melissakoren.com!